Still taking the occasional black and white picture
While I may have largely given up on black and white pictures, sometimes things just look better without color.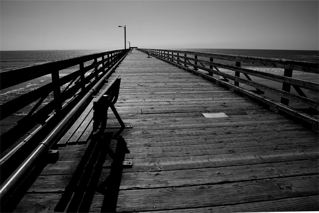 This was taken almost directly into the sun and the color original is already pretty desaturated. One click using the TLR Black and White Conversion action for Photoshop and a satisfying monochrome rendition results. I find the TLR plug-in gives a better monochrome tonal range than Photoshop's native 'Desaturate' command. There are lots of other interesting actions on that site, too.
Note the slight vignetting in the sky from the Canon 24-105mm L lens at 24mm. I left it in as it heightens the mood.