Almost ready for prime time
A year ago I fantasized about the idea of using a flat screen TV to show changing pictures on the wall.
In one fell swoop you could have displayed an infinite number of images with vastly superior dynamic range, owing to the provision of transilluminated rather than reflected light, and none of the expense and agony of mounting, matting and framing. Indeed, when you realize that my one man show required framing of thirty large prints at a cost in excess of $3,000, two or three large LCDs could have been procured at that price with far greater utility value. Why, you could even watch the pap that passes for American television on them if you wanted a change. Best of all, you could display the world's great paintings all in one place.
That idea is now taking fruition in the form of affordable LCD picture frames which do exactly what I was rambling on about, so I made my father-in-law the guinea pig this Christmas season and gave him a Coby DP-772 7″ picture frame to better display his family snaps.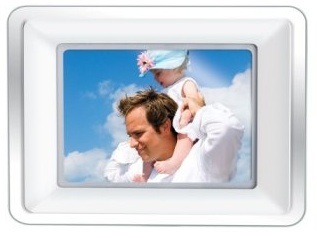 It's selling for some $100, including two faceplates and a handy remote.
I included a 1 gB SD card (all of $9!) and a USB-powered card reader (another $9!), and dumped a thousand family snaps on the card using iPhoto's Export function. Well, firing it up we immediately encountered a snag. The pictures did not break properly betwen frames, like an old mistuned TV set. Digging deeper we discovered the operating system is very crude and determined that a few workarounds were called for.
First, if you check the Amazon reviews for picture frames you will quickly learn that they are all over the place, from one to five stars. This sort of thing usually suggests either poor quality control (evidenly not the case here), poor design or incompetent users. Unlike Apple's Macs, these things are too new to 'just work'.
As my father-in-law pointed out, once we inserted the SD card the images looked fine, then moments later the image break anomaly manifested itself. This suggested that the Coby's OS was reading the files and defaulting the frame spacing to some lowest common denominator. Now our source pictures are in at least three aspect ratios; 4:3 from my wife's Canon Digital Rebel, 3:2 from my 5D and 16:9 widescreen from the Lumix LX1. So we decided (I say 'we' as my father-in-law is an engineer so this sort of thing is right up his alley) to force the iPhoto export to constrain the long dimension of the picture to 500 pixels, just larger than the Coby's 480 pixel width. The Coby uses a 16:9 aspect ratio for the screen.
Here's how the iPhoto export settings look:
More snags. After we erased the originals on the SD card, iPhoto '08 refused to export more than 500 or so images directly to the SD card (yet more lousy quality control by Apple), so we dumped them to a separate directory on the iBook then dragged-and-dropped the directory onto the SD card.
Still not right. The Coby continued to show the old erased images, all messed up, as well as the new ones. So back to iPhoto and the MacBook and this time we did an 'Empty Trash' after erasing everything, re-exported the snaps and all was perfect. The 'Prefix for sequential' box is very useful as it prevents like numbered pictures from being overwritten as you add more. And a 1gB SD card can accommodate some 30,000 images ….
We also learned that directories are meaningless to the Coby – it reads everything in JPG format on the disc and dumps it to the screen. However, that does not mean that sub-directories are useless. They help you to catalog images and provide another way around the duplicate file name problem. Some manufacturers provide wi-fi streaming, but I avoided that as it's another needless overhead problem for the Mac's CPU.
Now everything was sweetness and light. We set the time interval on the Coby and it displays a gorgeous image every few seconds. It's a mains powered device, so portability is limited. USB, SD, CF, MMC and xD card slots are on the back and you can also plug the device directly into your computer with the provided cable. We avoided this approach as our hard worked Macs need all the CPU cycles they can get, and this would just slow things down.
The screen uses the latest TFT LCD technology, meaning that the picture remains bright no matter how far off axis you view it. Finally, the device includes speakers to play music, though music slideshows from iPhoto are not supported, as far as we can tell. We have yet to test the speakers. I don't know about you but I like to view my pictures in silence.
There are lots of these frames hitting the market and prices will only fall. This one works perfectly, if you follow the above instructons and disregard the negative and ill-informed reviews on Amazon. A little effort and it works wonderfully.
I can't wait for the 50″ model ….
This sort of thing will obsolete traditional museums as we know them. No more expensive trips to the Metropoltan or Uffizi, no more jet lag, no more crowds and no more wasted jet fuel. And just think of the money to be made tearing down all those archaic museums for replacement with some good old fashioned high rise condominiums.