From the 2008 Monterey Historic Races.
Back from the days when drivers were fat and tires were thin.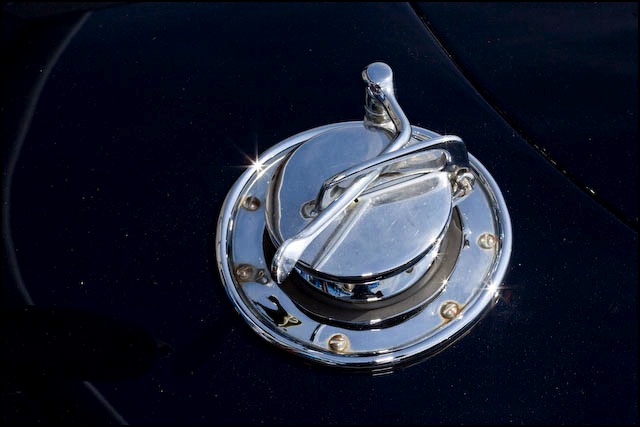 Late 1930s Talbot-Lago filler cap
The annual Historic races held at the Laguna Seca track in Monterey County, California, provide an orgy of viewing of some of the finest cars made. Insiders know that the race track is lousy for viewing and that all the real action is in the paddock. Further, go on the Thursday before the race weekend and you will not only get in free, you will also avoid the polyester set with its foul clothing and even worse taste. (N.B. For the best parking spot tell the fellow at the entrance that your are "pit crew". Works every time.)
Instead, in a friendly and unrushed setting, you can chat with the drivers and mechanics and exult in the beauty of what once was.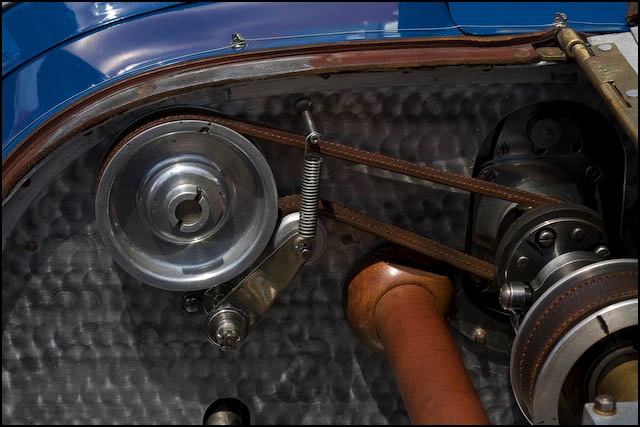 Leather belt drive for the tachometer on a late 1920s Bugatti. Note the simple tensioner.
The charming owner of this Bugatti explained that the leather belt is actually a sandwich of leather with a Teflon 'filler'. It looks fine and, unlike the original, lasts. Note the beautifully executed, diamond machined, firewall.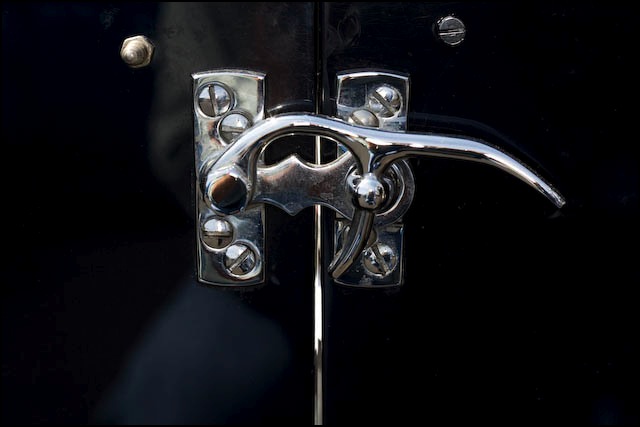 Door handle on a pre-war Delage. Pure, unabashed sensuality.
And forget all that rot about beauty being in the eye of the beholder. It's absolute. You either get it or not.
I use the 5D with the 100mm macro for these, with a shadowless ring flash, which preserves the original shadows cast by the sun while dampening down the otherwise excessive dynamic range. If there is a better hand-held macro outfit with the certainty of sharp, large prints, I do not know of one.