The first classic of the digital age
The Canon 5D was the first camera to bring semi-affordable full frame sensors to digital photographers and, I believe, will go down as one of the great classics of the early digital photography age, much as, say, medium format was defined by the Rolleiflex and 35mm film by the rangefinder Leica. The leap in image quality it offered from 35mm and the ability to regularly match medium format film for definition and detail with none of the pain of operation make it the greatest camera design of its time.
The new 5D Mark II is slated to arrive in the US around December and yet there is already a slew of lightly used 5D Mark I models for sale on the web. Maybe it's the economy, but I would think the price will soften further once Mark II generates some serious upgrade volume.
Check the eBay and you will see that completed auctions average about $1,300 for a mint condition lightly used body.
But I want the 21+ megapixel sensor in the new 5D Mark II, I hear you say, which begs the question why?
Do you propose making prints larger than 24″ x 30″? Do you want to use the movie mode? Is cleaning the dust off the sensor a real pain? Well, if you answered Yes to these, you may need the Mark II. No one else does.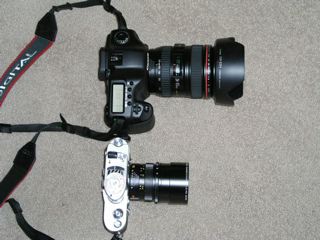 Two classics – Canon 5D and Leica M3