It just (mostly) works.
A while back I wrote about Apple's MobileMe service, at the beginning of my 60 day free trial period.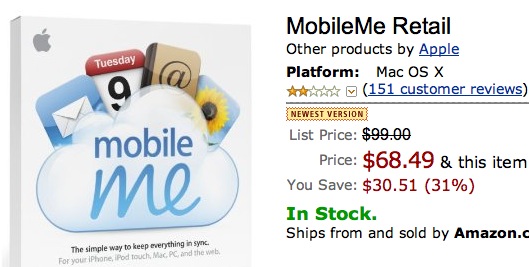 Amazon pricing on MobileMe
The bottom line is that I am sold and just paid Amazon $68 for a renewal. Apple wants $99 – no thanks. The awful review rating of 2 stars reflects the equally awful early performance of MM which was rushed to the market very much un-debugged. Too bad – it's a fine piece of software.
Syncing across three Macs and an iPhone is smooth and unremarkable, with emails, Safari bookmarks, iCal events and Address Books being synchronized across all machines with no intervention. Email syncing is especially noteworthy as it's now event rather than period driven. Get or send an email and the changes are immediately pushed out to all your devices. MM still refuses to sync Bookmark Bar bookmarks but that's about the only thing I can find wrong with it. The wild emailing of expired iCal reminders has ceased and appears stable.
Finally, a newly added feature allows you to drop large files too big for emails onto the Public section of your iDisk for others to download with one click. A great way to share big photograph files.
Sure you can cobble together other 'cloud' syncing approaches for much less, but this one is robust, elegant, invisible and (to use that old car sales trick) less than $1.40 a week.
Recommended for those with multiple devices they wish to keep synchronized. I have no experience (and will be garnering none) of use with Windows computers.