Quite a contrast
I took our boy to a show of Russian and Chinese 1950-era aircraft the past weekend and, because detail was the order of the day, took along the 5D and a couple of lenses.
Quite a change from the G1 when it comes to bulk and weight!
The 5D has marginally better shutter and focus response, though unless sports action is your thing, it's not a significant difference. On the other hand, the 5D is much noisier (the camera, not the images!) and of course weighs several times as much. The 5D's viewfinder seems positively dim after the G1′s EVF, although it renders colors and dynamic range more realistically outdoors. Indoors, while the G1 may show some noise, it is in a different league. I simply fail to understand why so many commentators have criticized the G1′s EVF for noise in poor light. Which would you prefer? A dim image in a 5D or like camera, or a really bright and easily discerned one in the G1 with a touch of noise? No contest. Maybe these critics should try to take pictures with their charges?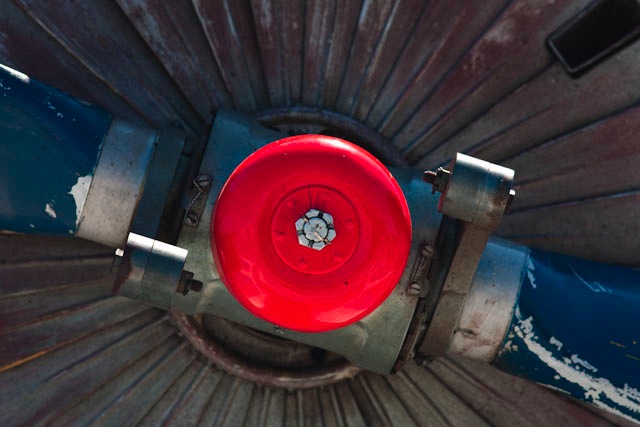 Commie prop. 5D, 200mm 'L' at f/3.5, ISO 250
It was an interesting exercise. Simply stated, comparing digital and film eras, the 5D is to medium format what the G1 is to the Leica M. With the 5D grain is not an issue and just about anything you snap will enlarge to a print size of choice. The G1, like 35mm film equipment, needs greater care. If you are going to push the size of your prints and the ISO setting, be prepared for compromises. The difference is likely to be less as time passes and technology marches on. While film peaked in quality years ago, digital is just getting started.