Shorter and shorter.
I used my Leica M3 for some 35 years. It had everything I needed in a street snapper, being small, quiet, sharp and fast. Add a lens or two and you had enough to travel the world. I mostly used it with the 35mm Summaron with those ghastly viewfinder 'spectacles'.
My M3
My Rollei 3.5F made it through 10 years. Truth be told, I seldom did it justice, never getting comfortable with the reversed waist level image (you were always looking up at people's chins) but the large negative was nice and the camera even quieter than the Leica.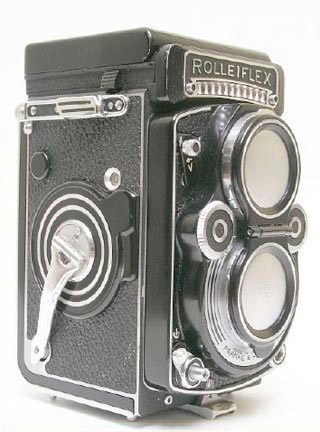 My Rollei 3.5F
It's successor was possibly the most accomplished medium format film camera ever, the Rollei 6003 Pro. The designers obviously took pictures and the choice of shutter or aperture priority automation was better executed than anything before or since. The lenses were to die for and the controls near perfect. Too bad it weighed several tons. Five years.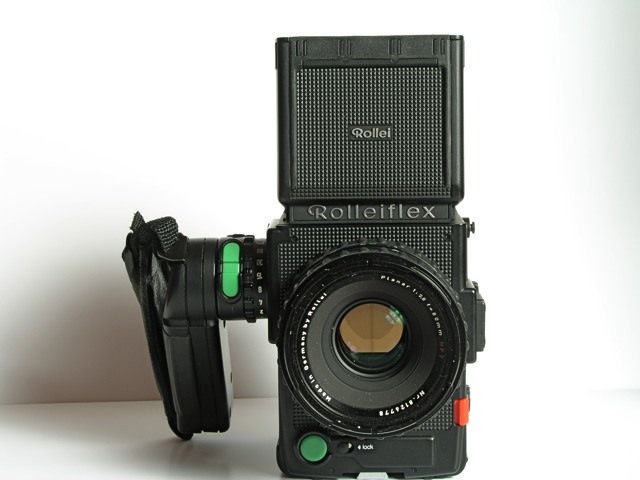 My Rollei 6003 Pro
One other attempt at medium format came and went in a year. The Pentax 6×7 was so loud that there was basically no environment in which I cared to use it.
It made the sound of a gun when the button was pressed
By contrast, the diminutive Pentax ME Super with its sweet 40mm Pancake lens was a dream and served me well on the streets of a tough New York during most of the decade of the 1980s when I lived there. It started as a 'steal me, I don't care' substitute for the Leica and ended up my daily snapper. I left it behind in New York when I moved to Los Angeles. Street snappers were safe there as no one walked.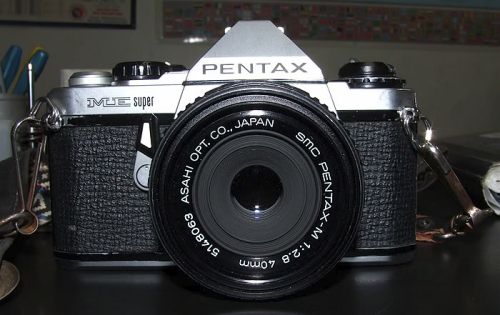 ME Super with pancake in place – as good as 35mm SLRs got
But my all time favorite of the film years was my Leica M2, which I bought in very sad shape in 1993. I got a dozen very hard years out of it and it always made me regret having bought the M3 back in 1971 when I really should have got the M2. The 35/50/90mm viewfinder was just what the doctor ordered and no bespectacled bulky 35mm lenses were needed, just the wonderful 35mm and 90mm Asph Summicrons. Parting with that one really hurt when I sold it.
My Leica M2 with the 35mm Asph Summicron
My general drift here, however, is that there are no more 5, 10 or 15 year cameras. The rate of change in technology is so startlingly high right now that if you were to tell me that I would be using my Panasonic G1 as my "go to" tool of choice five years hence I would laugh myself silly.
No sooner do I write that, though, than I am given pause by the superb Canon 5D. I see no earthly reason to upgrade to the Mark II as the images seem every bit as perfect as anything from medium format film and maybe it will just enjoy a double digit anniversary here. Provided it doesn't blow and die for lack of digispares. I have recycled a couple of the poorer lenses made by Canon for this body but the rest soldier on as sharp as the day I bought them and newer arrivals preserve backward compatibility so far.
Life's too short for brand loyalty. I wonder what the Panasonic G2 will bring? Or the Samsung XYZ3? If it works for me you will find it around my neck or, more likely, in my pocket.
"Rich sod" I hear you thinking. Nothing could be further from the truth. My M3, bought in 1971, was the results of My years in retail. The Rollei 3.5F was a real beater which cost very little. Now, film Leicas and Rolleis are super collectible, of course. Pretty much everything else was from trading gear, and I never bought new until digital came along. The reasons are simple. 'Used' and 'digital' equals 'obsolete', as in parts are not available no matter how competent the camera, and repairing them makes little economic sense. Further, digital gear is so much cheaper than the machines of old that it has become very affordable. That $650 G1 would have cost some $100 in 1971 currency when I got that Leica M3. It never ceases to amuse me that the proceeds of my M2, M3 and a small handful of lenses paid for everything I use today. Like with investing, timing the exit right makes a big difference. And loyalty is for dog lovers.