Here's hoping.
My Panny G1, bought in July 2009 was discontinued about a year ago. Panasonic replaced it with the underwhelming G2. The latter added a movie mode and a touch (more like "push") screen.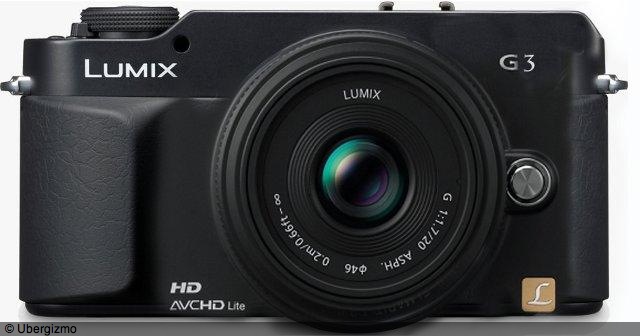 Panasonic G3? I wish!
A far more significant improvement was in the recently introduced and costly ($1,000 body) GH2 which added the second ever MFT sensor. All Panny and Oly MFT cameras have shared the same sensor until now. This increased the pixel count and reviews suggest that the noise and resolving properties are now comparable to the considerably larger APS-C sensor in the best models from Canon and Nikon. A related benefit is the professional quality movie mode which has many pro movie makers dumping their costly video gear in favor of the superior GH2. Impressive.
Now it's not like the results from the G1 are bad. I have little difficulty consistently producing 13″ x 19″ prints from mine and, with extra care, 18″ x 24″ is possible. That's larger than 99.9% of users will ever make. As for display on a big TV screen, there are no issues. Everything looks great. However, an even better sensor, especially one with less noise at 1600 ISO, would be welcome. So would deletion of the useless prism hump on the G-series DSLRs, placed there by Panny's admission to make traditional DSLR switchers comfortable. Or something silly like that.
The reason the mock up, above, interests me is because not only is the prism hump gone, the body also includes the EVF from the G1 which is as good as it gets. Meaning that, unlike the GF1 and GF2 which include an LCD finder only or an add-on EVF which makes them bulkier than the G1, you get a proper, integrated finder. Plus that improved sensor. Anything that allows me to be more careless when pressing the button, in the interest of getting the picture, is a good thing. So faster ISOs made possible by a less noisy sensor means faster shutter speeds. That means a higher success rate in street snapping.
The rumor mill has it that Panny will announce the G3 on May 11, in London. Let's hope that the recent earthquake in Japan does not delay that.
The G1? Still a superb bargain. I paid $640 for mine and Amazon still sells new ones for $550 with the kit lens. Mint to new ones sell for under $250 for the body only on eBay. If the G3 is too costly or delayed, I have no difficulty recommending the G1 to aspiring street snappers who will not miss a movie mode. And forget the touch screen. No one needs that.
Price? I'm guessing $650-700 for the body only. They may have to discontinue the GF2 as who wants a non-EVF body of comparable size at a like price?