Conceived, designed and made in America – the man and the gear!
The RED digital movie camera is today's state-of the-art in digital movie making.
What makes the RED digital camera so exceptional is not only its high definition, but also that, having started production in Singapore, it is now increasingly made solely in, wait for it …. the United States. Design and engineering is in California and assembly of some of the bodies is now at the same US location.
What reminded of the RED digital camera was when Brad Liber, my nephew mentioned that he was working on a movie project. Brad, who is making his way in New York and transitioning into movie making after assisting Vogue photographer Bruce Weber for a couple of years, is the cameraman on a new movie project. The concept is to show how two poor New York ghetto kids find life sustaining purpose in their skateboarding.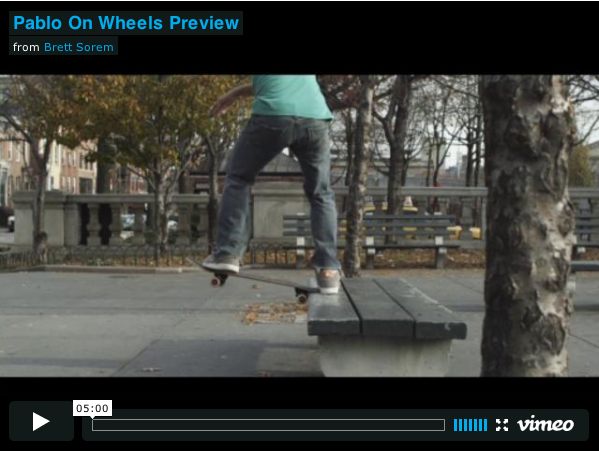 Click for the 'Preview of Pablo on Wheels'
Brad has rented a RED movie camera to make the movie. It's a costly piece at $25,000 (meaning there's a burgeoning rental market) but, when I tell you that it's becoming the new standard in Hollywood, it gets your attention. With top stars commanding eight figure paychecks, equipment cost is chump change. What makes the RED camera different is that not only does it record in digital format, it's also the highest definition digital movie camera in the business, and the first to rival film for quality. Compare that with still pictures where the best in digital surpassed film five years ago. Then again, still pictures are not commonly projected on 300 inch screens, either. The RED web site is quite candid about the camera's capabilities, stating:
"What cameras does the RED ONE compete with?

Because the RED ONE is a digital cinema camera (and not an HD video camera), the list of competitors is a short one. Cinema, or film based, cameras offer resolution rated a little over 3K. The RED ONE, at 4K, provides approximately 3.2+K resolution, based on the slight hit of an optical low pass filter (OLPF) used to reduce the effect of aliasing. It is RED's considered opinion that, going forward, a system must have at least 3K resolution to meet the demand of 4K projection technologies, now being promised by many of the major projector manufacturers. Digital cameras offered by many of RED's "competitors", such as Sony, Arri and others, only provide, at best, 2K, and most, only High Definition, which is just not enough information to be scaled to 4K projection.

It is safe to say that RED's biggest competition comes from film, and as the sensor technology continues to improve, while film's days of progress are numbered, the promise of digital acquisition will be realized. The advantage film has currently is one of dynamic range. With each generation of RED sensor development, the gap becomes narrower and narrower."
To put this in perspective, '4K' in movie talk means each frame is frame is 4096 x 2048 pixels, or 8.4 megapixels in 16:9 widescreen format. Shooting at 30 frames a second that computes to a minute of recording requiring 503 megabytes or just over 30 gigabytes an hour. With overhead that figures to more like 60gB/hr. Not trivial! But that's definition consonant with the highest available from rapidly adopted digital projectors, increasingly found in movie theaters. For older projection hardware, the digital image still has to be converted to traditional film.
The RED is huge – so it's just as well that Brad is young and, as an enthusiastic runner, exceptionally fit: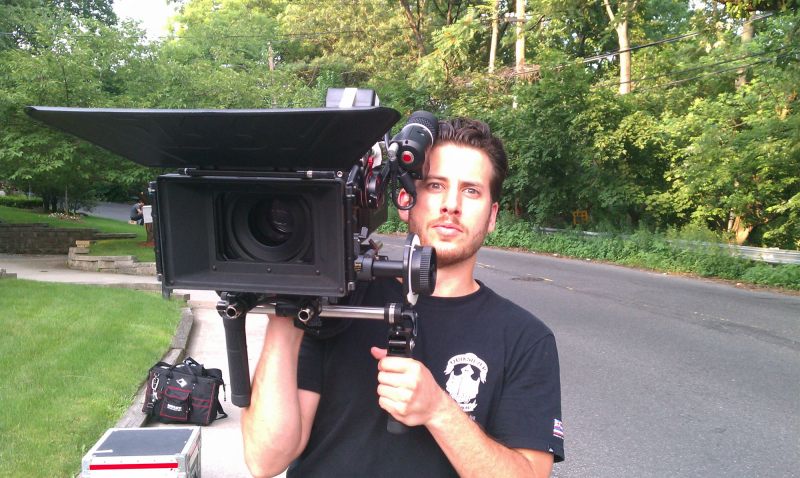 Brad with the RED digital camera and an Arriflex lens – most of this short was shot by Brad.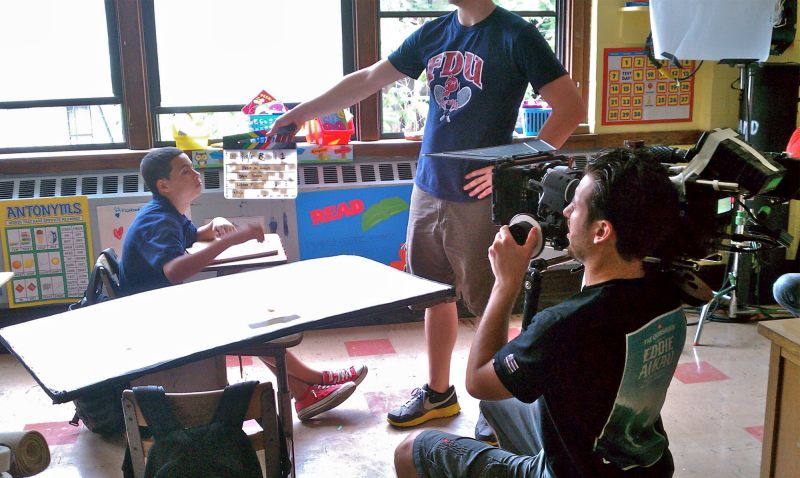 On the set of 'Pablo on Wheels'
Brad reports:
I'm pleased with the camera so far; despite the weight, it is very nice to work with. I have been shooting wide open at f1.3 or f/2.8 on the 75mm, and pulling my own focus; very sensitive during movement; steep learning curve but I'm getting a good feel for it. Great crew on set, with a gaffer and key grip out from LA film scene (they are good friends of Director Brett and I; also film grads of SFSU). Using Mole 1k pars and Kinos both daylight and tungsten bulbs (depending on shot). The light is soft but lit very moody, exposed for darker feel.

I am very pleased with the Red M-X sensor, though I must say that the operating menu needs a complete overhaul …. The menu screen has considerable lag, and the resolution of a 1990s Mac screen. Really I felt like I was inputing changes to the camera via an old Nokia cell phone. We had a wonderful set of Arri prime lenses however, and you will see shortly see the beauty that these optics can deliver.
I'll post more when the movie is released.