A news consolidator for the iPad.
For the past year my default RSS feed reader on both the iPhone and iPad has been Reeder, a product well attuned to the touch interface and continually improved. I use it for RSS feeds I elect, thus making an efficient process of reading just those sites which interest me and making it unnecessary to visit to see whether updates exist. Reeder looks at your RSS feeds in Google Reader (yes, the company which :"Does no evil" and derives content based on those.
A new class of feed reader is coming along as an adjunct to Reeder, and one example is named Zite. If you wonder about the name it's derived from German under the mistaken impression that Americans actually speak more than one language. (Had this been a News Corp app it would have been named 'Scheiss').
Zite also goes out to your Google Reader account (and Twitter and others) to look at what you are reading then returns stories based on the most popular sites within your interest areas: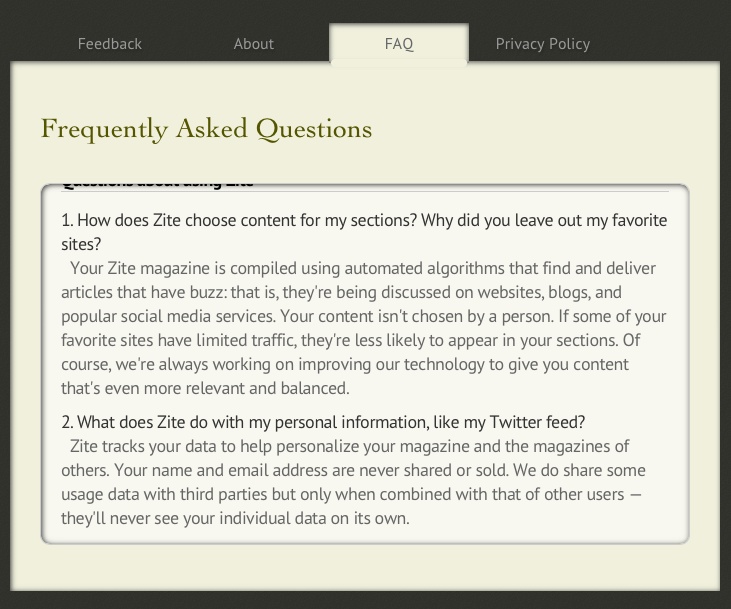 So, for the most part, there's relatively little overlap between what you choose in Reeder and what Zite chooses for you based on your Reeder feeds. The layout is magazine style and on my iPad1 everything loads quickly. Setup is a breeze, with the user choosing major categories of interest, which you can see down the right hand column: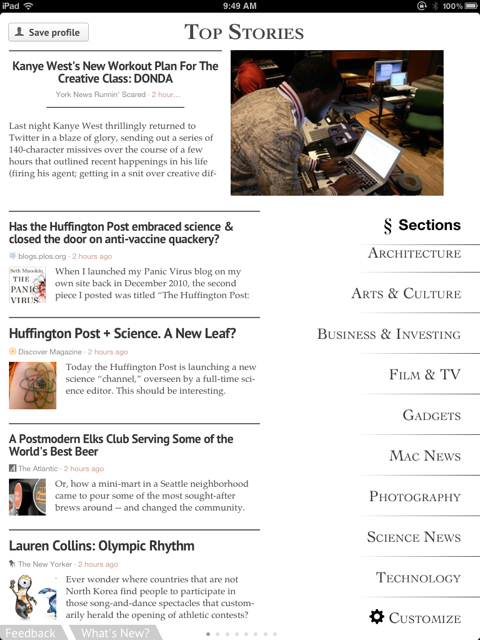 Touch 'Photography' and you get: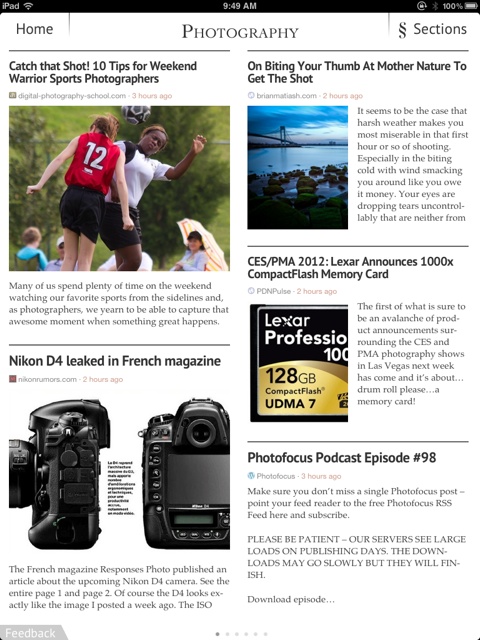 Touch the story for the full text. Swipe left for the next page under the same Section heading.
There are links on the right of the iPad's display (not shown above) which permit emailing or saving to Instapaper, etc. Nicely done.
The app uses the touch interface really well and I'm enjoying it greatly, not least for some of the unexpected source materials it presents. The one shortcoming I have asked the developers to address is that once read a story should be 'greyed out' to make the whole thing more efficient. With so many stories, I find that I was choosing ones I had already read before they were relegated to the dustbin of history.
Zite is free and I have not been troubled by any intrusive advertising.