An absolute sweetheart.
Our son Winston does karate in a down-on-its-luck area whose great redeeming quality is the presence of Kaufmann's Cameras, one of the few remaining camera stores in these parts, 57 years in business, the last 21 at the same location on West 25th Avenue in San Mateo.
They have half a dozen consignment cases full of old film gear, languishing sadly (they keep a 30% commission).
I swung by when Winnie was doing yet another of his never ending belt tests yesterday (it's their annuity income stream) and spotted one of the bargain label Nikon-E optics, the 75-150mm f/3.5 for sale, in mint condition. Small, 52mm filter, trombone zoom, MF of course and a fixed f/3.5 maximum aperture. A quick check on the iPad disclosed it's a highly regarded optic, all metal, and the one Kaufmann's had on consignment was mint, complete with UV filter and rear cap.
As generally seems to be the case the zoom trombone will move with gravity; two minutes with electrician's black vinyl tape saw a strip applied underneath and the problem was solved.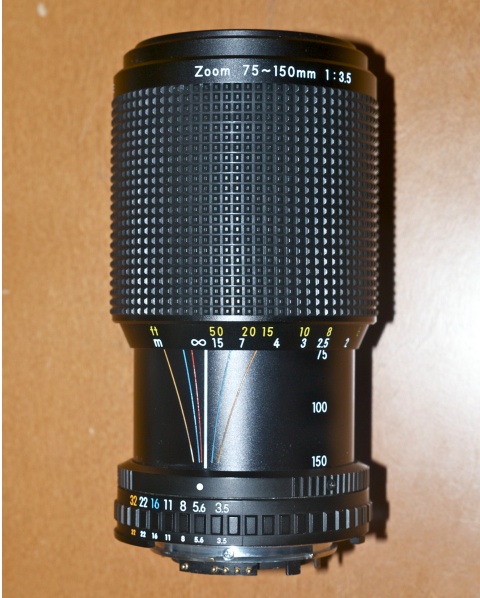 Series E 75-150mm Nikon lens.
Definition is super, with the merest hint of red fringing at 75mm, with slight vignetting at 150mm, both easily remedied in LR3. There's no air pumping as you operate the trombone as the rear element is fixed – nice! That means no blast of airborne dirt in the direction of the camera's innards as you zoom. The aperture ring is really close to the flange and takes some getting used to. Full click stops only with a fine solid feel. Zooming does not change the length, focus does, with a 3/4″ extension and a 200 degree rotation. It focuses to a very close 3 feet. At 150mm that's pretty close. Both zooming and focus are wonderfully smooth and perfectly damped. Out of focus areas are nicely rendered. Both the front and rear glass elements are pretty much exposed, so a filter/rear cap make sense.
As there is no CPU in the lens to communicate focal length the D700 has to be told manually which length is in use if you want correct EXIF data. Up to nine various settings are allowed. The 'Non CPU lens' setting on the D700 does not have zoom options, so I set it at 86mm and f/3.5 and exposure automation is fine, with the usual focus confirmation. 86mm? It's one of the strange options available and not likely to be confused with anything else when looking at EXIF data! Balance on the D700 is just so. Comfortable. All the markings on the lens are engraved and paint filled. Like they used to make them. No screen printing. I like that.
Cost? Would you believe $85 with filter and rear cap for a lightweight, high quality zoom with a fixed and fast f/3.5 maximum aperture? What's not to like? It may have been Nikon's 'bargain' line but there are no signs of cost cutting in either execution or performance. A wonderful adjunct to the 16-35mm ultra-wide zoom – similar length, much smaller diameter, similar weight. As I have no intention of carrying around a 70-200mm f/2.8 autofocus VR zoom weighing in at 3.3lbs and measuring 8.1″ in length (against 1.5 lbs and 5.2″ for the 75-150) I am happy to sacrifice AF, VR, the long end, the weight and the bulk. And did I mention this little sweetheart is some $2,300 less?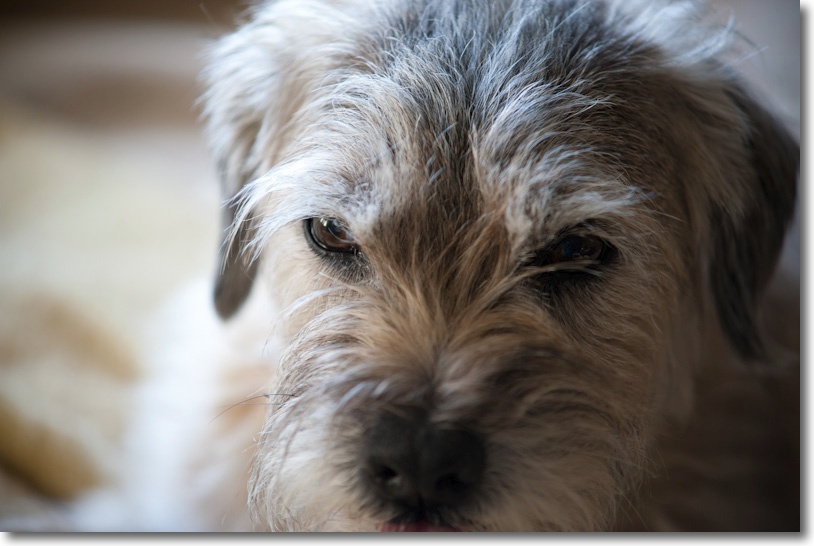 Brooding Bert, 75-150mm Nikkor Series E @ 150mm, f/4 at closest focus.
Higly recommended if you are OK with manual focus and a perfect companion to an ultrawide zoom as part of a 'do (almost) everything' outfit.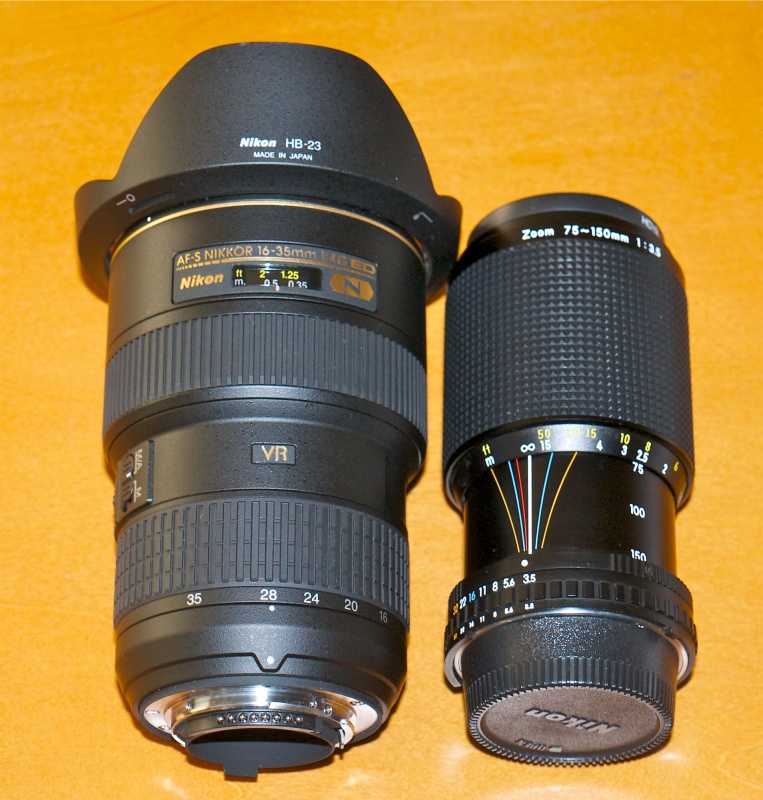 Someone needs to lose weight ….
The Nikkor 75-150 budget zoom is an absolute sweetheart and costs a lot less than any sweetheart ever will. And while you are spending wildly on one of these gems, throw in a new Nikon HR-1 collapsible rubber screw-in lens hood for all of $15, which makes sense given the flare-prone, exposed front element. The original metal 52mm screw-in hood, HN-21, is hard to find.
You can download my custom lens correction profile for this lens, best used once a CPU has been installed in the lens, here.
CPU installation:
My lens is s/n 1814651, early all black design, (Sept. 1980) and permits a simple glue-on installation of the CPU. However, after correspondence with a reader it became clear that somewhere in the first run of these lenses, the all black ones like mine, s/n 1790801-1860019, Nikon changed the design and started using a much thicker baffle in the area where the CPU has to be installed. This means that the baffle will have to be removed and an arc machined out to accommodate the CPU. I do not know exactly where the change in design occurred, but the lens already used the thicker baffle at s/n 1837859. If any other readers are converting this lens, please drop me a line with your s/n so that I can narrow down the change point, for future reference. The later version with the chrome ring, s/n 1890001 and up appears to use the thicker baffle.