Another insane bargain.
This 200mm telephoto lens dates from 1971 and is the one to own if you love the early all metal designs, a broad scalloped focus collar and a similarly designed aperture ring. More importantly, how does gorgeous rendition of out-of-focus areas sound? I love the feel of this lens, so reminiscent of 1960s vintage Leitz Summicrons, but I would suggest you buy one regardless of whether you even plan to use it.
You see, this lens is the ultimate exemplar of optical and mechanical engineering. Further, as with the 500mm f/8 Reflex Nikkor, digital processing technology really brings it into the sweet spot for photographers. Forget the reviews, most dating from the film era. Processed in LR3 with my usual 86 Sharpness import setting, this lens is as good as it gets. Better still, the balance on the D700 is perfect. Sharpness across the frame is the same regardless of aperture, and there's maybe one stop of corner vignetting at f/4, falling to nothing by f/8, and easily corrected in Lightroom. For 'bokeh' nuts, the out of focus bits are beautifully rendered. Contrast is a tad lower than that in more recent Nikkors, easily juiced in LR when needed. There is very modest color fringing at f/4 and f/5.6, easily and perfectly correctable in Lightroom 3, and only required if you are making large prints. Another example where modern processing technology has given new life to a very old lens.
At 6 1/4″ with the hood collapsed this is no modern resin/polycarbonate midget. I owned the Leitz Telyt 200/4 of the period for many years and it was similar optically, but inferior mechanically. I can say with comfort that this is, mechanically, the best long lens I have ever handled. I have also owned the Leitz 180mm f/3.4 Apo Telyt-R which was superior optically, if not by much, but inferior mechanically. Another 200mm I have owned is the Canon f/2.8L AF which is optically the best 200mm I have used, and mechanically OK. On a construction quality level, I would rate the Leitz 200 an 8, the Leitz 180 a 7, the Canon 200 an 8 and the Nikkor a 10. Optically the scores would be 7/9/10/8, respectively.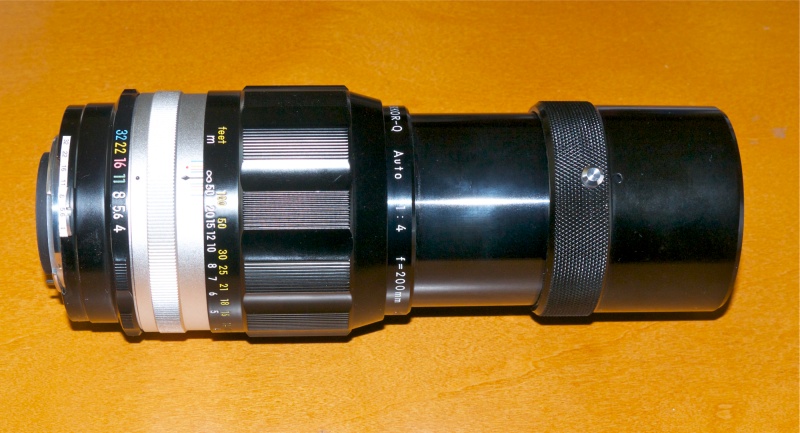 Shown here with built-in hood extended.
The feel of the focus collar could not be improved. Unlike the light action of lenses like the 50mm Nikkor-H f/2, this has a substantial resistance to motion which meshes perfectly with the balance, size and ergonomics of the optic.
And if you want to see how lenses were engraved before the days of chintzy screen printing, feast your eyes on this: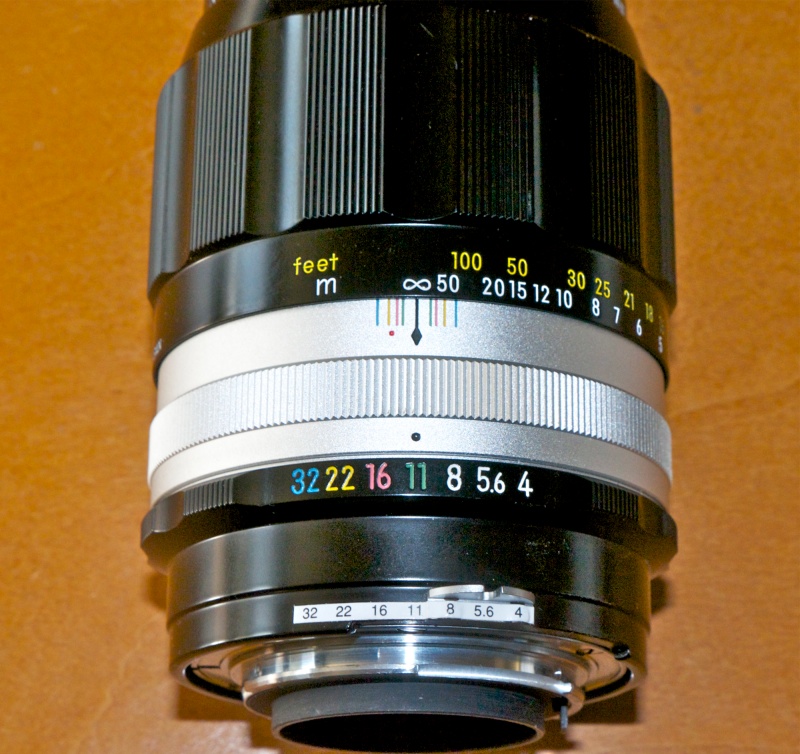 Engraving quality to die for.
The finish is stove baked enamel and black sheen for the most part (you can feel and hear the lathe's tool with a fingernail drawn longitudinally across the sheen parts) and the chromed components are Leica-quality 1960s chrome. That means they are as good as it gets.
Mine has been converted to AI specifications, as the small rear aperture marker strip testifies, even though it is redundant on the D700/D800/D3/D4 FF bodies. Collectors will recoil in horror at the prospect of machining this lens, but I'm a photographer, not a museum curator.
Nothing is rushed here. The focus damping is deliberate and the focus throw long – some 180 degrees down to seven feet. Earlier models did not focus as close. Later ones started growing crappy rubber and vinyl parts. You can buy one of these for $39 (yes, thirty-nine mighty US dollars), almost mint, which is what I paid KEH.com for mine, plus another $33 to the estimable John White for AI conversion.
Goodness knows, I'm no gear collector, but in the case of this magnificent tool, I can see just putting it on display, not least for the price asked, should I become gaga and routinely start wetting myself. Further, spend an additional $30 for a CPU, glue it in place and you have a modern optic which will automatically report proper EXIF data and support matrix metering on a current Nikon DSLR body. And you still have under $100 into it.
Some snaps. The lens is distinguished by wonderfully plastic rendering of out-of-focus areas and beautiful balance on the D700 body, being easily handheld. Most of these were taken at the ghastly tourist trap known as Fishermen's Wharf in San Francisco, and the long focal length does a fine job of separating the wheat from the chaff: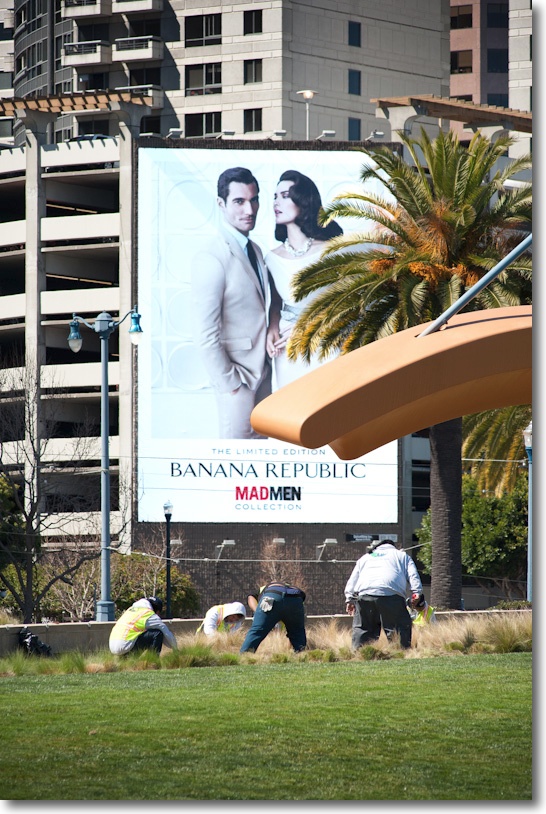 Mad men. At f/8.

Alcatraz. I added the vignette. At f/4.

Porthole architecture. At f/5.6.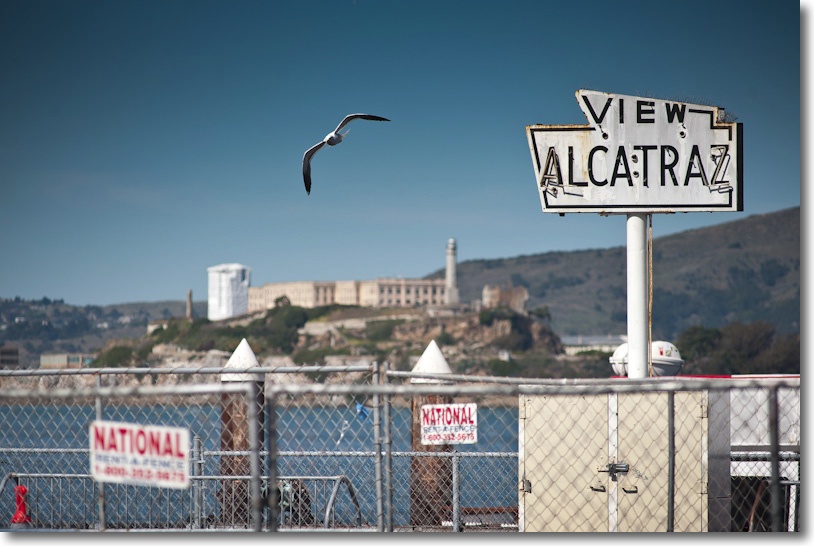 Gorgeous 3D rendering of the bird. I added the vignette. At f/5.6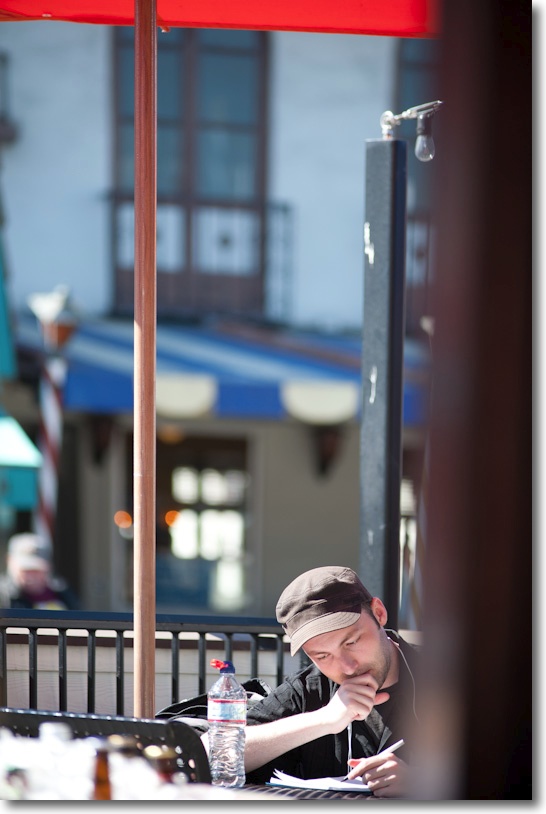 The Letter. A 200mm lens excels at this sort of thing. At f/4.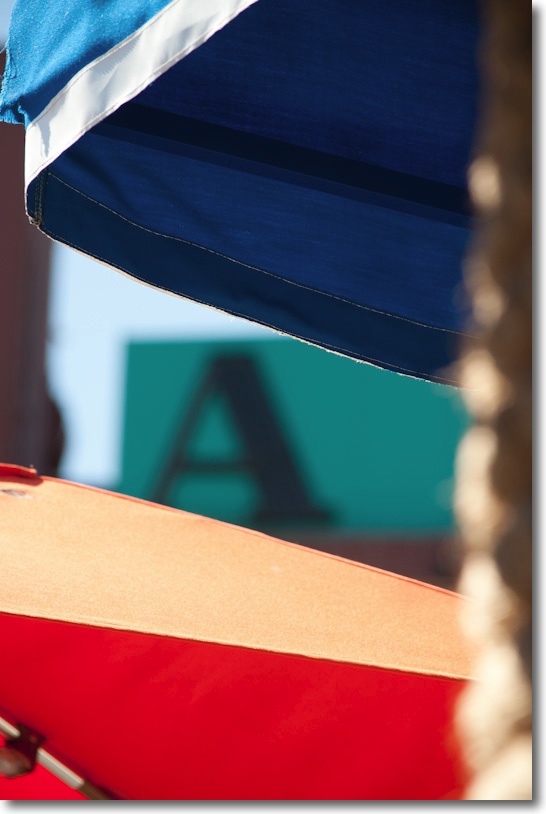 Umbrellas. At f/4. Thank you, Mr. Leiter.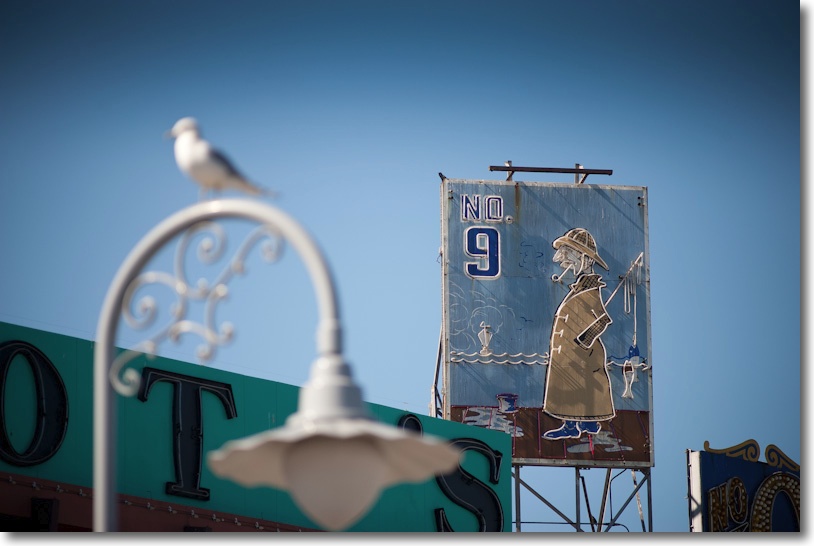 Number Nine. I added the vignette. At f/4.

As you can see, there is every reason to use this lens at full aperture. The D700's focus confirmation indicator helps out when needed. The only thing which leaves me mystified is that someone actually sold the almost unused one I so happily call mine. Their loss.
You can download my custom lens correction profile, for use with PS or Lr here. It removes minor vignetting at full aperture and corrects for very minor pincushion distortion at all apertures.