Jony Ive's design for the first iMac with its ghastly translucent colored plastic covers may have been a low point, but he has yet to improve on the successor, which came to market 10 years ago.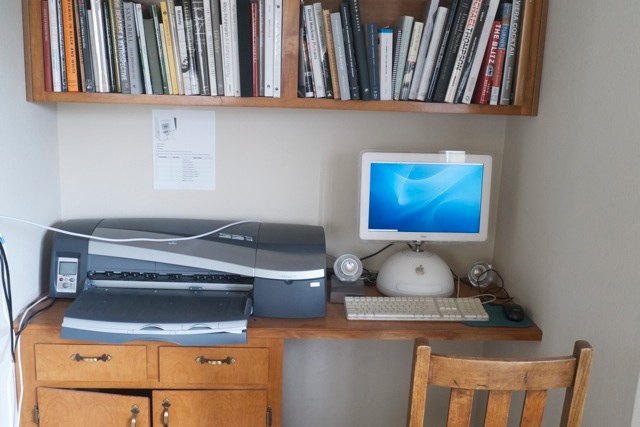 The second iMac.
While the original came with a 4:3 screen, by the time I bought mine it was stretched to my favorite aspect ratio, 16:10 in 15″ and 17″ sizes. Extra memory was strictly a factory installation thing and the hard drive but 60GB.
And, as you can see, the machine was anything but cheap: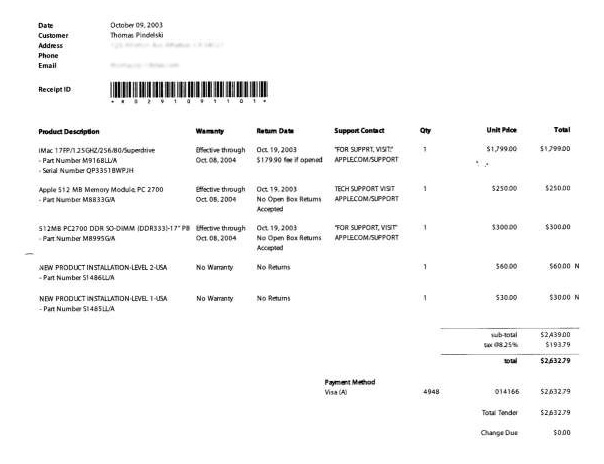 It remains happy in occasional use, where it controls profiling of my HP DesignJet 90 wide carriage dye printer; just as well, as good luck getting HP to update their online apps to work with anything later than OS Snow Leopard.
The genius of Ive's design was not just the unique packaging, but a screen cantilever which has yet to be improved. You could raise the display to a proper working height even if you were over 4′ 10″ tall, the optimum height for anyone buying any subsequent iMac. It runs cool as the ventilation design is not compromised, the way it is today. The current iMacs with their awful support foot benefit from a ream or two of paper underneath, which isn't quite consonant with Cupertino's design aesthetic.
To see the roll out with the master circus barker himself at the helm, click below. Refresh the page if it's not visible.
Jobs rolls out the iMac G4.
My subsequent odyssey:
Along with the Powerbook G3, this was the last consumer grade Mac designed with both form and function in mind. Thereafter, form would rule and reliability went to pot, as my experiences disclose. A while back, Tim Cook, Apple's new CEO, speaking of design, joked about the inadvisability of combining a toaster with a refrigerator. Obviously he had never used an iMac G5 which was a unique combination of toaster and computer. The fans also managed a passable rendition of an F15 at take-off. Anyway, after a long run of failed Apple hardware I approached my computer builder friend, the pseudonymous FU Steve, and had him build me a Hackintosh. So successful was the result that he would later build me two more while simultaneously upgrading the original to current specs at very modest cost. Plus you could get a decent, wide gamut, matte display to go with the box. I have never looked back. The perfect combination of reliable, easily available and inexpensive PC parts with a robust OS, Mac's OS X. Wild horses would not induce me to buy a new iMac. I have dismantled these in many repairs of mine and can assure you there is simply no way so poorly designed a machine can withstand the long-term stresses of hard use. It's a toy inside with proper heat management an afterthought.
To be fair, Apple has somewhat redeemed itself with the latest 2012 MacBook Air which runs so-so cool (mostly thanks to Intel's progress with its low power consumption CPUs and integrated GPUs), is fast and if its 2010 predecessor is any guide – an outstanding machine – should prove reliable. It harkens back to Ive's classic iMac in its design; the MacBook Air design is elegant, robust and well executed.