Shades of Microsoft.
While I very much doubt Steve Jobs knew an operating system from an operating table, his tyrannical, bullying rule of Apple Corp. ensured a high level of attention to detail on the part of his workers. As the guys on the disastrous MobileMe product team, who are now holding up cardboard plaques at the corner of Atherton Avenue and El Camino Real proclaiming "Will Work for Food", will attest.
Such were my thoughts when installing Mountain Lion on the HP100 nuclear powered Hackintosh chez Pindelski. The download price was right, as in free, as my 2012 MacBook Air had grandfathered the freebie. Getting the freebie was a mess of passwords and poor instructions for which I had to wait 48 hours, the sort of thing Bill Gates revelled in, but I got there. Installation on the MBA was uneventful and after thoroughly wringing OS Mountain Lion out with all my favorite apps (especially LR 4.1 and PS CS 5.1) I concluded it was time to give the big guy a spin.
The Hackintosh thing requires that a major release be downloaded from the AppStore and the installation files transferred to a separate bootable medium. (Minor releases are a simple AppStore download). Tonymac's Unibeast transfers the downloaded files together with a bootloader to the partition of choice. Restarting from the new partition saw Mountain Lion installed to my boot partition in some 10 minutes (SSDs are fast!) and a restart resulted in …. another Microsoft moment. Most things worked well, but Mail was a spinning beach ball much of the time and Contacts (the Address Book of yore) refused to show. So I did a second install, identical to the first and found myself in the land of sweetness and light. Shades of Windows.
The CPU is at 4.4GHz, but 4.3GHz is as high as OS X can show.
The first Geekbench CPU performance score was a ghastly 5500 – I expected 15,000 or so on the overclocked Core i7 SandyBridge. A moment later I had installed NullCPUPowerManagement.kext using Tonymac's Multibeast as well as the HDARollback and Realtek sound kexts to restore sound functions. Another restart and the Geekbench report was back over 15,000 and Cinebench came in at almost 30fps. Slower than the 38 I was getting in Lion, but it may be that the Nvidia 9800GTX+ GPU, ancient as it is, is beginning to show incompatibility issues. Still, for my purposes (LR and PS) CPU speed is far more important than GPU throughput, given the CPU-intensive nature of those apps.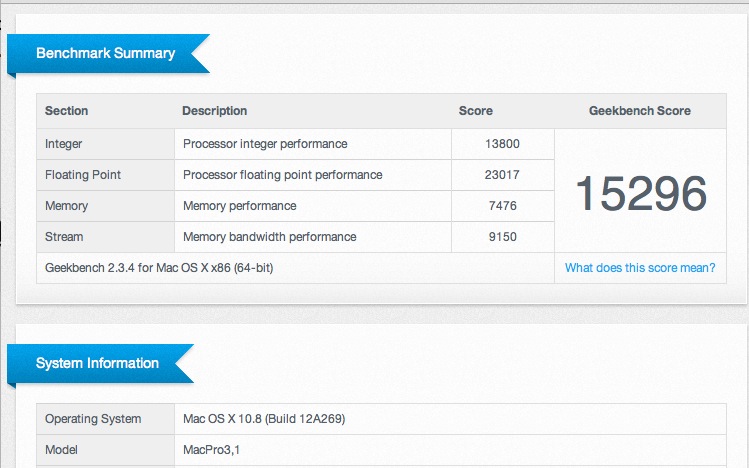 Geekbench and Mountain Lion.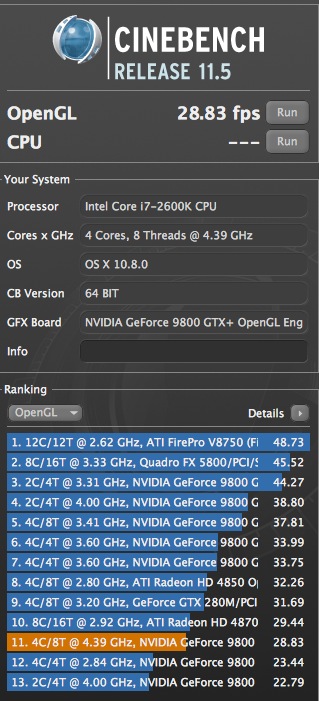 Cinebench with Mountain Lion. CPU speed is shown correctly.
So, overall performance is largely unchanged compared to Lion 10.7.3 and some handy features are added. One note – Photoshop required a large Java update when first launched, which took a few minutes. Now it loads faster than ever, under 2 seconds, and Lightroom remains as fast as ever.
Dictation works well (HP100 has a Logitech USB microphone connected), the Notification capability mimics iOS and obsoletes Growl to a large extent, and the showstopper (on the MBA) is the addition of AirPlay, a feature common to iPads and iPhones for a while. This allows you to redirect video and audio from Mountain Lion to any TV with an AppleTV connected BUT the sending machine must have an integrated GPU for this to work. Thus regular Core2Duo or Core2Quad machines cannot do this, whereas those with an HD3000 (Sandy Bridge) or HD4000 (Ivy Bridge) integrated GPU can accomplish the task. I have no need to do this with HP100, despite the presence of its HP3000 integrated GPU, but having this on the MBA, the 'sofa' Mac, is heaven-sent, and will create another crack in the bundled pricing hegemony of the cable TV providers. You can get it on your laptop? You can send it to your TV!
The enhancements in Mountain Lion are mostly cosmetic. It's 64 bit only so you will be SOL if you use 32 bit apps, and now is as good a time as any to start researching the topic. Given the otherwise modest changes, the ML upgrade is a low risk proposition if you can cross the '64 bit only' hurdle.
This is no bleeding edge upgrade, as Apple's $20 upgrade price indicates, and I suggest it's a low risk update for Lion users. Stated differently, it's last year's Ferrari with some chrome trim strips added. With Windows 8 set to emulate Windows Vista (last year's Trabant), there has never been a better time to abandon the Evil Empire. Let's just hope that Tim Cook shows some tyrannical traits real soon and kicks some rear on those installation glitches.
Preserving TRIM with SSDs:
To understand TRIM – garbage management for SSDs – just search the term using the box atop this page. A photographer friend who has just built a fabulous Hackintosh using a Z77 Gigabyte motherboard and an Ivy Bridge i5 CPU advises that preserving TRIM with a user DSDT file requires the following settings in Multibeast:
TRIM and Mountain Lion.
I can confirm these work.