Now with 1080p.
I wrote about the new AppleTV (AppleTV2) at considerable length a couple of years ago, seeing it as a transformative device for living room entertainment.
And so it is proving. Any image or video on an iPad can be viewed on your big screen TV and with the latest OS X Mountain Lion upgrade the same can now be said for your laptop or desktop Mac or Hack, as long as it is a Sandy Bridge or Ivy Bridge CPU model with an integrated GPU. The latter is used by the mirroring technology, which does not run through discrete GPUs as used in older Macs. You can check in 'About this Mac->More Info->System Report->Graphics/Displays'; if 'Bus:' does not say 'Built-In' mirroring will not work.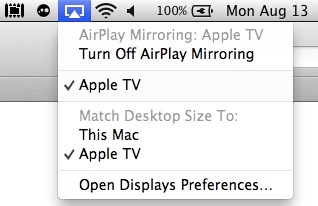 Mirroring in use on the MBA 2012.
Apple quietly refreshed the AppleTV a few weeks ago upgrading it from 720p to 1080p definition (AppleTV3). If your TV, like ours, is 720p that's not a problem. AppleTV3 will render a 720p image. However, if your TV is 1080p then an upgrade to the latest AppleTV3 will use the full definition of the LCD screen. In practice I cannot tell the difference betwen 720p and 1080p until the screen size exceeds 50″ diagonally, but the device remains priced at $99 and works well with all flat panel displays with an HDMI socket. For those with overhead projectors with large display screens, the upgrade is a meaningful enhancement if the projector supports 1080p.
The 720p version was quickly hacked by enthusiasts many of whom want to add XBMC (Xbox 360) functionality to their AppleTV2. Obviously it will be a cold day in hell before Apple does anything to help Microsoft, so hacking is the natural response. At this time, best as I can tell, no one is working on hacking AppleTV3, so if you want the added functionality of a hacked AppleTV2, stick with it, even if it means you are not exploiting the maximum possible definition of a 1080p display.
However, if you like your AppleTV2 as it is, and I do, I recommend upgrading for the simple reason that AppleTV2, when sold on US eBay, averages a selling price of $160, or $60 more than an AppleTV3. The premium results from the devices 'hackability'. So, even if your TV is only 720p, it's a free, nay, better than free, upgrade for the day you move to 1080p.
One very notable addition to AppleTV (2 or 3 – just do a software upgrade) is the addition of Hulu Plus, a low ad content TV service. That does not thrill me especially, for even one ad is one too many and I rarely watch TV, but along with your $8/month (you can cancel at will) subscription comes access to all of the extraordinary Criterion Collection of movies. That is very much worth it to this movie buff, when most Criterion DVDs run $20-40. The catalog includes some of the great classics of the cinema, and you can see the complete list by clicking the picture below.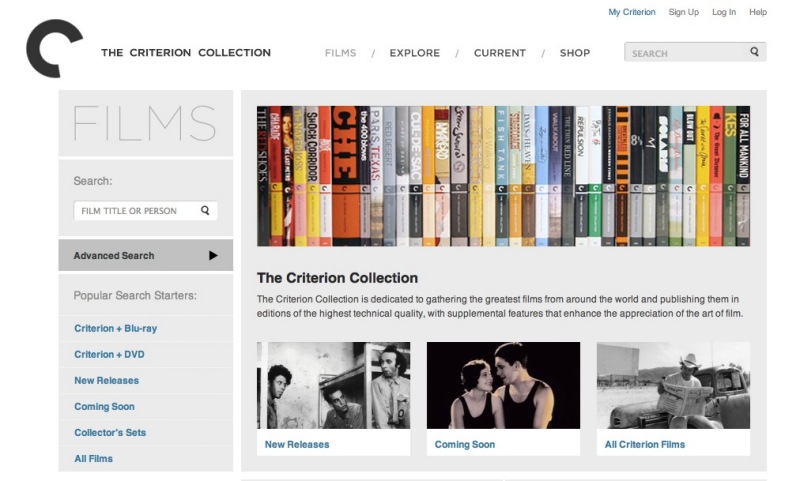 Click the picture to view.
The size, shape and remote codes (for those programming their universal remote) for AppleTV3 are identical to those for AppleTV2, as is the new price. Should Apple market a TV set, you can bet that the functionality of AppleTV will be included, maybe enhanced with voice controls or soemthing like Kinect which recognizes motions.