Stop with the negativity.
Bears and trolls have been ganging up on the new Apple Maps app like there's no tomorrow. These haters, of course, resent the quiet and happy Apple investors and product users who has made an absolute fortune from buying the stock at $70 when the first iPhone was announced. Instead of aspiring to success they eye it with jealousy and hatred.
Hatred and negativity are the joint provinces of losers. They are not the way of Apple users. You have an issue with the accuracy of the Maps app? Tap the display and report the error to Apple. It's a win-win. Your map gains accuracy and your stock position appreciates. You can leave the negativity to Google and Microsoft users.
Stop to think a minute why Google is making so much noise about trying to retain Apple map users. Because it's a major revenue source for them. Go where the money is. Works every time. When you click through from their map to a business they get paid. And when you use Apple Maps they get zilch. And it's not like they didn't have any warning, because Apple has been buying up map vendors and the related technology for four years now. Google made the simple error of thinking they could control Apple's users or force them to adopt Android by denying Apple turn-by-turn directions. Wrong!
Sure, public transit data are missing from the Apple app. Sure there are some errors. But the first will be fixed very soon and the second is being rapidly fixed as I write. Every crowd sourced error will improve the database. And would you expect Google to remotely enjoy the support and enthusiasm which Apple's iPhone and iPad users, all 200 million of them, provide to Cupertino? If you answered Yes to that question, then enjoy having your life scrutinized, measured, stored and sold every time you use a Google product.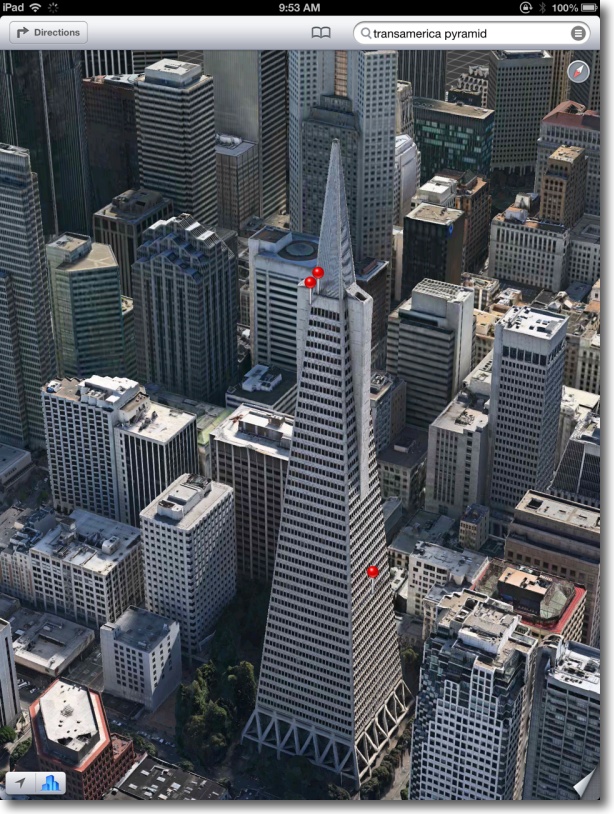 Transamerica on the iPad 3, looking North East.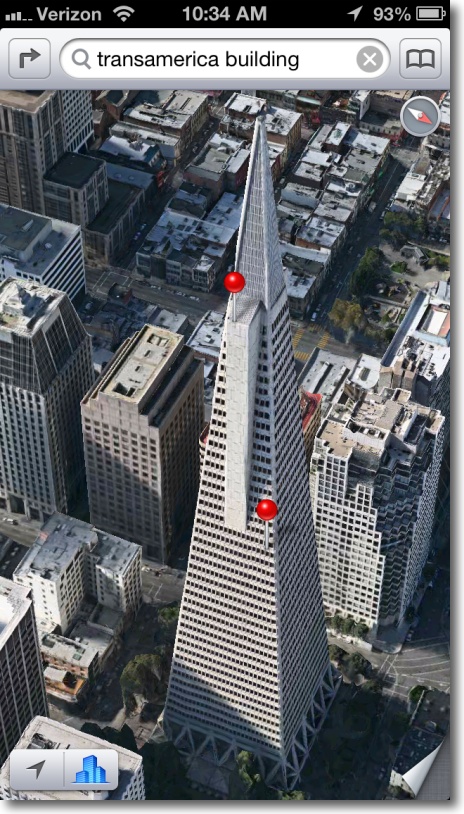 Transamerica on the iPhone 5, looking North West.
The app is simply magic. Place your fingers on the display when in 3D mode and rotate them. The perspective/3D view changes as you do so. Magic.
And the definition is mind blowing.
Disclosure: Long AAPL, BRCM, QCOM.