Some issues.
I installed the latest OS X release, the awkwardly named 'Mavericks', which purports to honor a surfing spot that no one but surfers have ever heard of, on my Mac Pro. I suppose 'Yosemite' would actually have cost Apple money given their stated aim of naming new OS X releases after famous California spots. Then again, they can always use Death Valley down the road when tablets have completely taken over.
The download (my broadband speed is 16mb/s) took 50 minutes then another 35 for the installation to take place.
Some observations germane to still photographers using multiple displays follow. I use three displays and my main photo processing applications are Lightroom 5, Photoshop CS5 and Snapseed. The computer I use is a 2009 Mac Pro with upgraded W5590 3.33gHz CPUs, USB3 and a SATA III Samsung EVO 256gB SSD boot and application drive, running in an Apricorn PCIe card.
Sleep: Sleep works a little differently. Whereas hitting the Sleep button on my wired Kensington Mac keyboard displayed the Sleep/Restart/Power Off/Cancel options under Mountain Lion 10.8.5, with Mavericks hitting that button immediately puts the Mac Pro to sleep. To wake the computer moving the mouse no longer does anything – both wired and wireless. Rather, the left mouse button has to be clicked.
EyeOne Display One: This one is a deal breaker if it does not work. Used with the EyeOne Display One colorimeter it works perfectly, which is amazing given that Xrite has discontinued this popular colorimeter and has an awful history of upgrading the application for the latest version of OS X.
iWork Numbers '13 and iWork: The file format is changed and not backwards compatible with the previous Numbers '09. You can save in Numbers '09 format if required, but once you save in Numbers '13 there is no way that you can load the file in Numbers '09. Numbers, Keynote and Pages all come as updates but updating is optional as the old versions continue to run fine. However, if you are sharing iWork files with others, or with other machines, once you upgrade all other machines must be upgraded also. The UI enhancements in Numbers '13 are an improvement though the clunky Numbers app will never equal Excel in sheer utility and portability.
Multiple display use: Apple has historically done a really poor job of supporting multiple displays. Mavericks maintains that low reputation. They have finally added the display of the menu bar on all displays, where it formerly showed on only one. A workaround was to use SecondBar but that only supported two displays, not three. If you set the menu bar to be solid (translucent is very hard to use) then the active display (the one last clicked) shows the bar with the other two (in my case) being shaded but just visible. Nice. Further, the Dock is meant to appear (or hide) on all connected displays but the code is faulty. I can get it to show on two displays and it's not even consistent on which two. My three displays are connected using DVI (2) and Display Port (1) with an aftermarket non-Mac Zotac nVidia GTX660 GPU. The same faulty result occurs if you do not set the Dock to 'Hide'.
Continuity across screens when dragging files is a mess.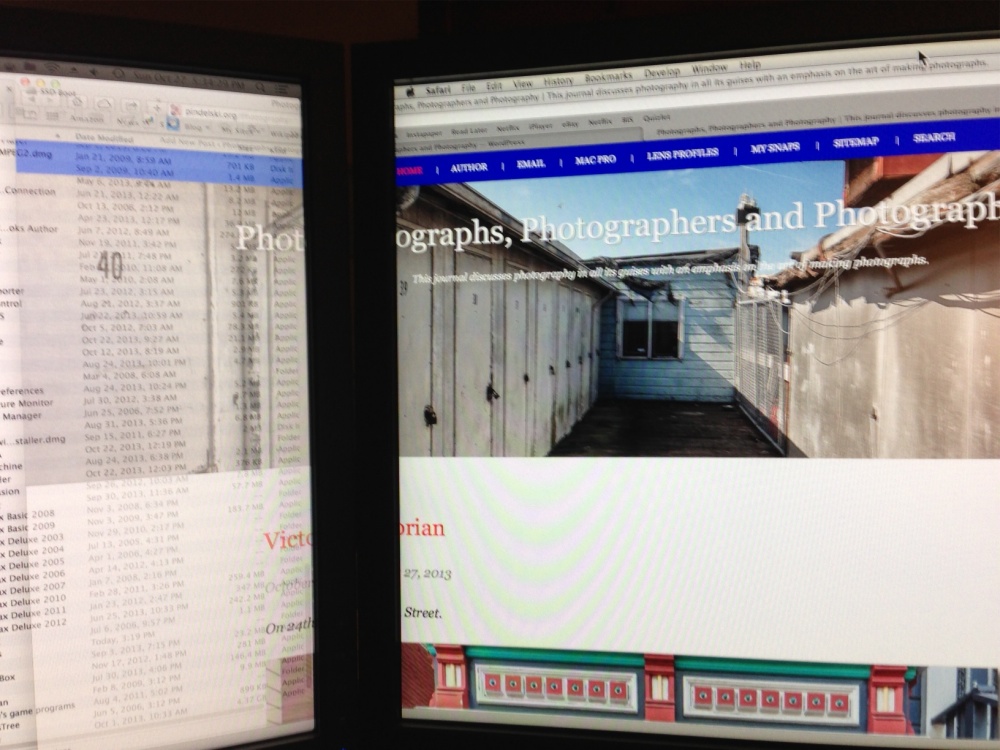 File partially dragged to left display.
First, you can no longer extend a file across multiple displays. So that means that extra broad spreadsheets can only be viewed on one display at a time. What on earth was Apple thinking of here? Second, as you drag a window from one display to another, the dragged part becomes translucent on the destination display until most of the window is dragged over, changing eventually to solid. This makes it impossible to make that simplest of tests for consistent display calibration by part dragging a file acrtoss two displays and comparing colors. Bad, bad, bad.
After all the time Apple has delayed in fixing multiple display support this is easily the worst 'upgrade' in Mavericks and seems like an excuse to show off fancy coding than respecting user needs.
PCI fan: After a cold start this would spool up to 2100rpm and stay there for anything between 15 minutes to a couple of hours, before settling back down to 800rpm. Now the Mac Pro starts the PCI fan at 800rpm and keeps it there until an increase is needed. Good.
Moom: This is a key application for multiple display users, arranging windows in any one of a number of preset layouts. You have to go to System Preferences->Accessibility->Security & Privacy->Privacy to enable Moom after which it works perfectly. I highly recommend this application.
Sound over HDMI: On my other Mac Pro which delivers sound over HDMI, I had to reinstall the patch described here to get back the HDMI option in System Preferences->Sound.
Finder: This is another application which Apple has been very slow to update, finally adding tabs in the Mavericks version. But it still does not support splitting the Finder window into two screens which is a great help when moving files. So I am sticking with Total Finder which continues to work perfectly and whose maker does an excellent job of timely updates.
The ML Finder allowed you to color file names with the complete row showing the color chosen. An easy way to highlight often used files. Now the Mavericks Finder instead shows a small colored dot by the file name. Basically, the dot is so small as to be useless, defeating the goal of easy file location.

Useless color coding in the Mavericks Finder.
Photoshop CS5: CS5 does not load when you click it or try to round trip from Lightroom 5. To restore proper function download and install the Java update found here. No speed changes noted.
Safari: Comes in a new Version 7 with Mavericks. Some pages seem to load sluggishly but I do not have enough objective data.
Firefox Version 24: No issues noted.
Lightroom 5: No issues found. The first entry to the Develop module continues to take 5 seconds as code loads but remains instantaneous thereafter. No speed changes noted.
Printing: No issues printing to the HP DesignJet 90. As with ML, I print wirelessly, with the printer connected using USB2 to my (ancient) Airport Extreme router, some 35 feet from the Mac Pro, using Lightroom 5. (See the Comment, below, regarding incompatibility with the Epson 3800).
Other commonly used apps: Carbon Copy Cloner (backup app – update required), AppCleaner (update required), Snapseed, Excel 2011, 1Password, Fingerprint (wireless printing app) and Vienna (RSS reader) all work fine with no need for updates. iTunes and Digital Camera RAW Compatibility both require (free) updates. Dropbox, MakeMKV and Mac BluRay Disc Player continue to work well.
Geekbench: This app tests CPU and RAM speed. The best reading in ML was 19,700. This is my result in Mavericks – 0.8% slower. Historically this improves with subsequent OS releases during the life of a major release: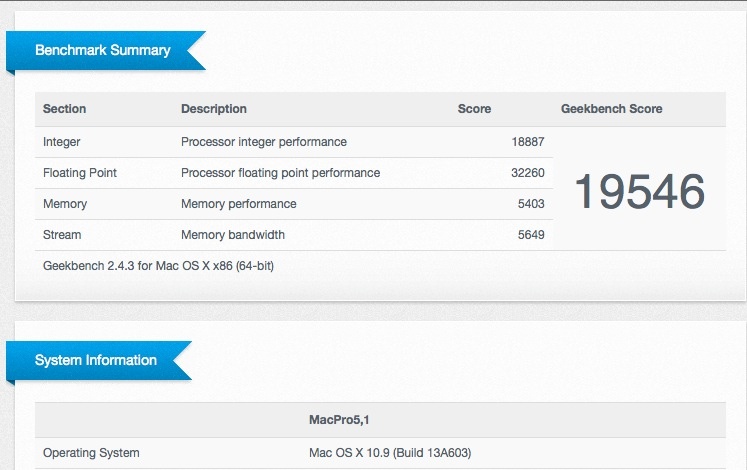 Operating temperatures: No material changes noted.
Should the still photographer upgrade? There are no tangible benefits from upgrading but you can bet that eventually Mavericks will obsolete some apps which run fine under Mountain Lion. So an upgrade is not a front burner item, but likely one which will have to be made eventually. Apple provides the upgrade from the last version of Snow Leopard 10.6.8, Lion and Mountain Lion to Mavericks at no cost.