Bigger is better.
When I wrote about installing a 4TB drive in the HackMini the other day, to store large Blu-Ray movie files, I added:

Well, it did not take long to admit I was wrong, and I have installed a second 4TB drive in the HackMini and given away all my Blu-Ray DVDs to friends. There's nothing quite like direct access to a movie which has been stripped off all the junk they typically come with nowadays (sort of like Windows come to think of it, though the preferred path there is to avoid the product all together) and physical media deny ease of cataloging and retrieval, both easily added once the movie resides on a hard drive.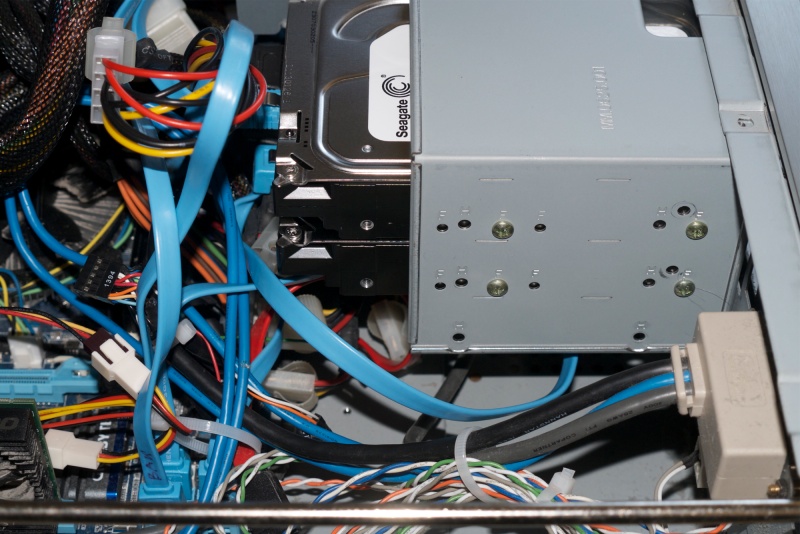 Two 4TB drives in the HackMini, plus the usual cable mess.
The cheapest 4TB drive currently at Amazon is the Seagate ST4000DM000, retailing at some $175 + tax. In fact you can get it in a USB3 enclosure for even less than that – $165!

Seagate 4TB drive with enclosure.
So if you need a 4TB internal drive, buy the boxed one and discard the enclosure. (A similar waste of materials applies to cheap and excellent Brother laser printers. Rather than replace the fuser at the end of its life, it's cheaper to buy a new printer ….)
The full complement of drives driven by the HackMini: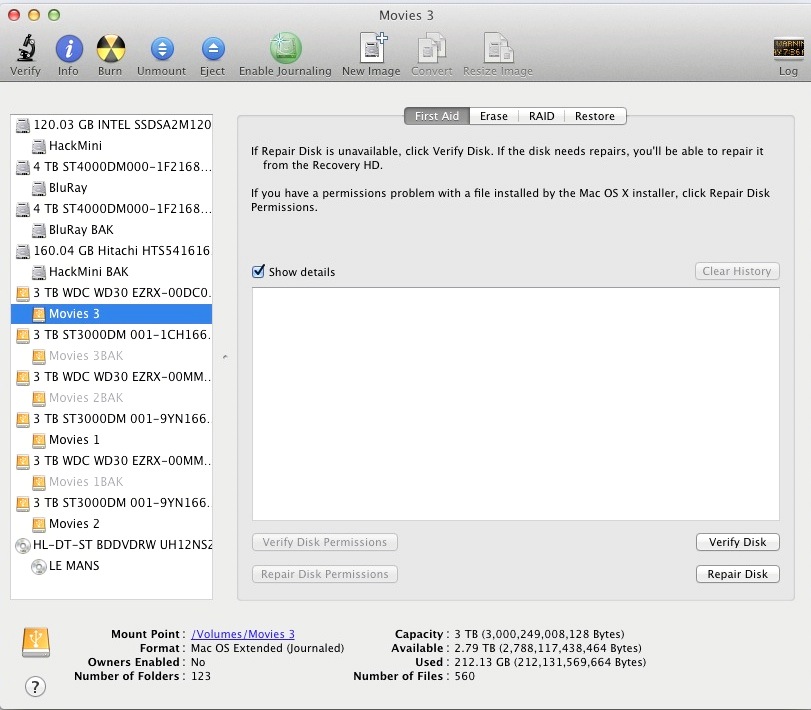 The six 3TB external drives reside in two Mediasonic boxes – with room for two more drives. The SSD contains the OS and Applications, with a small Hitachi notebook drive backing it up. You can see the Blu-Ray player at the bottom of the list.
The pricing per terabyte for 2, 3 and 4TB drives is identical. Reckon on $45 per TB. 1TB drives are no longer economical at $65. A few dollars more gets you double the capacity.
Now storing data on so large a drive makes no sense without an identical backup drive. The thought of losing 4TB is not one calculated to improve your sleep cycle.
This piece gives a good overview of areal density trends in HDDs, suggesting we will be seeing 10TB HDDs – probably for a lot less than $45/TB – in 2-3 years' time:
More than enough for all those D800 monster files!
I'll report back in the event I have any reliability issues, but after one year of running four 3TB drives (2 Seagate, 2 Western Digital) in my Mediasonic box, I have not had one problem, so I'm optimistic all will be well.
Speaking of the excellent Mediasonic box, I can confirm that mine sees and formats the 4TB drives fine. By contrast, my ancient Aluratek drive cradle which holds a 1.5TB Time Machine drive for my main Hackintosh sees 3TB drives as 1TB and 4TB drives as 1.8TB, so it's useless for these large HDDs. So if you propose using a 3 or 4TB drive in a drive cradle or older HDD enclosure, first check that the enclosure will work properly.
What is most disappointing is how slow Solid State Drives have been to reap economies of scale. These are generally from makers who have no legacy HDD business, so they have every incentive to innovate and improve. Yet at the time of writing, 1TB SSDs cost an arm and a leg – over $2,000 which is plain silly – and 500MB ones run $400-500, or $1,000 per TB. That's twenty times the cost of HDDs. It seems that every time prices of SSDs drop, HDDs make another storage leap, keeping SSDs uncompetitive.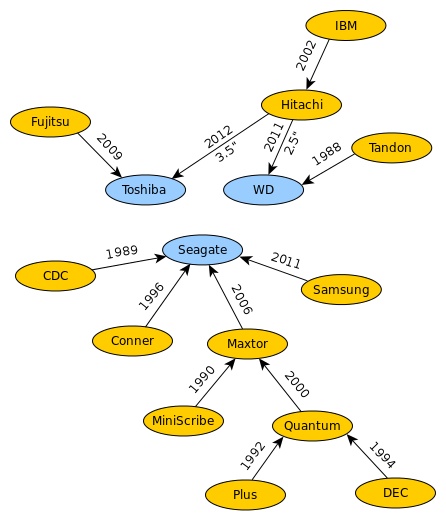 HDD makers – from Wikipedia. Only three remain.
There are still great advantages to SSDs and all my three Hackintoshes use a small 64 or 128GB SSD ($60-90 today) as the start-up drive, containing OS X and applications. Start-up is so fast that there's no going back to HDDs for this purpose, and while my Hacks run months on end, powered 7/24, the very fast application launching SSDs add makes them worthwhile. They run much cooler too, of course.