Just divine.
One Magic Second.
Date: July 2, 2011
Place: 24th and Folsom Streets, San Francisco
Modus operandi: Loitering about.
Weather: Fabulous morning light.
Time: 10:10:46 and 10:10:46
Gear: Panasonic G1, kit lens at 86mm FFE
Medium: Digital
Me: Creating an indelible memory
My age: 59
Our boy has been taking cartooning lessons at the Sirron Norris studio on Valencia in the Mission District. Sirron is a marvelously talented cartoonist and his work is to be found on murals all over the Mission District. As he relates it, the only thing he recalls wanting to do as a child was to draw, and his vocation has become his profession. While Winston labors away under Sirron's watchful eye, I traipse around the area hoping to catch a snap or two of the vibrant street life that is everywhere. Truly, few square blocks of San Francisco so abound with possibilities as do these.
Phil'z Coffee at 24th and Folsom is very much at the center of Mission District culture. On any morning you will find the locals gathered for a cup of joe and some gossip. And, if you get lucky, you will see some beautiful people there.

Phil'z Coffee at 24th and Folsom Streets. G1, kit lens @ 23mm, 1/500, f/4.7, ISO 320.
I was meandering along 24th Street yesterday morning and idly turned the corner onto Folsom where my eye was instantly drawn to this serenly beautiful young woman, posed as if for Titian and his oils. She saw me raise the camera deliberately to my face, gazed back at me untroubled and unthreatened, then looked down, lost in thought, the morning sun outlining her swan-like neck. The magic moment was over so quickly I found myself wondering if it had really happened, yet the processed film suggests it did. This is the sort of thing any street snapper absolutely lives for. Literally, One Magic Second.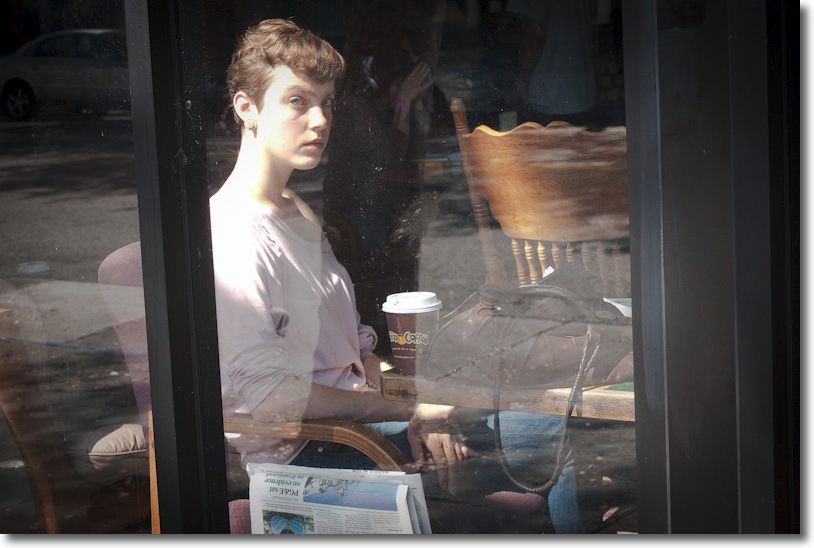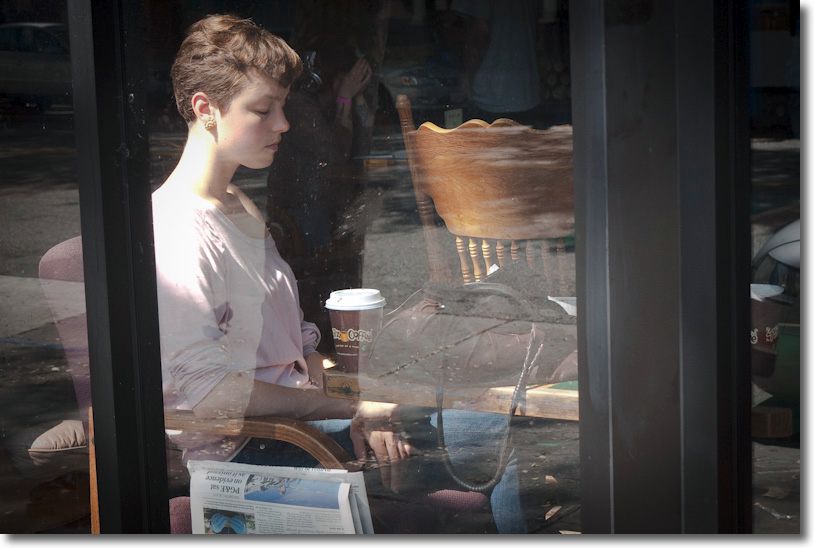 Swan Neck. G1, kit lens @ 41mm, 1/320, f/5.6, ISO 320.
So fleeting was this moment that a check of the EXIF data for the two snaps shows both were taken within the same magical second of time – 10:10:46 am, July 2, 2011.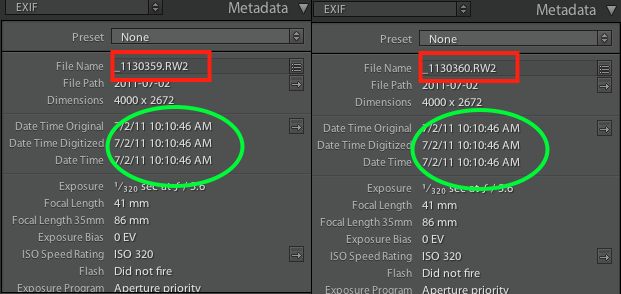 This sort of thing used to be the province of the rangefinder Leica but, frankly, that camera's antiquated, slow manual focusing could scarcely be a worse choice for the modern street snap genre. Quite why anyone buys these anymore leaves me mystified – too slow for street snaps, no zoom lenses, too limited for anything else and silly-priced. Doctors and dentists, I suppose. Or should that be hedge fund managers?
Update: I shared these snaps with a friend who writes eloquently:
"That look…… the right half shows the shyly flattered contentment …(wild inward pleasure)….at being considered actionably photogenic."