Simply unacceptable color fringing.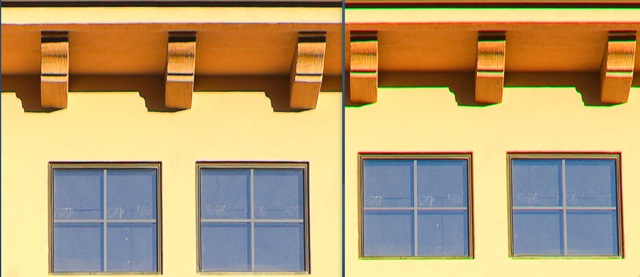 5D, 50mm f/1.4 at f/8 – after and before correcting for green and red chromatic aberration
When processing the picture included in yesterday's journal entry, I was reminded again of the truly frightful extent of uncorrected chromatic aberration (color fringing) in Canon's 50mm f/1.4 standard lens. For many this is a portrait lens on cropped sensor bodies, with an equivalent focal length of 80mm.
The picture on the right is unprocessed, straight from the camera at the lens's sweet spot of f/8. The one on the left is after removing the chromatic aberration using the sliders in Lightroom. Even in these small pictures the amount of chromatic aberration is shocking – these enlarged snaps would make for a 30″ x 20″ print. (The small scale difference results from correcting converging verticals in Photoshop CS2).
Given the superb quality of the sensors in Canon's DSLRs, isn't it about time that some more attention was paid to fixing dated lens designs like the fixed focal length 50mm one? This sort of thing has been properly designed by any number of manufacturers decades ago and there really is no excuse for such poor optical engineering in a medium priced fixed focal length lens who many, suspicious of the bulk and poor optics in most zooms, still regard as their 'standard' lens. Especially old duffers like me who toured the world with a 50mm or 35mm on our cameras, because that's all we could afford.
Now a glance at any news source will confirm that there are more complaining historians in the world than people with fix-it ideas. The fix here could not be simpler, or more lucrative for all concerned. Do a Panasonic. License Leica's fabulous designs, Canon, forget about corporate pride, and make sure the final product is emblazoned with the Leica name. Use your mass manufacturing genius to drive the price down and I will be the first to have a fully automated 50mm f/2 Summicron-R Leica lens (made by Canon) on my wonderful 5D – the best 50mm lens ever made. Heck, if I'm feeling spendy I'll even consider springing for the 50mm Summilux-R with its f/1.4 maximum speed – the second greatest 50mm lens ever made. And while Leica, 40 years on, still cannot manage to add autofocus to its SLR lenses, for Canon that would, of course, be de rigeur.
And while you are at it, Canon, feel free to replace your underwhelming 20mm f/2.8 (which I know and dislike) with Leica's superb 19mm f/2.8 Elmarit-R, or even with the older 21mm f/4 Super Angulon-R which I knew and loved for many years. Leica and Schneider conspired on that design – can life get any better than that?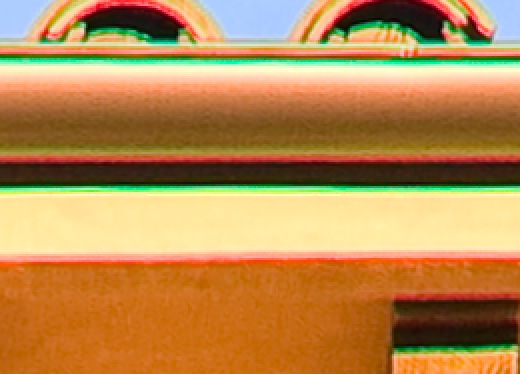 A big enlargement to make things yet clearer – color fringes before correction