A new twist on an old saying.
Which of us has not heard "Always carry a camera"? The exhortation is rarely informed, of course. Any Englishman will tell you that it never rains when you carry an umbrella, and for most, the same applies to cameras. You never see good pictures if you just happen to have one along for the ride. Good pictures are made, not found.
However, just to put a new twist on it, how about "Always carry a sound recorder"?
This past weekend I was with our four year old at a local park and, as is the case with kids, Winston made straight for the play area. This, you must understand, is fenced. Not to keep anyone out but rather to keep all those threats to society, little children, in. And no, this was not in the Bronx or Brixton. The reality, I suspect, is that one of the city councilmen just happened to have a relative in the fencing business and …. well, you know how the rest of it goes.
Well, Winnie was struggling with the latch to the gate so I gave him a hand, only to be met with the most appalling squeaking as the gate opened. Payola for the gate oiling program must have been missed this year, I suppose. But the emotion I felt most was one of excitement. This was a fantastic sound effect! So I whipped out the Edirol sound recorder (from its newly acquired 99 cent canvas case found at Target – Roland being too cheap to supply one) and had at it with the gate, much to Win's amusement. We whanged the gate back and forth a few times and had a jolly old time doing it, I must say. Creepy! Adults like funky sounds too!
I had already added wind howl sounds to the Piedras Blancas motel QTVR picture but this project just called out for a creaky gate sound to complete the feeling of desolation. It was a moment's work in Audacity to superimpose the squeaky gate on the wind howl and then to parcel the whole thing up in CubicConnector.
Here's how the sound tracks look in Audacity – the wind howl is at the top. Subequently I copied and pasted the squeaky gate to match the length of the wind howl then told CubicConnector to loop the whole thing: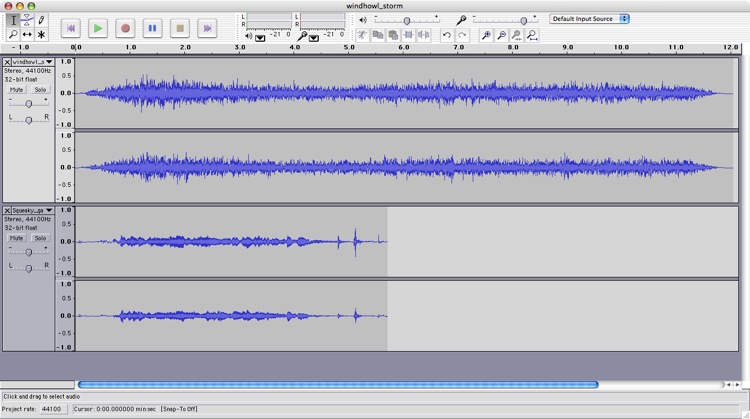 Now I'm not about to lug the Canon 5D/KingPano head/Linhof tripod with me wherever I go, in the search of new panoramas. But the Edirol may just make the trip.
* * * * *
A few words about this old motel. It has been on Highway One, close to Hearst Castle for as long as I remember. Back when I first saw it on my inaugural drive up the most beautiful road in California – that would have been 1979 or so – it was replete with gas pumps and was a hive of activity. A half decent restaurant and those same jolly white and electric blue colors. Then over the years it began to fail. Nothing wrong with the location, just lousy management and marketing. Finally, last year, the State of California bought it for an obscene amount of taxpayers' money and promised to convert it to an educational institution, whatever that means. After all, this is the state that made America's best public schooling system into the worst in a short twenty years, so it's not as if they can claim to know anything about the subject.
A year later what you see is what is in my picture. A couple of old paint buckets sit outside the deserted main entrance. Weeds grow everywhere. The gas pumps are long gone and a couple of abandoned cars soil the parking lot. It's an incredibly sad scene. Desuetude and detritus in this otherwise pristine area, with a brown State of California sign 'Closed for Restoration' tacked by the doorway. That's a sign that needs to be posted on the Capitol in Sacramento.