Brought to you despite the Board of Directors.
If you have been following the financial news recently, you could be excused for thinking the Board of Hewlett Packard couldn't organize a booze-up in a brewery. Depsite the twits in the corner office, the great engineers at HP continue to make innovative products. The most recent announcement is the HP DesignJet Z photo printer.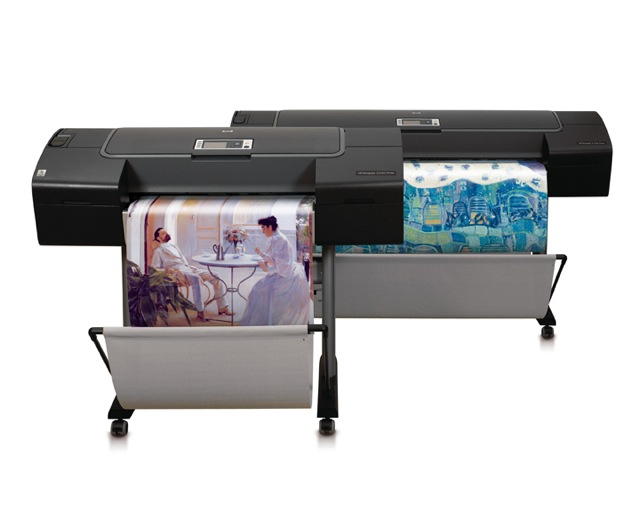 Long time readers of this journal will know how pleased I am with my HP DesignJet 90, which will make up to 18″ wide prints using fade-resistant inks. Having made some forty 13″ x 19″ and 18″ x 24″ prints in aggregate over the past six months on mine, ink levels remain astonishingly high – if those meters are linear this has to be one of the most economical printers available. Three cartridges are still showing full, the other three three-quarters full. Print quality is as good as it gets.
The new floor standing DesignJet Z comes in 24″ and 44″ widths and is focused on extreme color accuracy, courtesy of a built-in Gretag/Macbeth/X-rite spectrophotometer to automate paper profiling and ICC profile generation. I use an external version of the X-Rite to profile my screen and then adjust the ICC profile manually for the paper used with HP's provided tools, as I explained in my review. Well, now the need for tortuous manual ICC paper profiling is gone. You can get some idea of HP's target market by looking at the picture above – that looks like a photograph of a Tissot painting in the printer on the left.
These are not cheap. The base 24″ model will sell for $3,400, compared to $1,300 for the six ink 24″ DJ130. The price of the new printer compares favorably with that of the 24″ Epson 7800 at $3,000. The new DesignJet will come in eight or twelve (!) ink models, so you can see how totally focused HP is on color fidelity. As a point of reference, my six ink DJ90 goes to 18″ wide and sells for $1,050. This will be a great machine to fool all those Label Drinkers. Just tell them the print was made using traditional darkroom techniques, just like Ansel Adams used.
Which just goes to show that no matter how disfunctional your Board of Directors may be, you can't kee a good engineer down.