It's nice to have a 20mm again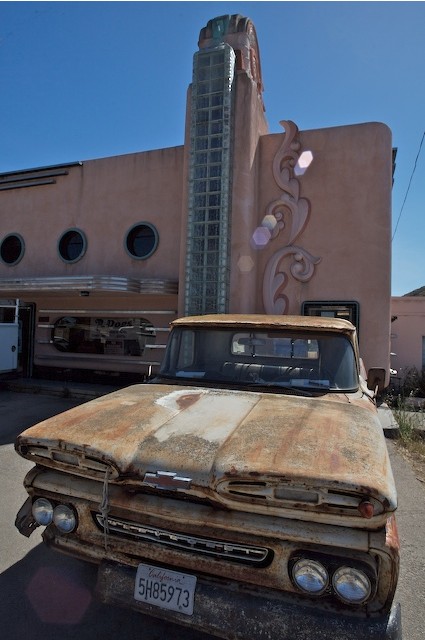 Chevy. 5d, 20mm, ISO 250, 1/500, f/11, 1 stop underexposed, processed in Aperture
No question about it, I miss my 21mm Leica Asph Elmarit, though who can afford one at $3k+ today beats me. The Canon 24-105mm L zoom is wonderful, if a tad bulky and heavy, and the 15mm Fisheye + ImageAlign works out to something like 12mm! So there's a big hole between 12 and 24mm and the inexpensive 20mm Canon lens fills it nicely.
Anyway, that's my excuse, and I'm an ultra-wide guy by nature. The Elmarit does that to you. Now this lens, at one tenth the price, is no Elmarit, but it's more than serviceable. Plus you don't have to deal with the crappy (sorry, no other word to describe it) plastic Leica viewfinder which, for all its cost, gives only a very rough approximation of what you will get on film. Sorry, film only for the Leica lens if you want all of its 21mm wide on the image. That disables it for me ay any price. If you want to get flare free snaps with biting corner definition at full aperture, and you are unaware that film is dead, the price of entry to the Elmarit world is justifiable. For me, this Canon 20mm f/2.8 does fine. By f/5.6 vignetting becomes very low and the corners sharpen up nicely; frankly, they're not so great at f/2.8. At f/5.6 an 18x print will not embarass you, provided your original is sharp and well exposed.
Yes, it has some flare spots into the sun – see above – but the image retains high contrast across the frame. All I did was bring up the shadows in this snap, using Aperture. Exposure was for the highlight on the hood. Contrast is as recorded by the camera otherwise. Works for me.
A nice lens, not all that compact, and fully automatic – lightning quick auto focus (though hardly vital with a lens this wide) and easy manual override. I bought mine from B&H in New York along with an inexpensive Canon 72mm UV filter to protect that bulging front element.
Update: After some more experience I ended up exchanging the lens for another – read here.