In a class of one.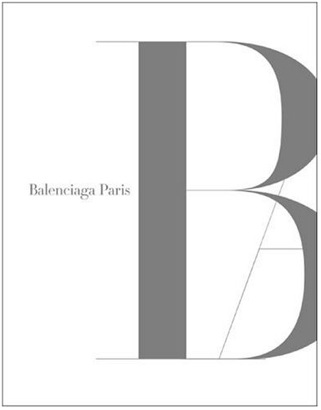 The cover says it all
If you love severe sculptural form – whether in your women, buildings or clothes – then there's a strong argument to be made that fashion starts and ends with the Basque designer Balenciaga.
If you love great photography of the most beautiful women and clothes ever seen, then there's every reason to get this very large and very expensive book about the designer.
The core of the book addresses Balenciaga's output through 1968 when he closed his eponymous couture store in Paris. The last third deals with the resuscitated Balenciaga name from 1999 on and it is rubbish – ugly people in T shirts and poor make-up. The book is still worth it for the first two thirds.
The 1950s saw the nascent flowering of the supermodel who would henceforth have a name and with it fame and fortune. The only snag is that Balenciaga's designs demanded a perfect figure. Size 8 and up need not apply. And in the likes of Lisa Fonssagrives (Mrs. Irving Penn), Suzy Parker and the impossibly perfect Dovima (she of Avedon's 'Dovima with Elephants') Balenciaga had all he needed to best show his creations. The Basque with French and Spanish in his blood and the sureness of line last seen in Matisse tolerated nothing less than perfection.
There was another significant change in the 1950s – the rise of the supermodel coincided with like ascendancy of star photographers, and their work is on show in a big way here – Cartier-Bresson (some priceless dressing room snaps which are new to me), Avedon, Penn, Clarke. The best of the best.
Here's my favorite of Dovima in a stunning Balenciaga creation, appropriately taken by Richard Avedon.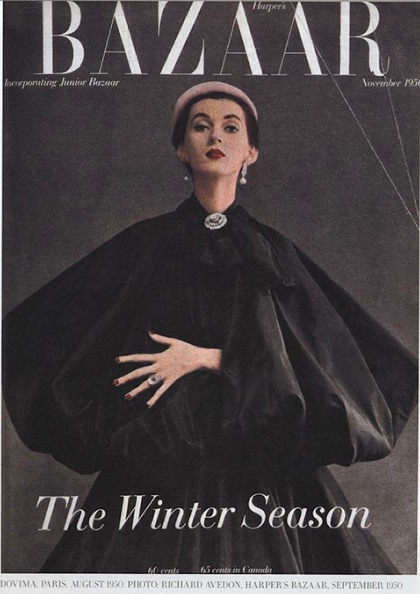 Balenciaga and Dovima, 1950
And you thought you had long fingers?
And if the following raises a question it is a simple one – Where have all the lovely women gone?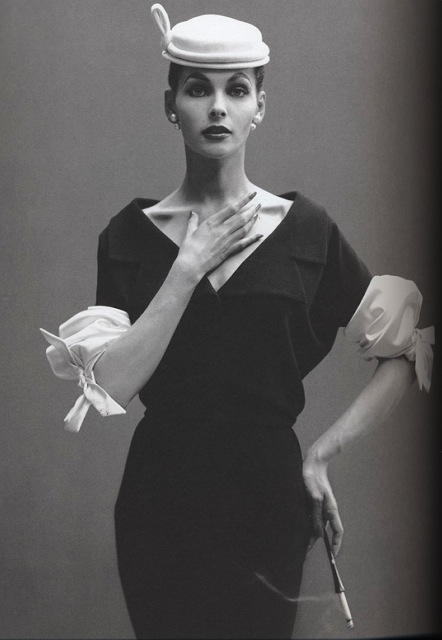 Balenciaga and Georgia Hamilton by Avedon, 1953