Your own iPad cloud.
I have some 800 uncompressed movies stored on a 4+4 terabyte ganged series of hard drives, attached to a MacMini which is connected to our TV. Uncompressed because one day I believe 100″ LCD screens will be affordable and compression drops quality. That 100″ screen will need a high quality original DVD file. These movie files, in VOB format, average 4-6gB each and while you can copy these to your iPad there are two snags.
First, you will run out of space on the iPad very quickly, and you are wasting resources as an uncompressed file is unnecessary for the iPad's small screen. Second, you are wasting your time as the iPad cannot play VOB files; it's limited to m4v/H264 video files which average 1.2-1.3gB. So I have a few favorite movies on the iPad which I have converted to m4v using Handbrake and RipIt (where needed) but the process is very inefficient. Conversion averages 30 minutes, and I have to rotate the files on and off the iPad owing to its very limited storage.
Well, there is a miracle app for the Mac and your iPad which does everything you could possibly wish. It's called ZumoCast and it makes your Mac or PC into your own cloud storage. It will access your movie, picture or music files over the air and can access these whether they are on the Mac or on HDDs attached to the Mac. And here's the magic part. ZumoCast converts those monster VOB files to m4v on the fly and displays them perfectly on the iPad after a few seconds of buffering using our home wifi. To set Zumo up you download the Mac app, tell it which folders you would like your iPad to see, install the iPad app and click away. The movie quality on the iPad's screen is superb.
So now my iPad has access to the 4tB of storage attached to the Mini, access to the Mini itself and access to any other Intel Mac on the network where I have installed the Zumo Mac app. Unless I have the Mini doing some processor intensive task like a backup there is no stuttering, multitasking works fine and for music files I can route the sound to any network device in the home. The Macs in the home have suddenly become my own cloud storage, accessible from the iPad.
Two other items of lunacy – Zumo says the iPad app works over 3G as well as wifi (I have not tried that as my iPad does not have 3G), and ZumoCast is free. Quite how their business model works I have no idea as there are no ads, but free is good.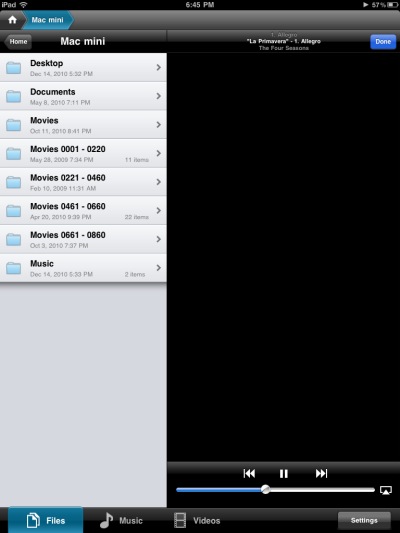 Showing the folders on the MacMini made available to ZumoCast on ther iPad – including four remote 'Movies' HDDs.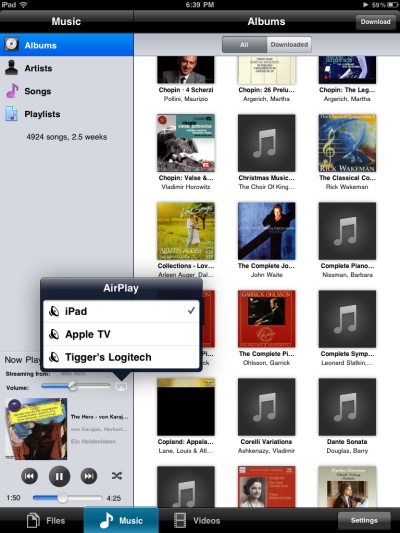 AirPlay works fine for sound but not for video.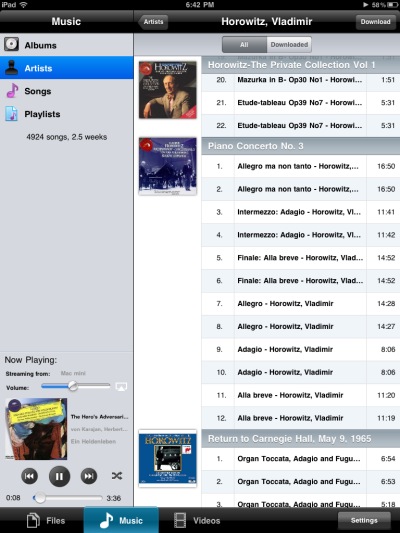 The iTunes library on the remote Mac works beautifully with AirPlay.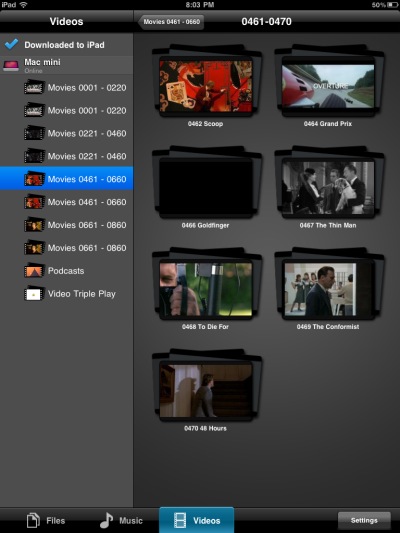 A movie directory from one of the remote HDDs seen in ZumoCast on the iPad.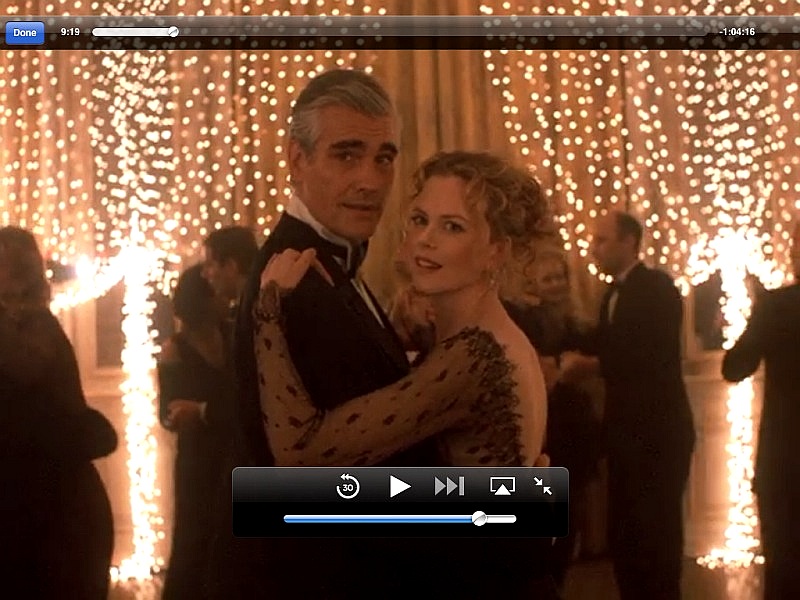 Stanley Kubrick's 'Eyes Wide Shut' – the original VOB file plays on the iPad over the air.
If you want to store the converted file on your iPad, ZumoCast allows you to do that though it's hard to see why you would need to do this – maybe for viewing/listening where you have no wifi or 3G access? The stored file will be in the appropriate iPad format.
Limitations: ZumoCast cannot play copy protected DRM files – like older iTunes music purchases or any iTunes movie purchases. However, if your content has all been ripped from DVDs and CDs, like mine, this is not a problem.
ZumoCast compared to Apple's Remote iPad app: ZumoCast doesn't care what format your remote file – music or video – is stored in, as long as there's no DRM. Further, you do not have to have iTunes running on the remote Mac for the iPad app to work as ZumoCast addresses the remote files directly, not through iTunes. Remote will play DRM files on the remote Mac but that Mac must have iTunes running. So it seems the only time you would prefer Remote is when the remote file has DRM.
So with ZumoCast you can use the iPad as a remote controller for your file servers where your music and video files, regardless of format, reside, and watch them on the iPad; further, for sound tracks you can route the sound to your AirPlay device of choice. There is no need to perform format conversion to suit the limited range supported by iTunes or the iPad and storage is not an issue as your files never make it to the iPad, the latter being used solely as a routing and display device. Inspired.