My days as a spiv are over.
Let me step back. The sole reason I ordered the Fuji X100 from Amazon some three hundred years ago was that it was an affordable digital Leica M2. The latter, fitted with a 35mm Summicron lens, was the street snapper's ideal in the last decades of film. The X100 promised to be its equivalent in a digital era. Make no mistake. The marketing materials, the sales pitch, the schtick, it was all about being a poor man's digital Leica. Right down to the branding which had it putting that finderless toy, the Leica X1, to shame. Made in Germany, that one you know. Uh huh. Maybe Fuji should have named its offering the M900 to confer greater credibility? And maybe an even more ridiculous price?
For those not attuned to the finer subtleties of the English tongue, the definition of a spiv is attached for reference: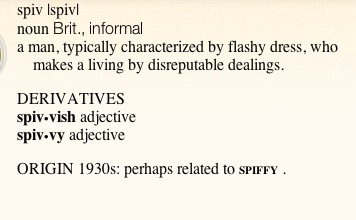 The genus saw its best (or worst) days during the second world war and in bombed out London could pretty much get you anything your heart desired …. at a price.
Now like most, I'm one of those chaps who prefers not to pay full retail but had you told me that I would be a black market merchant a few weeks ago I would likely have shown you the exit. But two things happened.
First, after a spot of reading I determined that the Fuji X100 would simply be a replay of the Panny 20mm when it came to focus speed. Those few souls afflicted with the street photography bug who can actually take a picture reported that the camera simply did not focus fast enough. That's not to say the Fuji X100 is not beautifully made, nor is it to allege that it has poor image quality. By all accounts it comes up aces on those metrics. So it has appeal to many, me included.
However, I do not buy cameras solely for looks, and IQ from the smaller sensor in the Panny G1 is perfectly fine for large prints. But, most importantly, the G1′s focus response with the kit zoom is fast and the forthcoming Panny G3 suggests that whatever ails that tiny sensor is about to be fixed. And I can continue using the excellent kit zoom from the Panny on the G3 if the latter delivers.
So by the time Amazon despatched the X100 I had made up my mind to return it, sight unseen. While not chump change, $1200 is not something I am about to lose sleep over, but I just could not bear the prospect of yet another huge learning curve concluding in blurred street snaps as with that Panny 20mm.
Wait a minute, I hear you say. You sold the thing without so much as trying it? What qualifies you to make any conclusion based on hearsay? Simple. The economics of the risk/reward equation do not solve. It would take several hours of my time to get familiar with the camera and its software, hours worth considerably more to me than the modest cost of the hardware. At best I reckoned there was a 30% chance of the camera meeting my needs, specialized as they are. So the economics do not remotely solve. Had the odds of the X100 being a fast focuser been better, I would have opened the box. Elementary, my Dear Watson.
Now that X100 was scheduled for 2-day shipping from Amazon and it was not lost on me that new samples were selling for $1600 owing to the supply backlog. Well, would you leave $400 on the sidewalk were you to spot a like sum lying around? I thought so. Heck, nor would Bill Gates. So I determined to advertise the camera and make my first and likely only black market profit.
Well, as luck would have it, Amazon cocked up delivery royally and the package got stuck in Utah for two days. That's what happens when residents of a state forswear alcohol. By the time the thing arrived, the black market premium had eroded to $175. Thanks a lot, Amazon. Anyway, it's winging its way to a happy owner as you read this and I have $175 toward the G3 – and no learning curve in my future. And a 15% gain on no cash out is not so bad, either.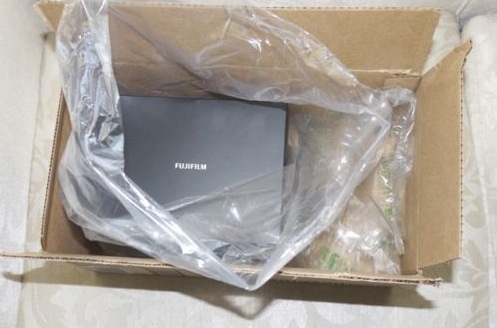 I got an interesting lesson in supply-demand dynamics and some happy user paid a modest premium for unobtainium.
But my days as a spiv are most certainly over. And I don't even dress flashy, like.