Fixing the green blob.
One of the weakest features of Apple's OS X operating system is the Finder. It has never supported split windows, though that was put to rights with Total Finder which I have been using for six months now and recommend unreservedly. True, it's $15 for something which should come with OS X, but the makers do a stellar job of keeping it updated for each new OS major or minor release and once you have used it there's no going back if smooth file movement between drives and directories is your thing. TotalFinder addresses one of the few remaining shortcomings of OS X.
As for the other major one, well, it's a 'feature' which didn't work in Cheetah, OS X 10.0. And it has continued broken in all of Cheetah's successors – Puma, Jaguar, Panther, Tiger, Leopard and Snow Leopard.
And I'll bet you it will not work in Lion.
I am talking, of course, about the wretched green blob. It's the colored ball toward the top left of every window you open in OS X.
Clicking it is meant to expand the window to full screen. What could be simpler? .
Except that clicking it has results about as predictable and consistent as the pronouncements of your elected representative. Meaning it simply cannot be trusted as what it does seems too vary with the day of the week, the weather and the demeanor of your dog. Maybe it needs a good bribe, like your Congressman or Senator, to actually do what it's paid for?
And if, like me, you have no fewer than three displays with multiple windows attached to your computer, then moving windows around is a real pain. But I know better than to complain to a company which rarely listens to its customers and curse quietly every time I try to grab the window size repositioning area at the lower right of an open window, miss, try again, then curse some more when moving the window into place, only to find that I have to resize yet again.
So I have given up complaining about the green blob, having long ago assumed that it's just one of those non-facts of life like US military intelligence (MIA), US Energy policy (none) or the US electoral system of one-man-one-vote (in the US we have one-dollar-one-vote).
Well, with Moom, the green blob finally works. And it works as well with multiple displays as with one.
Moom accomplishes what none of the alternatives does. A simple and intuitive way to make any window full screen, properly positioned. Or half-screen come to that, which is even more useful. For real masochists, you can even go to quarter screen or any rectangle or position of your choice. Moom allows you to program any shape and position you like and those will be added to the pop-up-on-hover, below. The implementation could scarce be improved upon. Just hover your mouse cursor over the green blob and this is what you will see: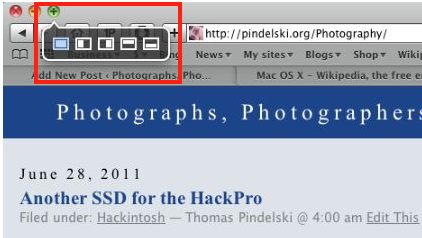 The rest is self-explanatory.
It works perfectly, and the download gives you 100 free goes. Thereafter it's $5.
Click the picture below to go to Moom's web site: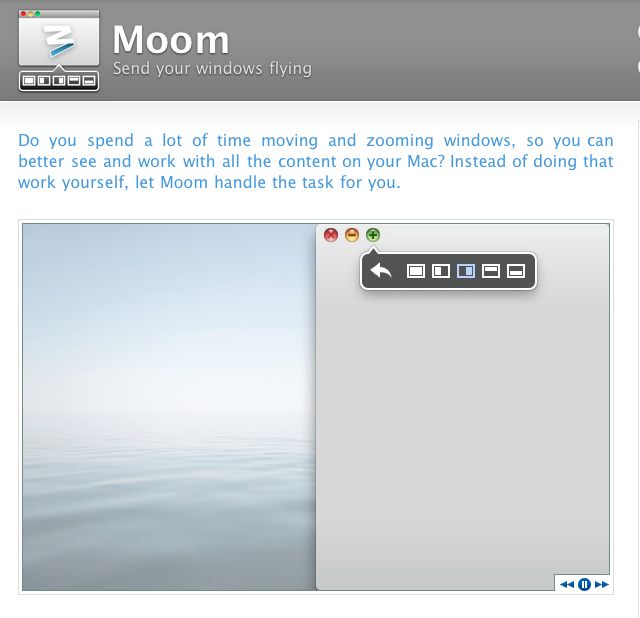 Click the picture for Moom's web site.
And as for you, Apple, you can kiss my Moom.