Calendars on the fly.
There are few better ways of sharing your pictures than with a calendar. You can be sure the recipient will display each of your twelve snaps for a month, which is a lot more attention than they command on your website or blog!
Further, forget the tired system that has the year beginning in January – your calendar can start any month you want.
Don McKee has an excellent and free Lightroom export plugin for Lightroom available here – I have tested it with the current LR v. 3.4.1 with Mac OS 10.6.8 and can confirm it works fine. (Update October 2012 – works fine with LR 4.2 and OS Mountain Lion 10.8.2, but you have to re-download and install it into LR after upgrading from LR3 to LR4). Don says it works with Windows and he has tested it back as far as Lightroom 2.1.
The quickest way to assemble your calendar is to go into Library view in Lightroom v2 or v3 (hit G to go to Library Grid view), click a picture you want to add and hit B, which places it in a Quick Collection. Then, when you have your 13 pictures selected (12 + 1 for the cover), go to Catalog->Quick Collection in LR and:
Select all the pictures – Command-A
Hit Command-Shift-E to bring up the Export dialog.
Select Shutterfly at the top of the Export pane and fill in your account details.
I like to export JPGs sized 1600 x 1600 so as not to run into quality issues. 800 x 800 restricts prints to 5″ x 7″ whereas 1600 x 1600 takes you to 20″ x 30″.
The LR3 Shutterfly Export dialog. Note the Post-Processing action at the bottom.
When the export is complete you will be automatically transferred to your Shutterfly page if you followed the above settings.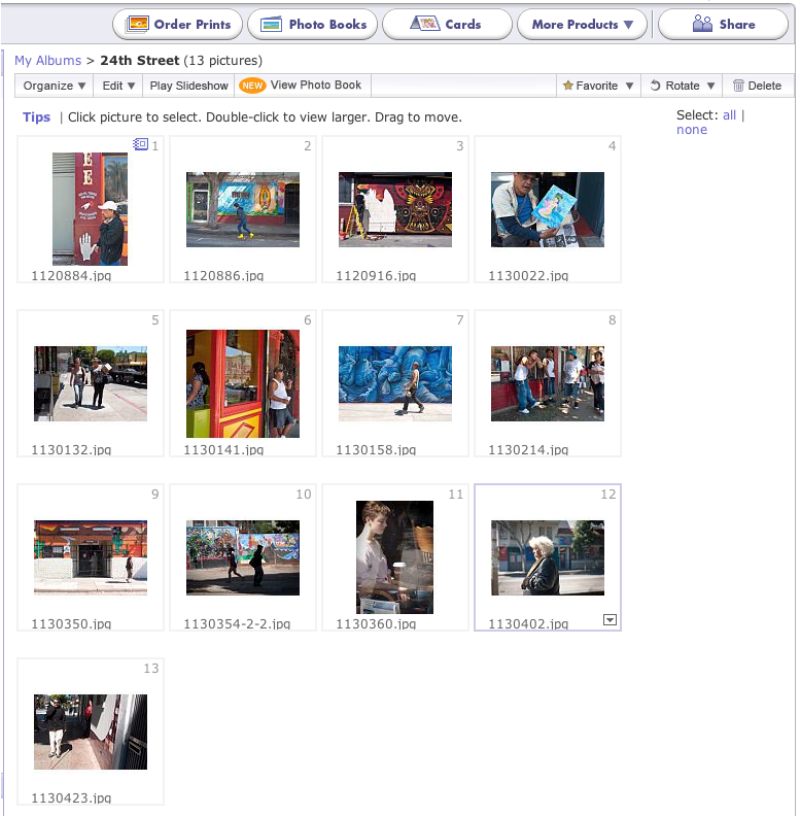 The Shutterfly page with the pictures exported from LR3.
Thereafter you can arrange these as you see fit. If the quality of an image is deemed poor, you will be warned, and will probably want to export a higher quality version. Another reason to export larger size images than you think you need.
The Calendar function in Shutterfly is superb and there are many formats to choose from. I like the simple Photo Gallery, one photo per page.
Assembly and ordering took me all of 15 minutes for a truly professional looking result. This one runs from August to July. If you choose, Shutterfly will mail these to your recipient of choice. I had to pays sales tax on one sent to Massachusetts, but none on one mailed to California.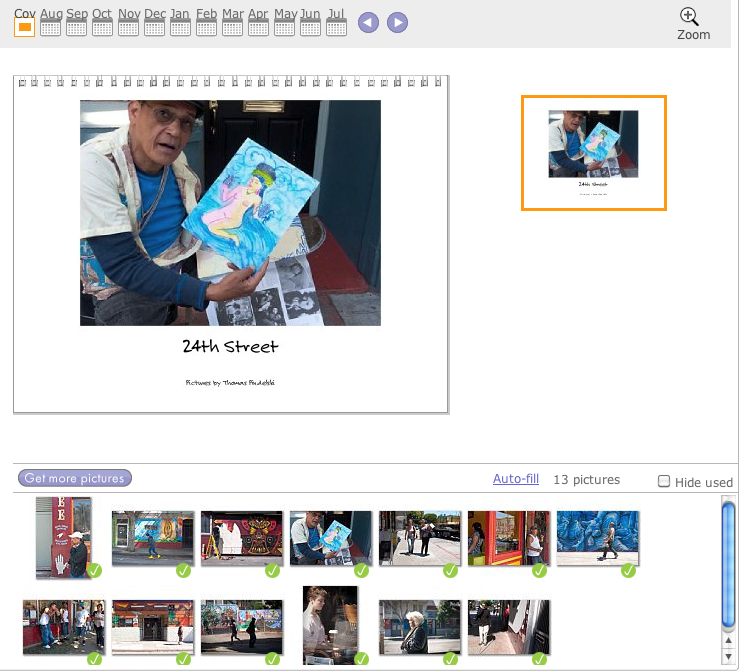 The completed calendar – two for $57, shipped.
Order to shipping was under 24 hours for the three calendars ordered. Impressive.