Vogue ad.
I enjoy Vogue magazine for its advertising. The writing is nothing to well, write home about, and when you get issues glorifying the refined tastes of the wife of a middle Eastern autocrat who thinks nothing of murdering his people you wonder whether they will next be glorifying Eva Braun for her choice of boyfriend.
For the most part the ads are prosaic. After all, Vogue is a trade magazine whose primary purpose is to sell goods to distributors and retailers. Nothing wrong with that. Sometimes there's a good laugh to be had from awful Photoshop work, like the March 2012 issue where a famous and famously overweight pop diva du jour has magically developed a svelte figure complete with sunken cheeks and high cheekbones. Who cares. This is sales not reportage. Photoshop away, says I. Yet, every now and then, you get something really special, as was the case with the Lord and Taylor ad back in 2006.
Another example of this multi-generational picture cropped up in a Dolce and Gabbana ad in the February, 2012 issue.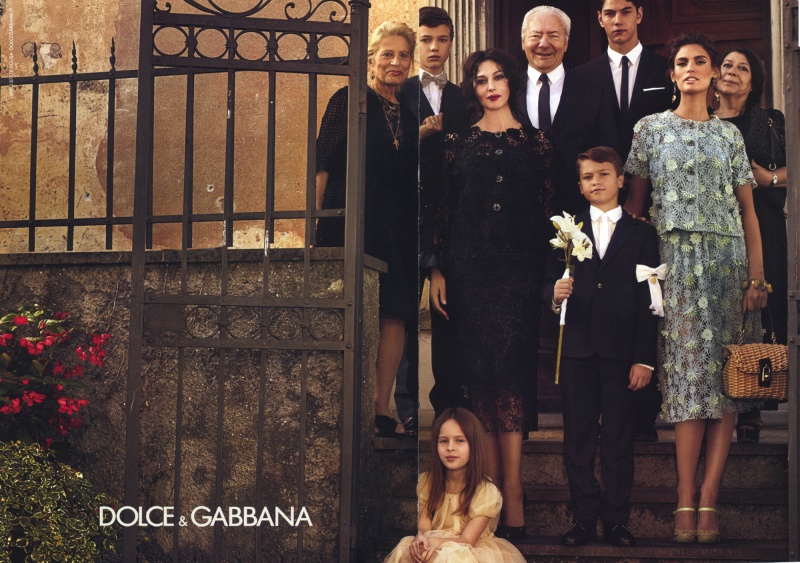 Posed seemingly outside an aged Italian villa, three generations are on display. The white haired paterfamilias and his (somewhat exiled) wife stand proudly amongst their children and grandchildren, all dressed in costly D&G attire. The faces are full of character, the young women beautiful and the whole thing is expertly arranged and rendered.
The picture shows a Sicilian family in the 50s. The beautiful women are the actress Monica Bellucci and the model Bianca Balti (right).
So profiles of dictator's wives may not be why I buy Vogue, but the wait for things like this makes the modest annual subscription cost worth every penny. Highly recommended to the visually inclined. Sadly, I cannot find out who took this splendid photograph, part of an extended campaign.