A reminiscence.
He remembered those lazy Saturday afternoons when granddad would ask all the family round to his restaurant. There were no tall buildings back then, the area full of Italian immigrants and artisans. Stonemasons, painters, bricklayers, plasterers, plumbers, cooks. Most, if they spoke English, did so with difficulty and Italian was preferred at work or play.
It was the smells he remembered best.
He remembered how Grandpa would have an immense pot on the stove to which the whole family had to add tomatoes, spices, pepper and salt and the obligatory bottle of chianti. As he sat on his knee, Grandpa would recount stories of the Old Country, and the magnificence of the opera house in Palermo. "My boy, if you ever want to say you have arrived in the world of opera, there are but four venues which testify to talent. Palermo, La Scala, Covent Garden, The Met." And it was invariably Tosca or La Traviata or La Bohème or (Mario's favorite) Rigoletto which would be playing in the background on the old Victrola. "Lad" Grandpa would say, "Verdi and Puccini. That's all you need to know about music."
He remembered how his job was to change the discs, a task he adored. You would have to flip the huge 15″ acetates every five minutes or so, but it was his job and he was immensely proud of it. He never broke one, fragile as they were.
He remembered how his father had once told him that granddad was known to one and all as 'The Don', but to young Mario he would only ever be Grandpa. He never quite knew what Grandpa did for a living but the family never lacked for anything. Tables bursting with all manner of meats, condiments, breads, cheeses, cakes, bottles of wine, as often as not dropped off by grateful friends.
He remembered how obsequious these donors always were, how cowed, always behaving with exaggerated politeness to the young boy. "What a beautiful boy" they would say, as cheeks were kissed, hair tousled.
He remembered when Grandpa had passed away – it must be twenty years now – young Mario leading the procession of mourners, his three brothers and four sisters in lock step behind. Now, he was a man.
He remembered the long black limousines, the unending garlands and bouquets, his father and his father's friends all dressed in black suits and white shirts, the priests, the ceremony. Hair slicked back, a touch of pomade, scent, heavy gold watches. His mother with all the other veiled women, solemn in their grief for The Don, upright yet broken.
He remembered how on those afternoons, all those years ago, the old man had always told Mario how one day the restaurant would be his. It would pass to his father on The Don's death and his father in turn would leave it to young Mario. And so it had been. And while Mario, now a successful businessman, had no interest in running the humble eatery, he had kept it out of sentiment for Grandpa and, every now and then, would take the wife and kids there of a Saturday afternoon to hang out with the cook in the kitchen and reminisce about those lovely warm times from far away.
To remember.
Now the place seemed a lone survivor in a sea of mindless high rises, but the neon sign still proudly proclaimed the family name. And when he went there it was as if time stood still and nothing had changed. He was still that little boy who sat proudly on Grandpa's knee, watching the pot bubble and the pasta cook. He was home.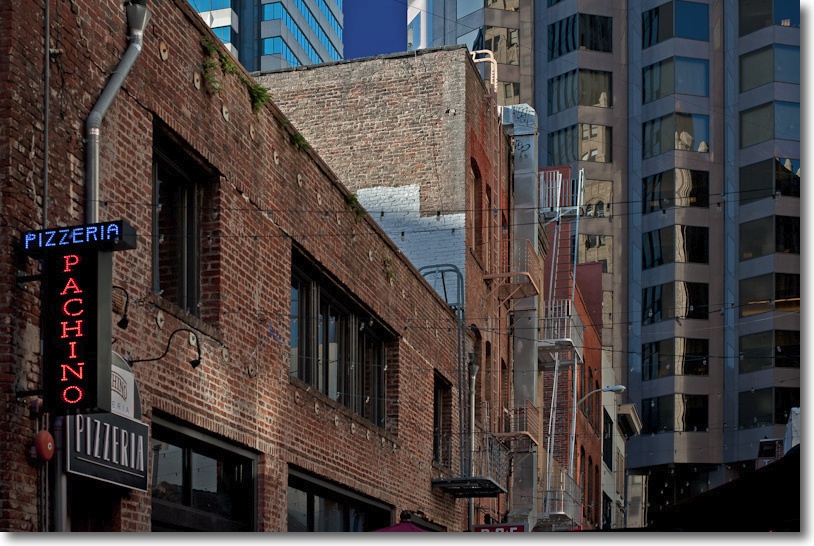 Pachino, Kearny Street, San Francisco. March 3, 2012.