What the well dressed FX snapper is wearing.
Flash back to my youth and the snapper's dream outfit was a Leica M2 with 35mm and 50mm f/2 Summicrons and the 90mm f/2.8 Tele Elmarit. The 90mm Summicron at that time was simply too big to carry around, with the compact and outstanding ApoSummicron only coming along much later. I owned and used all of those and they were simply the best the film world had to offer. SLRs changed all of that and DSLRs changed it further, with modern makers boasting zoom lenses of extraordinary quality, range and …. price, bulk and weight.
In planning my little D700 outfit it was not lost on me that the Dream Team for most Nikon pros consisted of:
14-24 f/2.8 AF ED zoom, $1,997, 2.1 lbs.
24-70 f/2.8 AF ED VR zoom, $1,887, 2.0 lbs.
70-200 f/2.8 AF ED VR zoom, $2,397, 3.4 lbs.
I have used none of these but the large number of test reports suggests that each is superior to prime lenses at its respective focal lengths. But there are drawbacks. While quite possibly the most extraordinary design triumph in modern optics, the pregnant, distended front element of the 14-24mm zoom precludes the use of filters and invites damage. And the bulk and weight of all three is non-trivial, with the trio weighing in at no less than 7.5 lbs and costing $6,300 in total. Add in one body and a carrying case and you are close to 12 lbs of dead weight.
I took a more modest approach. I very much tend to a wide angle view of the world so was prepared to splash out on the best wide zoom I could afford, as a broad range here obviates the need to carry many lenses. AF would be nice to have, but not essential as most everything is sharp most of the time, VR no big deal for a wide lens but no option to delete it. Shame, as it adds a lot of bulk and adds little for wide angle photography. Fixed maximum apertures are nice to have and generally denote a lens made to a standard, not to a price. So I ended up with this combination: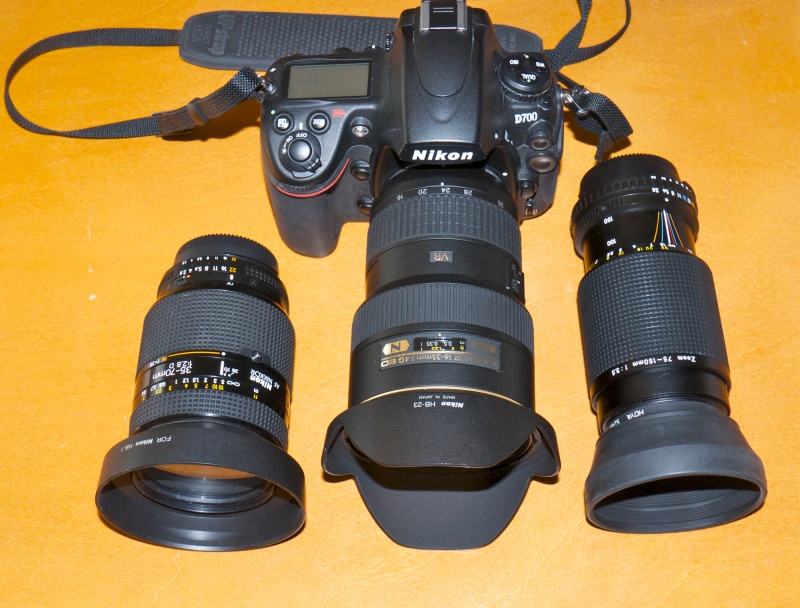 My economy Dream team.
16-35 f/4 AF ED VR zoom – new $1,140. 1.5 lbs.
35-70 f/2.8 AF D AI-S zoom – used, mint $400. 1.5 lbs.
75-150mm f/3.5 Nikon Series E zoom – used, mint $85. 1.1 lbs.
The 16-35 is a current model, is one stop slower than the 14-24 but has a flat front element which allows the use of filters. You lose 2mm at the wide end but gain 11mm at the long end and VR is thrown in, if not really necessary. I spent big on this as it replaces the 16mm, 18mm, 21mm, 24mm, 28mm and 35mm lenses, which also makes sense of the bulk and weight. The 35-70 was the pro zoom of the 1990s – push-pull zoom, outstanding optics and a very useful true macro range, with definition to match down to 25% of life size, at 35mm. AF is nice on a lens which sees a lot of use, build quality puts the current 16-35 lens to shame. The lens was strongly recommended to me by a photographer whose work I love – what better way to choose? More on this optic later. And the 75-150, while MF and 'only' Series E (Nikon's attempt at a budget line a couple of decades back) is light, has a fixed maximum aperture and is so compact that it's not something you hesitate to take along. I'll add a CPU chip to it for proper EXIF recording for another $30, a simple DIY job. Total weight is 4.1 lbs, almost half the weight of the first outfit and cost was $1,624 in aggregate for one stop less, 2mm lost at the wide end and 50mm sacrificed at the long end, for a saving of over $4,600. To make the comparison fair, used lenses should be substituted in the first example but these premium Nikkors sell for very modest discounts used, so maybe the true amount saved is more like $4,000. Non-trivial however you look at it.
Best of all, despite the frugal approach, there are no compromises when it comes to optical quality. All three are outstanding with maybe the best being that little sleeper the 75-150, an optic with a deserved reputation amongst Nikon fans in the know. And at $85 a replacement will be cheaper than repair in the event of damage.