First impressions.
Advice for baristas and starving students regarding the purchase of an iPhone 5 appears here. One word version? Don't.
For those who can afford the latest toy or who need it for their day job (me!) it's simply a deductible business expense, and as my business involves being current and fast it's a no brainer. The monthly fees remain unchanged, and the proceeds of sale of the old AT&T iPhone 4S will pay for the early contract cancellation charge.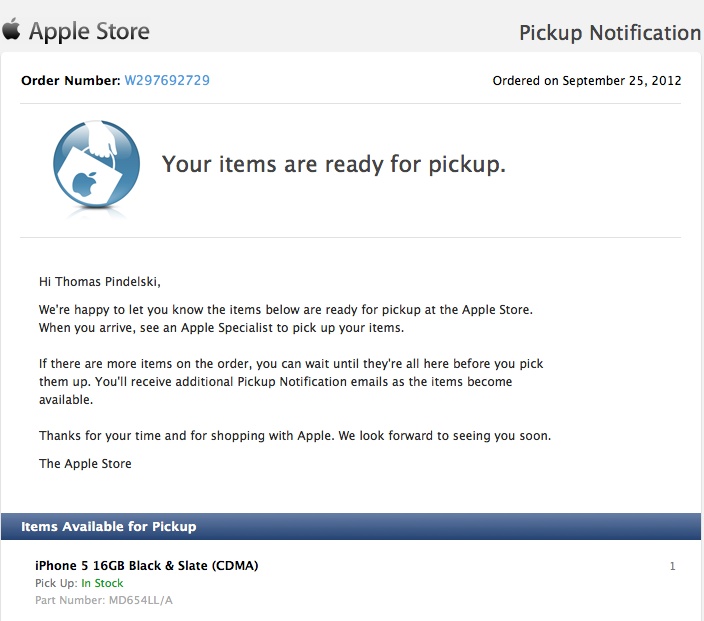 First, the secret of snagging one and not paying someone to wait in line for you is to order it at 10pm local time in the US, go to check out and check "In Store Delivery". Enter your zip and next morning's inventory status will be reported for all your local Apple Stores. I tried on Monday and no joy, but hit the jackpot Tuesday. Quickly told a friend but at 10:15 his trigger finger was too slow and they were out. The pleasure of shopping in an uncrowded Apple Store is like Tiffany's, but cheaper. The girls in Tiffany's, however, now that's something else …. 10 minutes in and out and I was off to activate the iPhone at the local proctologist's, err, make that Verizon. Want to know what it feels like to live in North Korea? Visit a Verizon or AT&T store. After three hours at the Verizon Store I was fried, fit to be tied and activated. This after running across the road to the Apple Store for another NanoSIM as VZ fried the first one. Another hour and my old AT&T iPhone 4S number was ported over.
Allow me to enlighten you on the inventory situation. AAPL's fiscal year ends 9/30/2012 and they have already sold enough iPhones to exceed earnings expectations. Thus there is absolutely no purpose served by having more sales stuffed into Q4. As they can sell all they make, it makes sense to hoard the inventory then put it out Q1/2013, meaning October 1st. It's the perfect earnings manipulation tool. Further, despite all the journalists' reports of display manufacturing backlogs, not one iota of credible evidence has surfaced to support this statement. Still, journalists are people who could not get a real job and are fact agnostic. Their driver is clicks. No clicks, no Big Mac.
How does the iPhone 5 feel? In a word, worse than the iPhone 4S. It's not that the extra height is not welcomed – it is – but the device is too light, feeling like a cheap toy. The 4S feels, well, like a Leica M2. The iPhone 5 feels like any plastic prosumer horror of a camera – like my Panny G3, for example. (In fairness, the G3 is an order of magnitude superior to the M2 in every respect except how it feels). Sure the much vaunted micron fit and finish is great but I cannot tell the difference between 1 micron and 10 microns and nor can you. The fit and finish of the 4S is identical in practice, the glass back nicer, if more fragile than the alloy one now in use in the latest model.
The other thing I fail to understand is who really needs the thinnest phone? Is not better battery life worthwhile for an ounce/millimeter or two? Keep the 4S battery, Apple, make it feel like the 4S and get with the program.Thin really sells that much?
The new connector? Ever tried inserting an USB plug into the desktop tower while grovelling amongst the black beetles with a flashlight? The new connector rocks. It's reversible. If you are complaining about paying $29 for a spare, get real. An Android phone is just what you need. Good luck with that mini-USB thing. This connector is the bee's knees.
iCloud now works well. I backed up the 4S to the Cloud and then restored onto the 5 and the whole thing was seamless, though my son's games took over an hour to restore over wi-fi. And when you see the realism of a game like Infinity Blade you breathe a sigh of relief that the authors are on our side.
I am not going to publish any objective measurements here. Those are all over the web and can be summarized by saying that all app activities are 2-3x as fast as iPhone 4S and 1.5-2x as fast as iPad3, both on paper and in subjective use. Best of all, AT&T's lying display of '4G' on the 4S (4MBS download speed on a good day) is forever history as the 4S is consigned to eBay. The iPhone 5 has real 4G and handily delivers 20-25MBS every time. In Burlingame, where I live, on the SF Peninsula, Verizon rules, and has 4G towers everywhere. By contrast, AT&T is still looking for its pickaxe and handle to put up towers.
But the sublimest pleasure in the acquisition of an iPhone 5 for this user has nothing to do with the phone. It's the simple and immensely enjoyable act of firing AT&T. Sure Verizon is no better, but one devil fired just feels, you know, good. In fact, that was the first call I made on it.
More on the camera in practical use soon.
Note to Apple: Please buy a US telco and fire everyone in customer service. Integrate the operation into the Apple Store/Specialists/Geniuses with proper training and bedside manner.
Disclosure: Long AAPL, BRCM, QCOM.