To Canon and Nikon.
Canon and Nikon, in their adherence to their DSLR flapping mirror upper-end camera bodies, are comparable to Kodak during its last decade.
Kodak, let us recall, invented consumer digital imaging but put it on the back burner as there would always be film. It had made them, all of Rochester NY and their many shareholders rich for a century. Why change now? The comparison with the head-in-the-sand behavior of Canon & Nikon with regard to upper end cameras is apt. Canon & Nikon know how to make mirrorless cameras but refuse to permit the technology to permeate to their top end offerings. Much more of this and their DSLRs will be to their future what film was to Kodak's.
Now let us turn our attention to Apple. Miserable as some of their software efforts are – Photos (see yesterday's column) or the incessant dumbing down of OS X with useless bells and whistles – no such accusations can be leveled at their hardware efforts. The MacBook is the best laptop on the planet, the Mac Pro is a high end workhorse and the iPhone is the touchstone for quality and performance in the cell phone world. And the iPhone's camera is simply spectacular, improving significantly with every new iPhone.
Unlike Canon and Nikon and the Kodak of yore, Apple refuses to rest on its laurels. Recall a while back that Olympus emulated Hasselblad's earlier efforts in multi-image digital photography, with the sensor shifted a pixel or two between images which are then superimposed for better quality. The Olympus camera, as my review here disclosed, the EM5 Mark II, is an ergonomic disaster and I returned mine 24 hours after receipt. But that in no way invalidates the concept.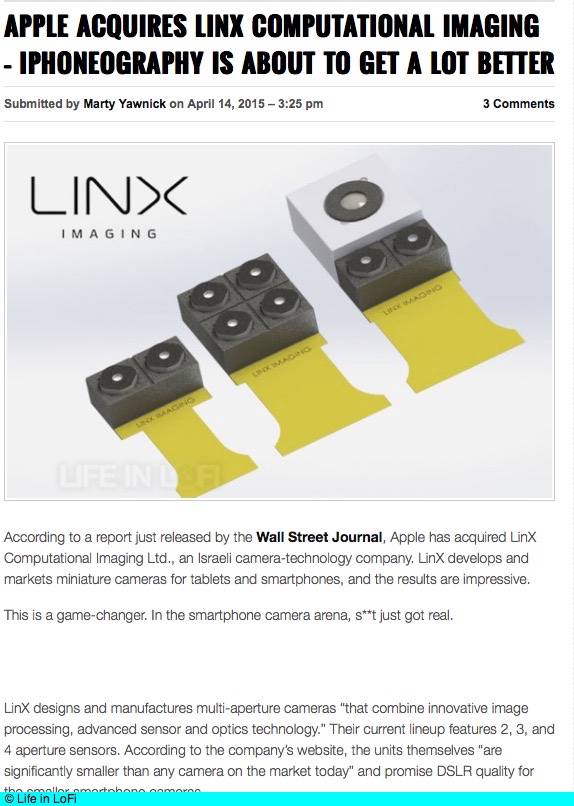 Click the image for the article.
Well, Apple has gone one better and acquired an Israeli company named LinX which adopts a like concept but takes advantage of the very small sensor size required by the iPhone and instead of using one sensor and multiple shots with pixel shifting uses multiple sensors with but one snap. Immediately the disabling aspect of the Hasselblad and Olympus designs goes away, namely that neither maker's camera is suitable for photographing moving subjects, be it sports, people in motion or those swaying branches in the trillionth imitation of Ansel's birches in Yosemite. Once the images are simultaneously recorded on the multiple sensors, they can be combined in software later. Brilliant and kudos to Apple for thinking well down the road and investing shareholders' capital accordingly. Add folded zoom lenses, which use a mirror to avoid the depth demands of moving lens elements, and you have the death knell for the tired offerings of yesteryear from Canon and Nikon.
Will the annuitants wake up in time and change their ways? I think it's already too late. The lead time and capital required to catch up with hardware leaders like Apple are too great. It's all over bar the writing. Behemoths take a long time to die …. but in the digital world that is far less time than ever before. Just ask around in Rochester.