On Moonstone Beach.
The Sea Chest on Moonstone Beach has been around for ever. I used to visit it often when journeying from LA by motorcycle up the coast highway to Carmel or when living nearby on my Templeton vineyard a few years back.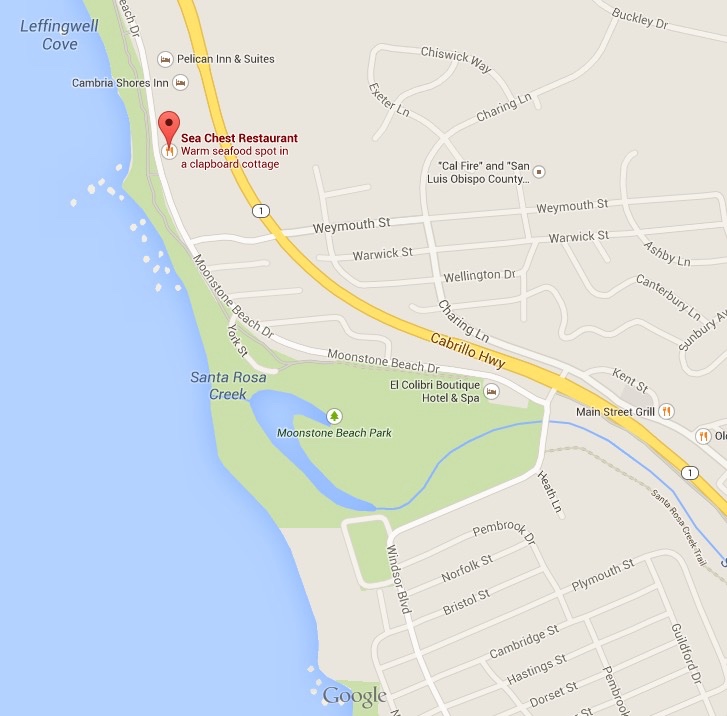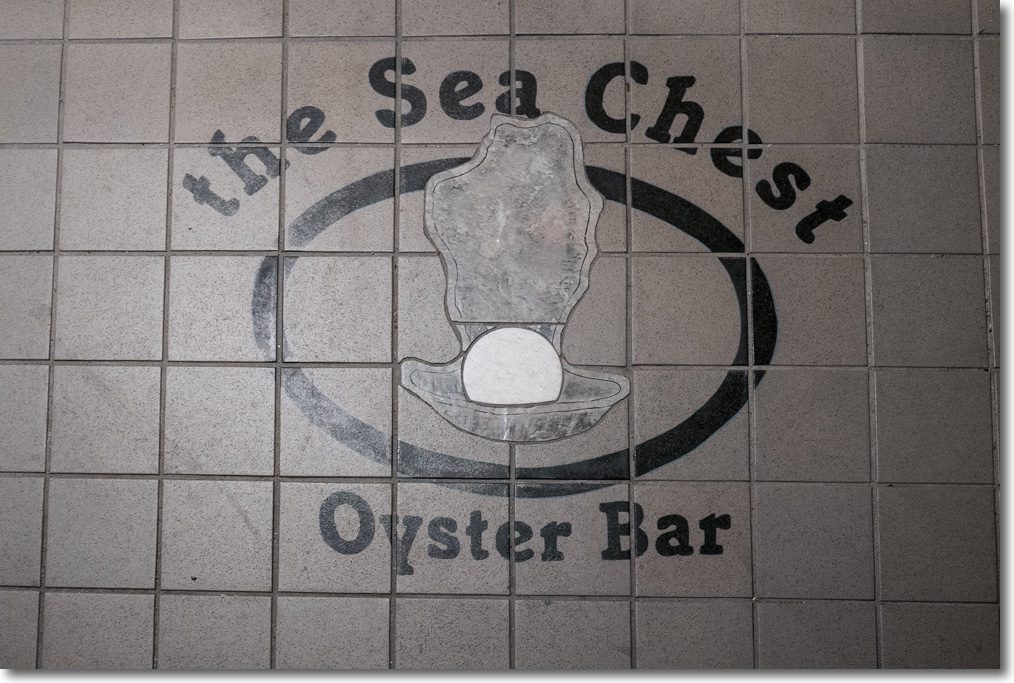 You come here to eat seafood or fish, not meat and, unfortunately, the place has been 'discovered', so I don't feel too badly about publicizing it.
They don't take credit cards or reservations so the secret, especially on Friday or Saturday night, is to arrive at 5:15pm and line up for the 5:30 opening. Anything later and you may have to wait up to 2 hours for your table!
The restaurant is housed in a wooden clapboard building on Moonstone Beach Drive, facing the Pacific: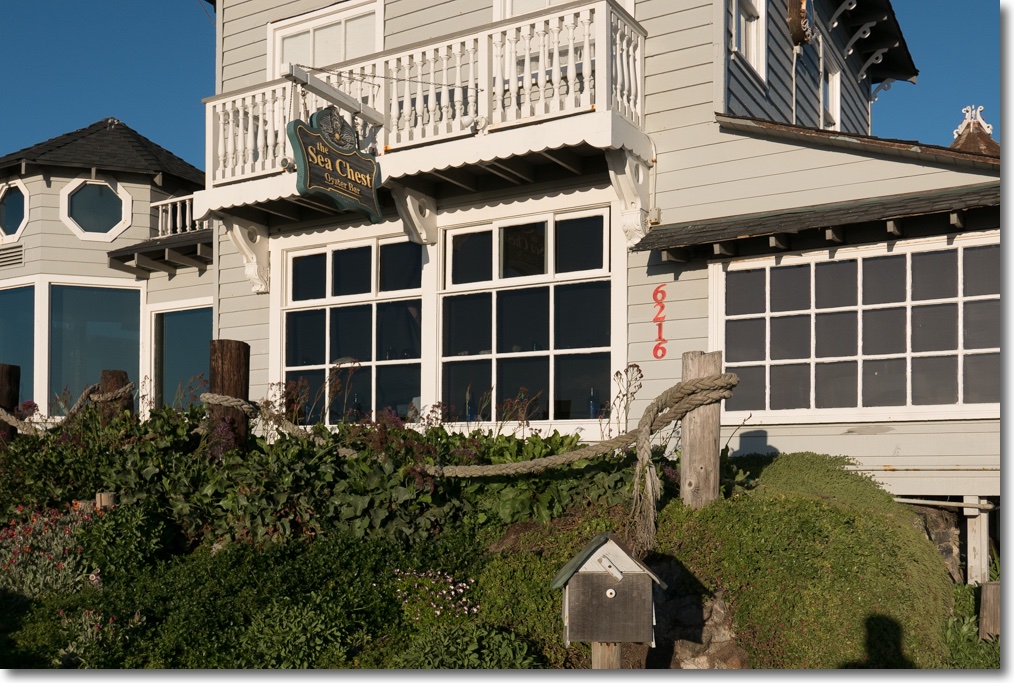 The smart (?) money arrives early:
As do the birds – clearly not at a loss for food: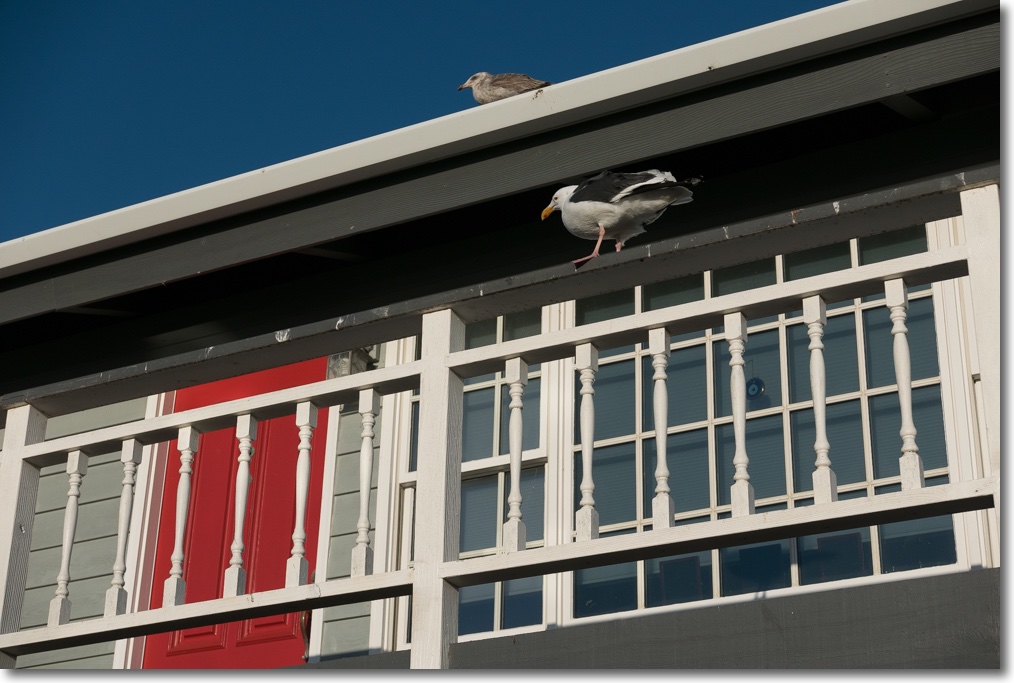 I arrived (Friday evening) the obligatory 15 minutes early on a very blustery day, yet the line was already long and I was the last but one to get in without a wait: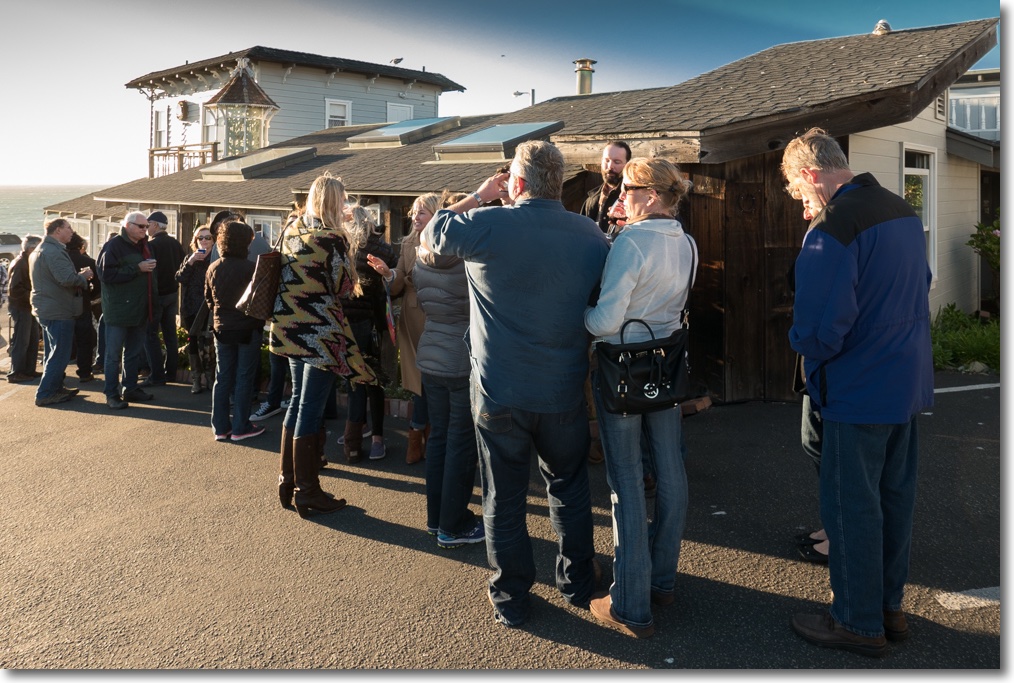 The trendies make a big show of drinking their wine in line. Make of that what you will. Needless to add they all drive SUVs which is probably all you need to know.
The menu is hand written daily: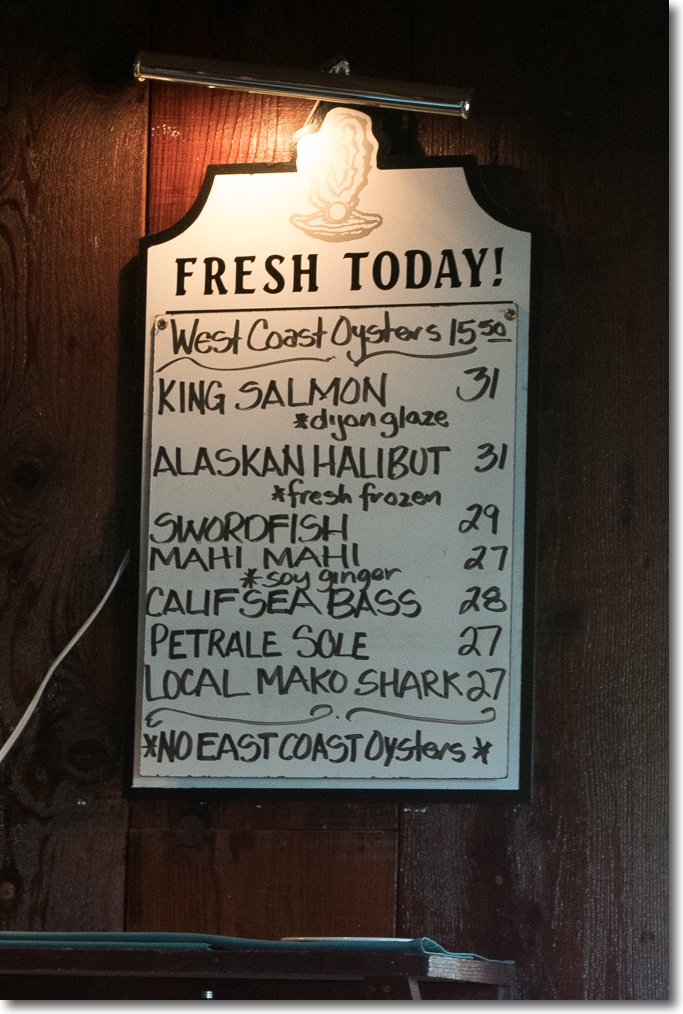 Not cheap, but when was quality ever cheap?
I opted for the Sea Bass and you can see why the fish is dying out when you look at the size of the portion. With a glass of California Chardonnay it was light and delicious:
My waitress was an absolute sweetheart, attentive and professional. This is not one of those pretentious places that makes you feel they are doing you a favor. Pacific Ocean in back:
The most fun place to sit is the small bar ….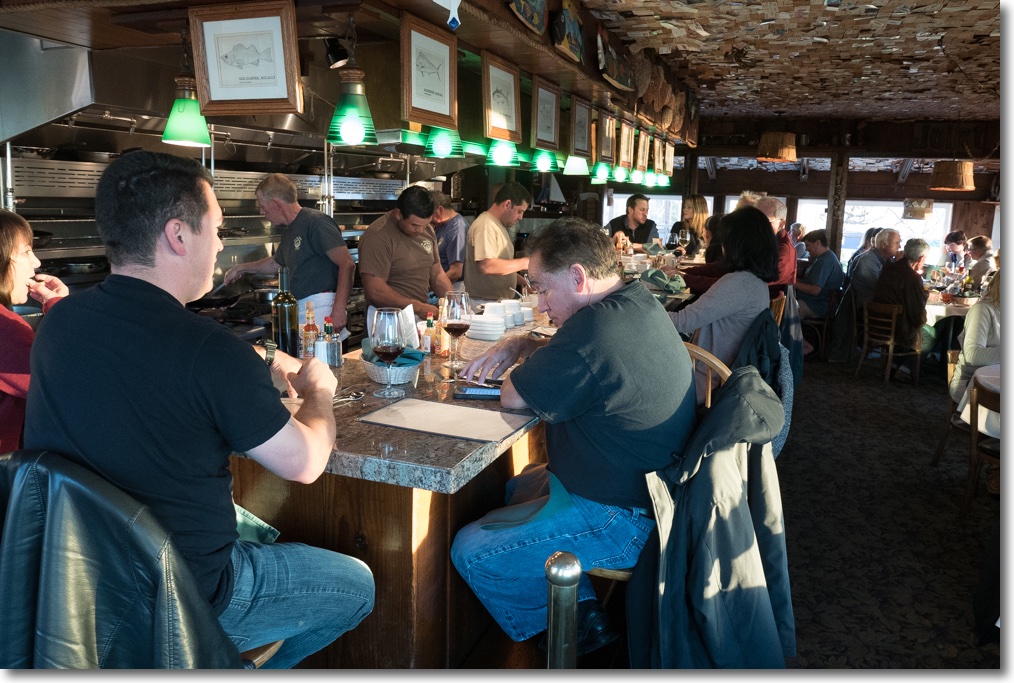 …. because the action is exceptionally intense and a blast to watch: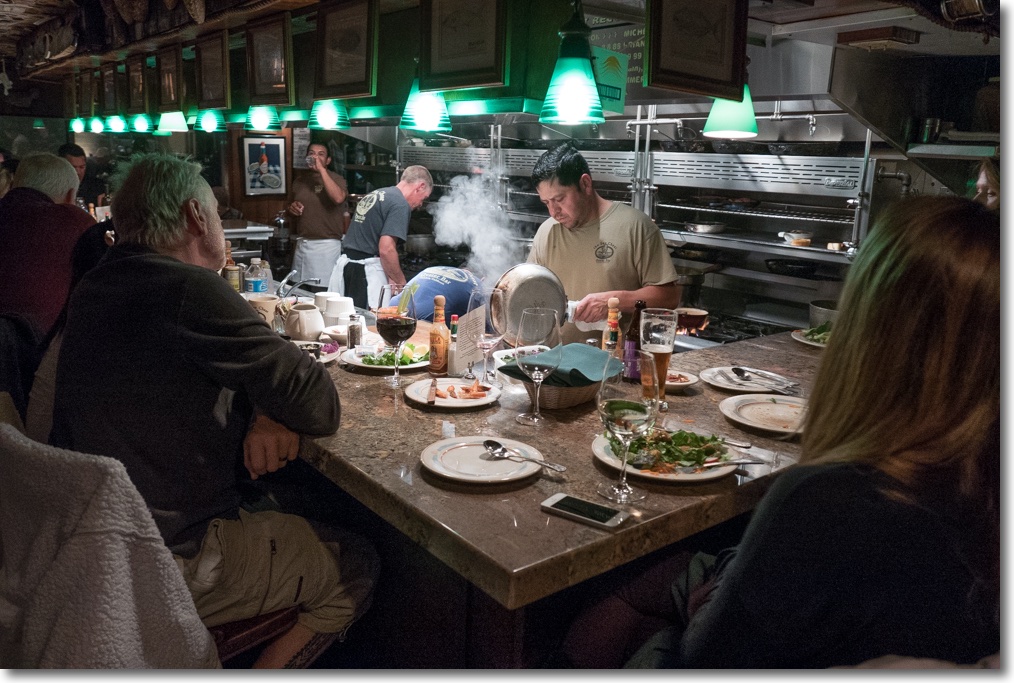 All snapped on the Panasonic LX100 except for the food image which was on the iPhone 6. ISOs for the Panny ranged from 200 through 1600 and the kitchen snap was at f/2 at 24mm. A superbly capable and small tool, there's an awful lot to like about the LX100 as the ideal travel camera.
The Sea Chest is not cheap. Reckon on $45-60 per diner plus tip. There's a small charge for water owing to the disastrous drought the Central Valley is suffering.
I recommend the Fog Catcher Inn for accommodation, a few steps to the north. Get one of the ocean front rooms, and you will find they are affordable, severe and quite exceptionally elegant. A decent breakfast is included: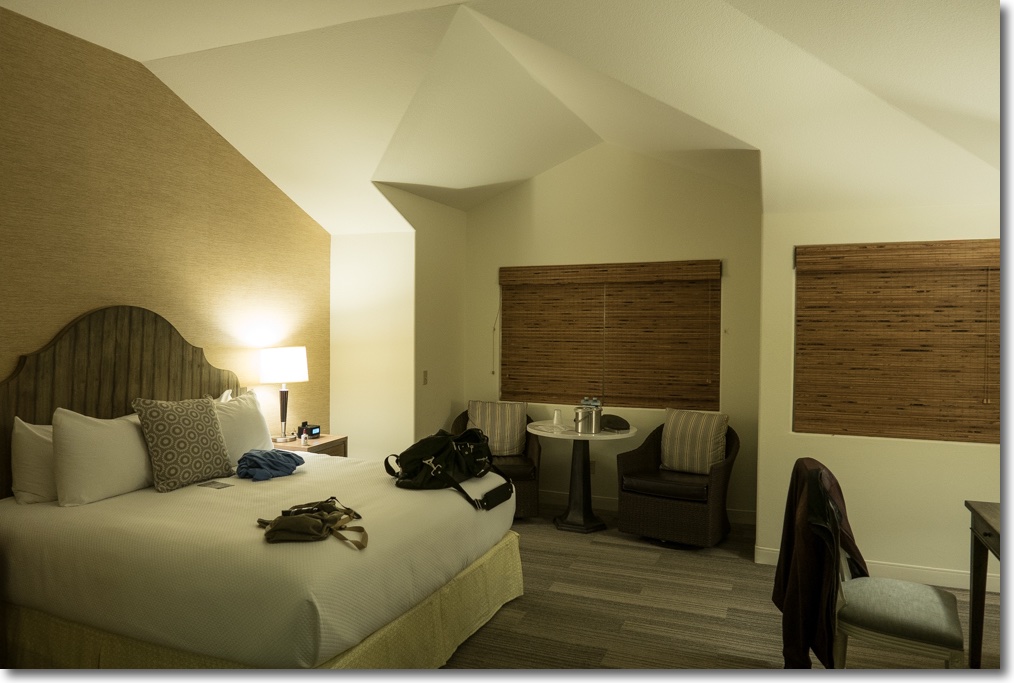 And be sure to explore Moonstone Beach, especially the north end accessed down a flight of stairs. Lots of interesting rocks, stones and mussels and assorted shellfish at low tide. And watch out for the jelly fish which sometimes get beached.
Beached jelly fish and kelp. Taken some years back. Canon 5D, 100mm Canon Macro.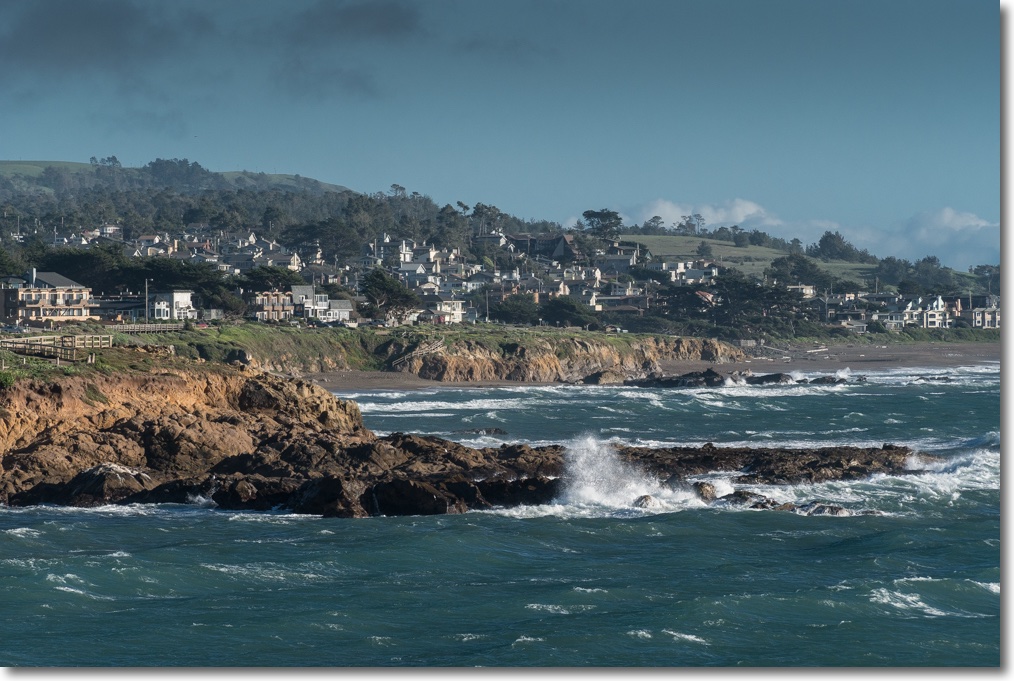 Moonstone Beach Drive, yesterday, from Leffingwell Cove looking south east. Panny GX7, 45-200mm Panny lens. If you hear anyone trashing this inexpensive lens you have my permission to classify them under 'Idiot'.