A lovely day out.
Go back a century and San Francisco's Embarcadero had no sidewalks. Just the road, bordered to the east by dozens of wharves hiding the nasty realities of commerce from passers by.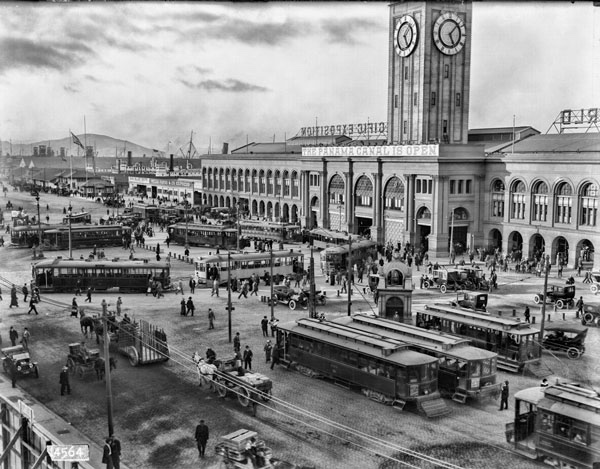 The Embarcadero a century ago.
But the city's leaders got wise to the benefits of crafting great promenades (doubtless they had seen Paris) and we got the Embarcadero in its modern guise, replete with vast sidewalks for biking, skating, walking the dog, and increasingly renovated wharves which now house chic restaurants and elegant offices rather than whale blubber butcheries.
This past Sunday offered an opportunity to enjoy these privileges, so I parked my ancient (fat and ugly – no theft of fear) Lexus in my Top Secret Free Parking Spot and proceeded afoot. Not wanting any more than a minimum of encumbrance, I pinched my son's Panny LX100, that sweet little jewel with the fine Leica zoom lens, and had at it.
Red's Java House, just south of the Bay Bridge, has been serving burgers and fries for 60 years and no they are not about to mess with success. Just don't expect good food here, though the views from the rear patio are great.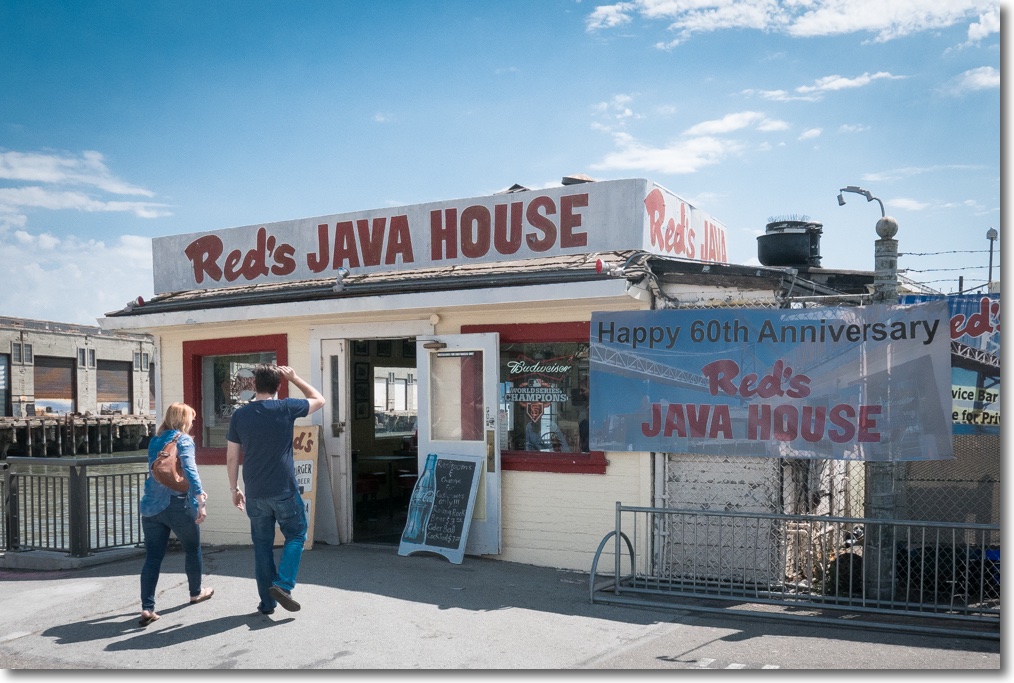 A few yards north and the Bay Bridge crosses the Embarcadero. It's being fixed with (faulty) Chinese steel – what is it with America? Like we have forgotten how to make structural steel?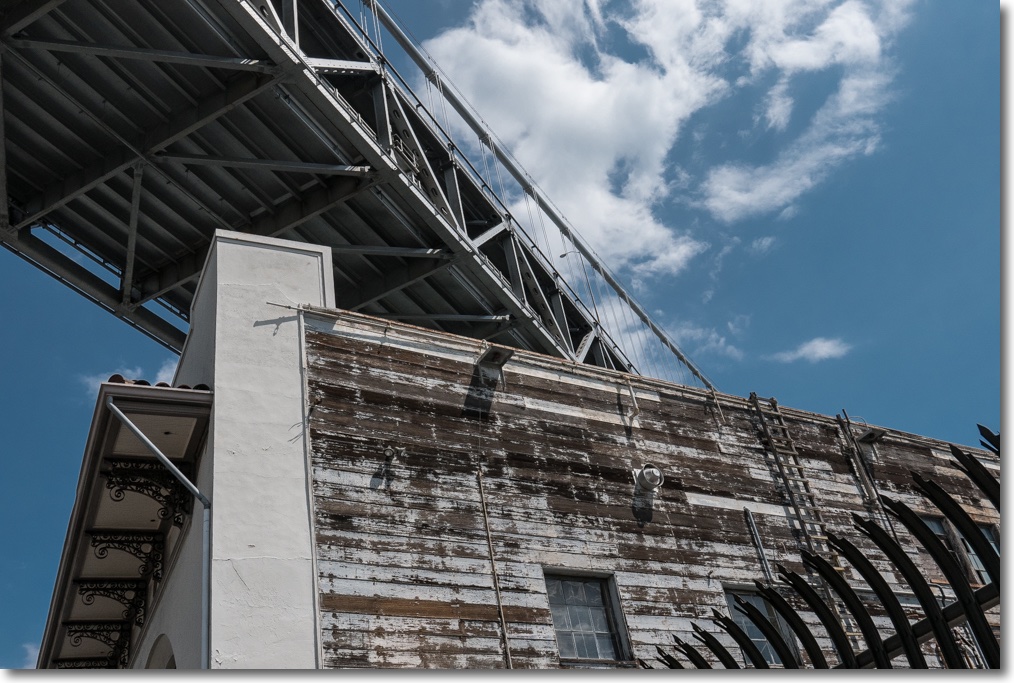 A few yards further north you will find our 'heroes' polishing their nice fire engines; there are no fires so that's all they have to do until retiring on an inflation weighted pension at age 50: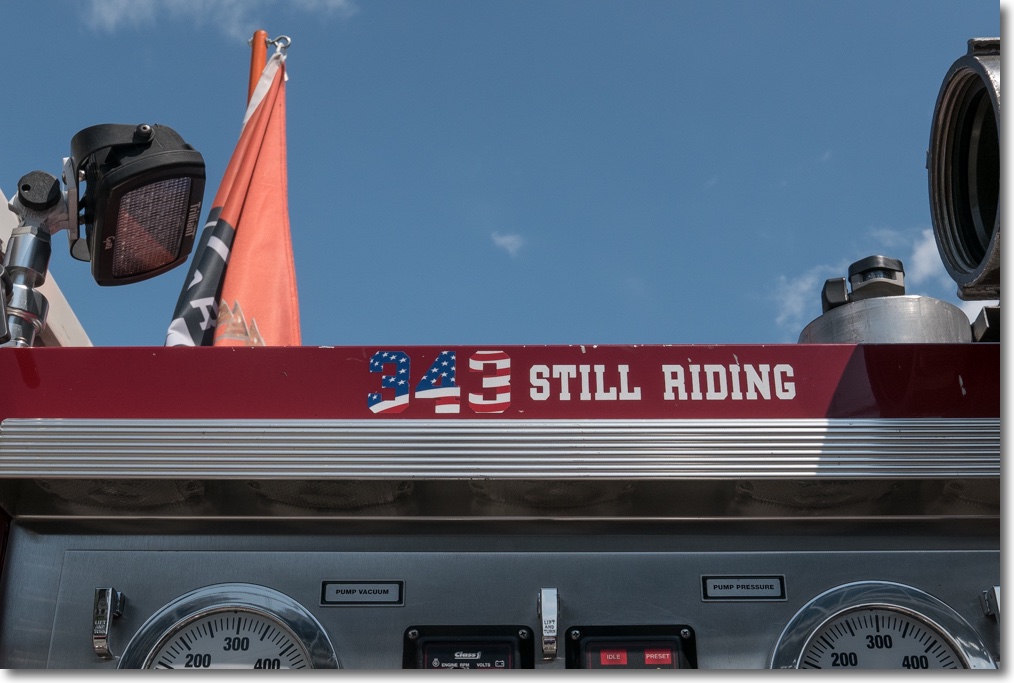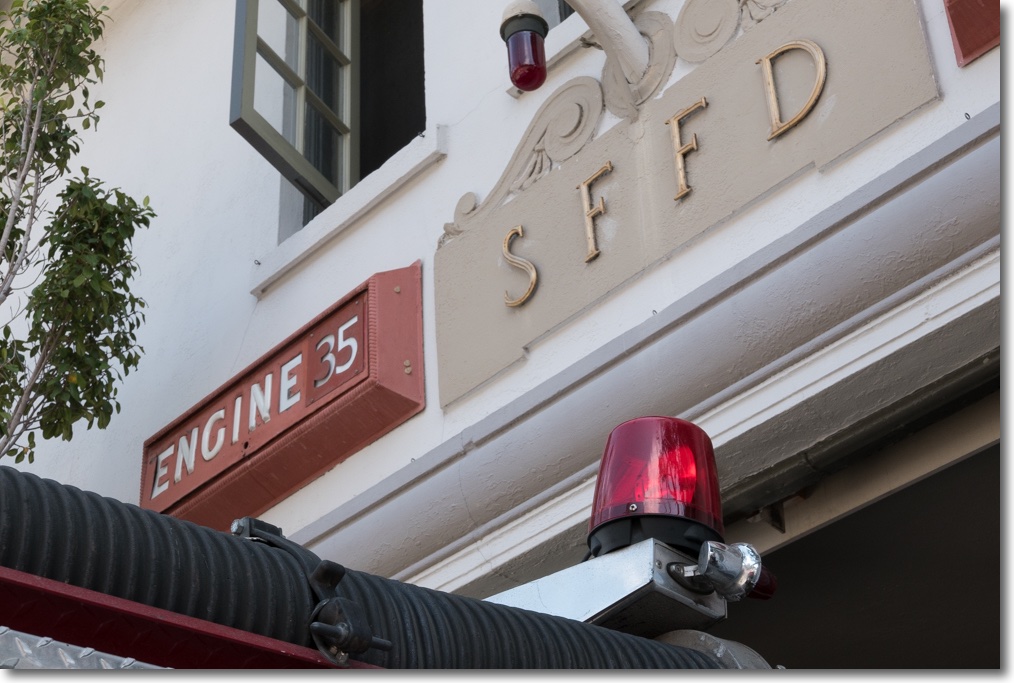 A couple of hundred yards further north and you will find that the charming, naïve, whimsical rocket which used to grace this little plaza just south of the Ferry Building has been replaced by an execrable excrescence, complete with pretentious plaque loaded with mindless blather: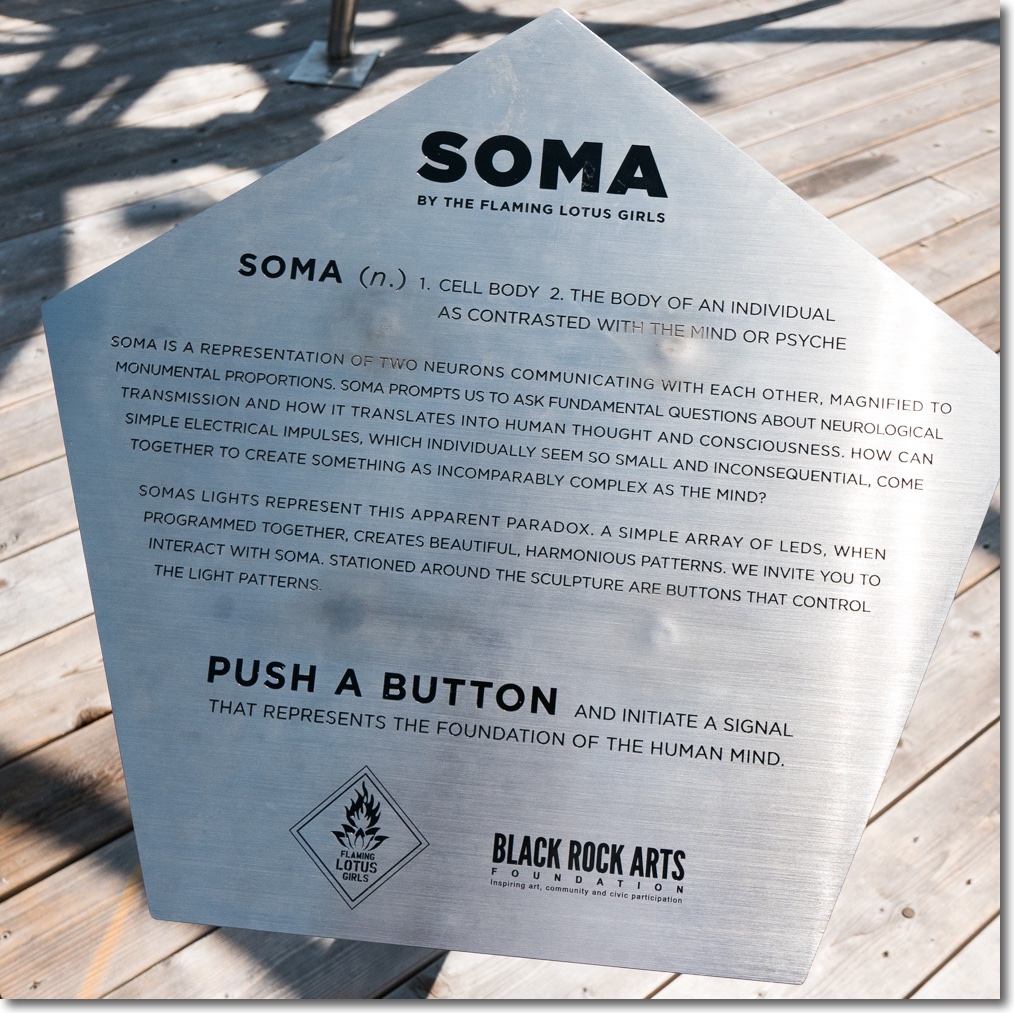 The Ferry Building itself has sprouted a sign testifying to the one hundredth anniversary of its rebuilding after the 1906 great fire and quake: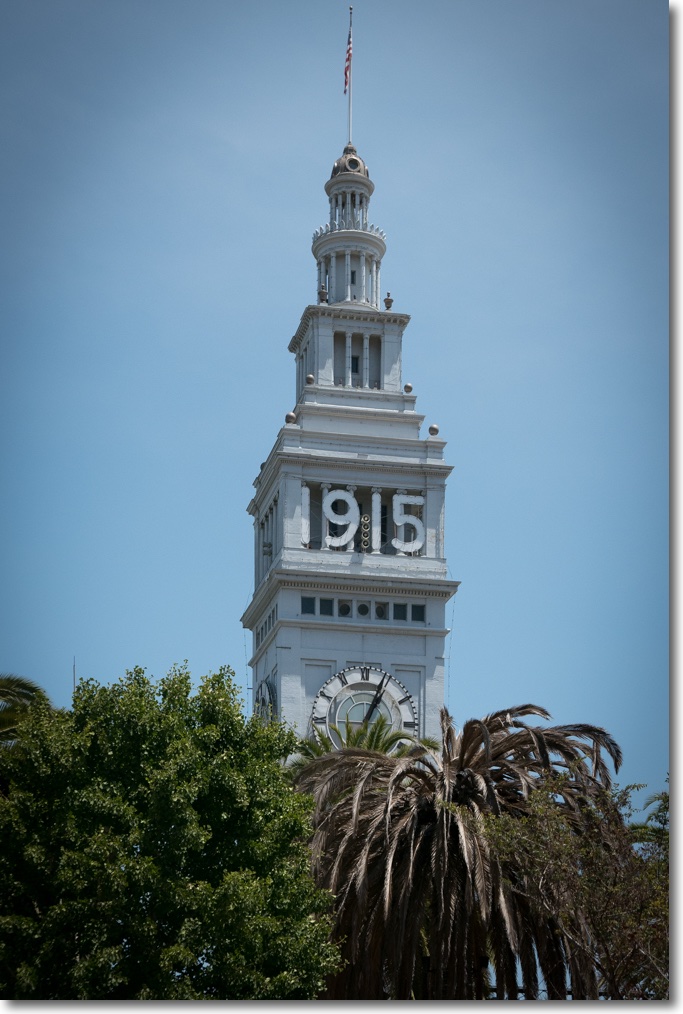 Just north of the building a lone (and no less lovely for that) Ducati hangs out on what was a surprisingly uncrowded day: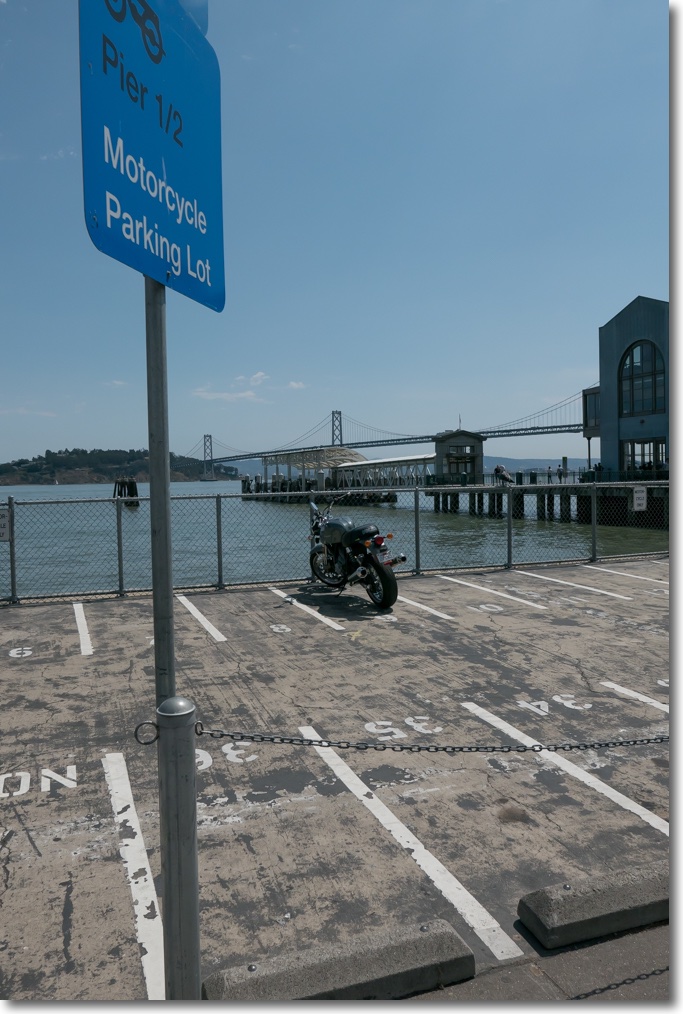 Many of the old wharf buildings now house upper end, white tablecloth restaurants. Mercifully the prices keep most of the mid-West out – from whale blubber to human blubber in three generations: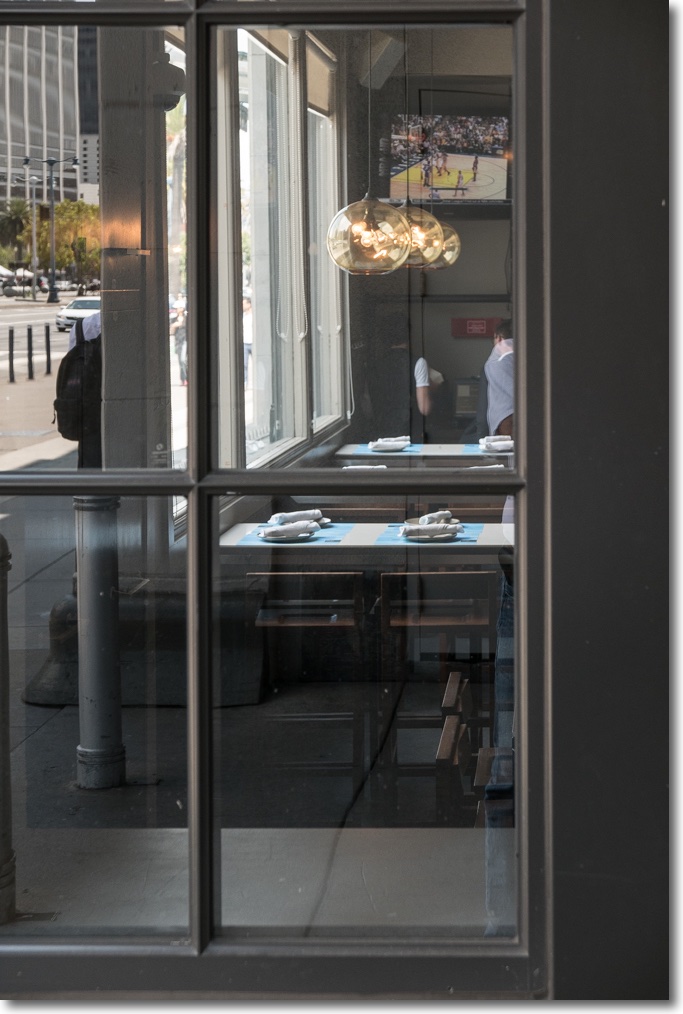 They mostly pose outside in their ridiculous garb when not riding their no less asinine Harleys: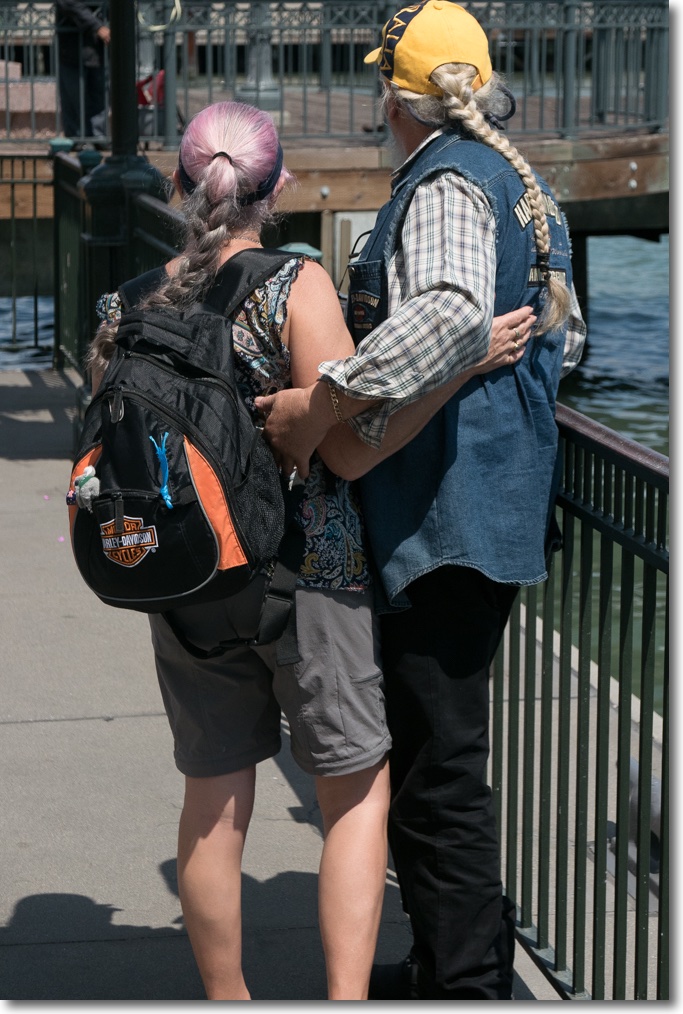 The Waterfront is especially recommended: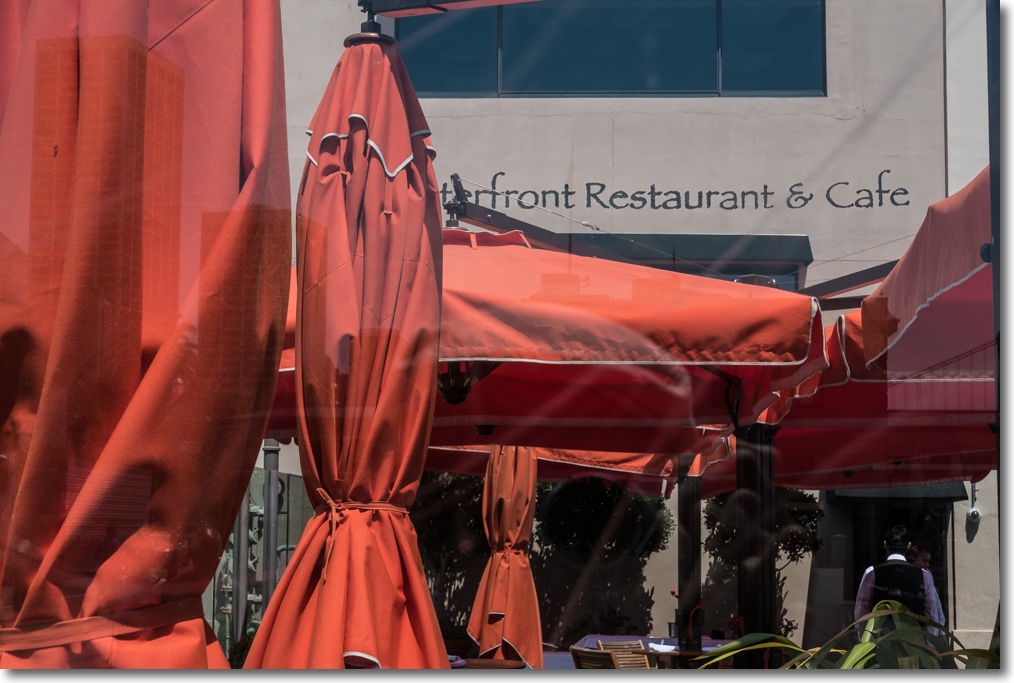 Humor is everywhere to be found: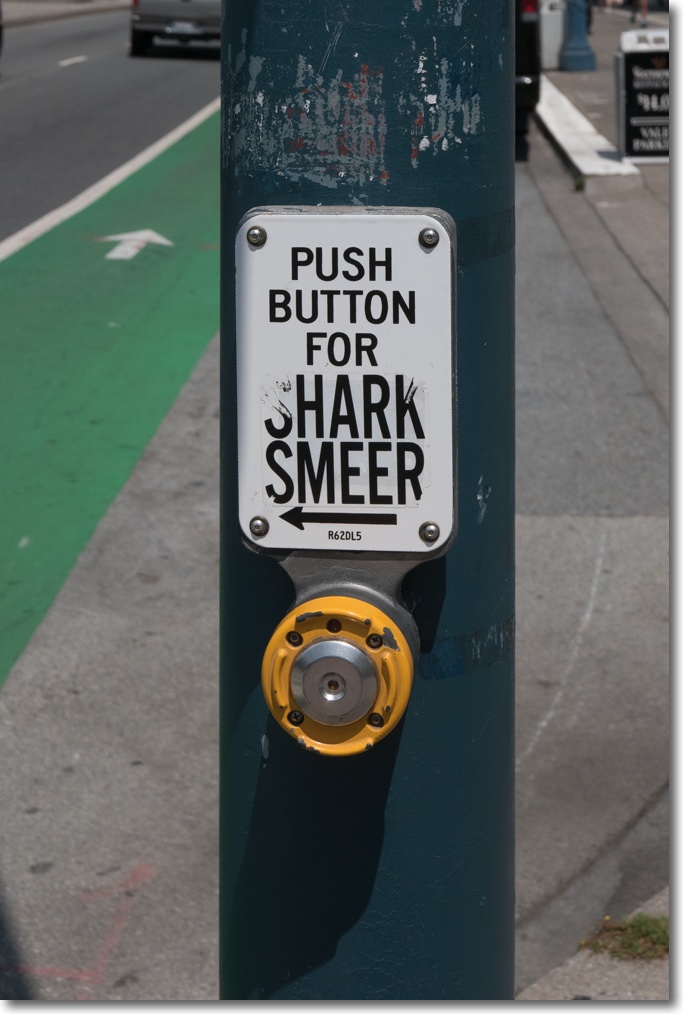 Head a block west and you will find great charm in the side streets which border the ever so steep ascent to Telegraph Hill, which overlooks North Beach: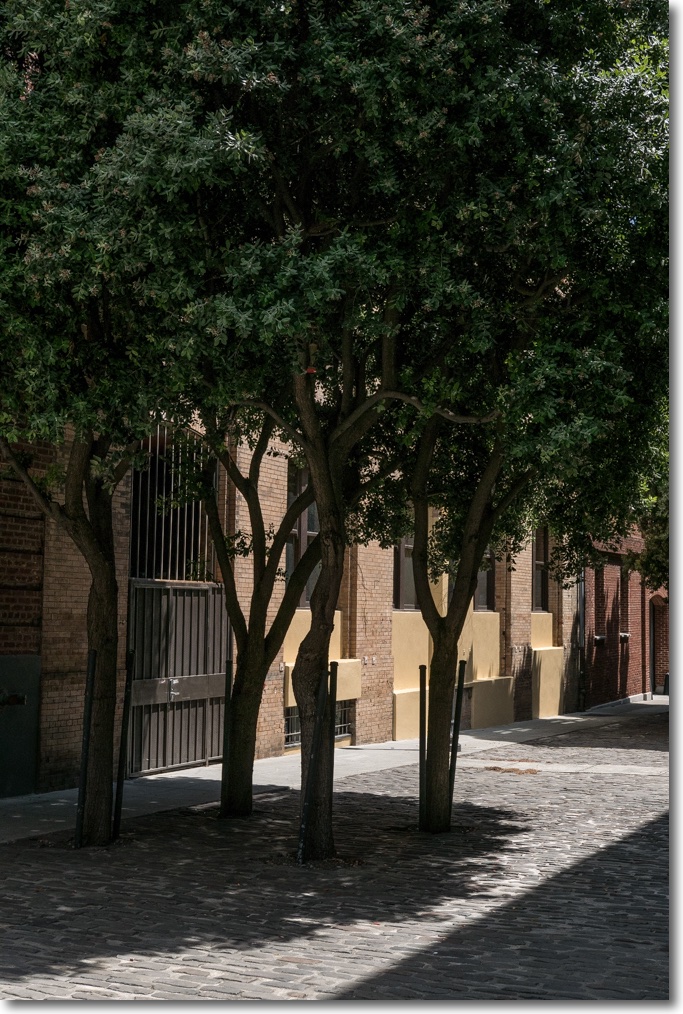 One of the enduring sources of appeal of San Francisco is that the few modern skyscrapers it contains are in the business center with all about it largely preserved. Nonetheless, now and then an inspired design comes along harking back to the days of brick and one such is the Levi Strauss building on Battery Street: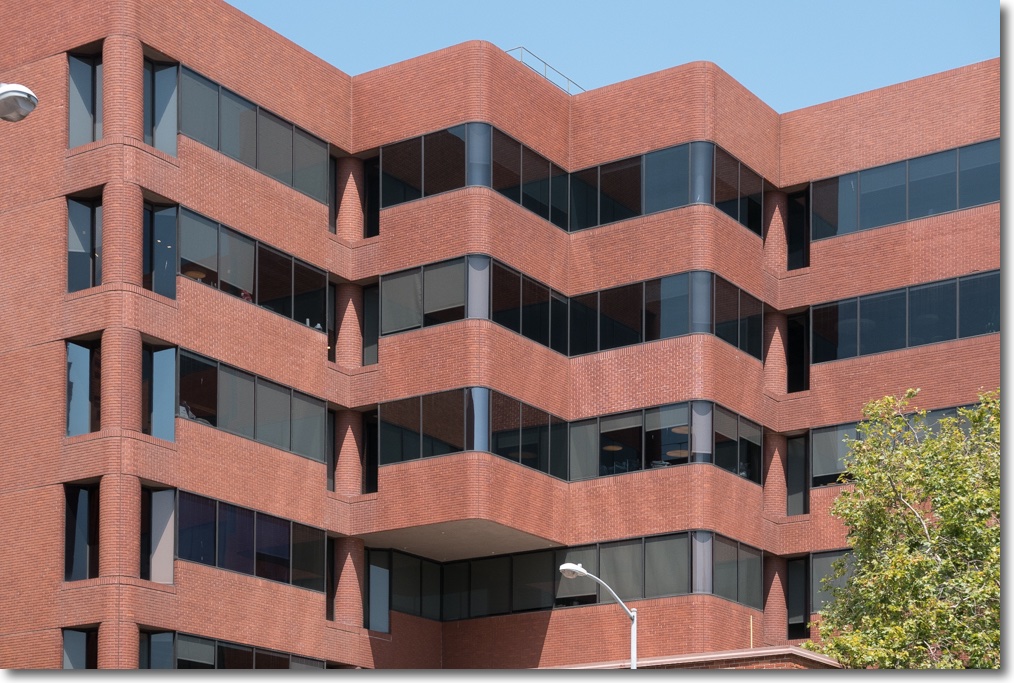 But turn the corner and you can see the real thing, complete with Edward Hopper shadows: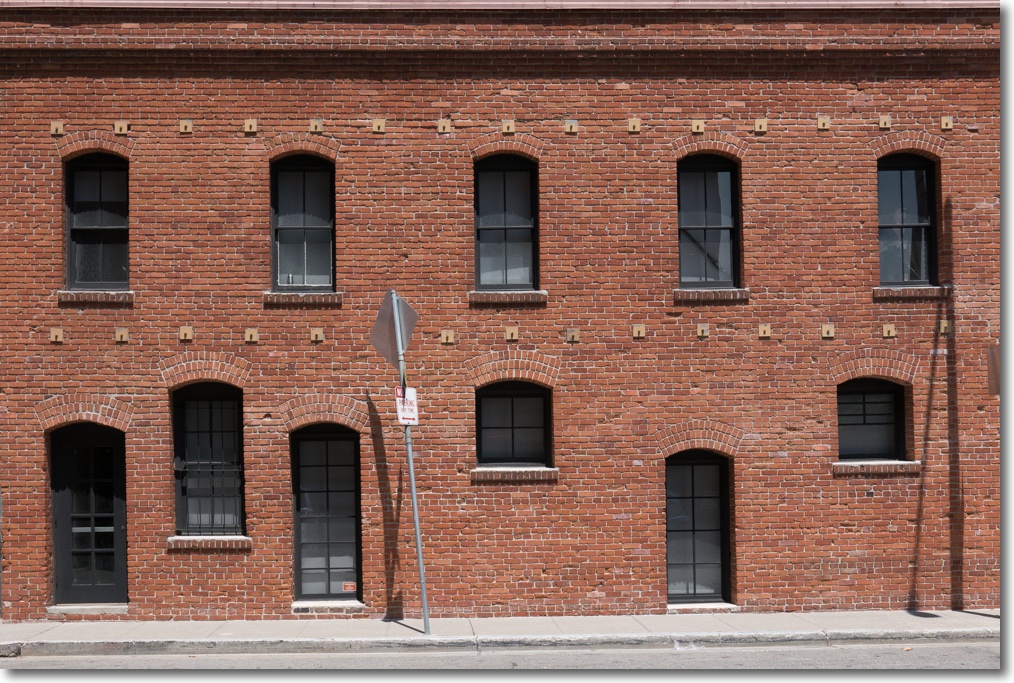 Al fresco dining is always fun and every ethnicity is on offer: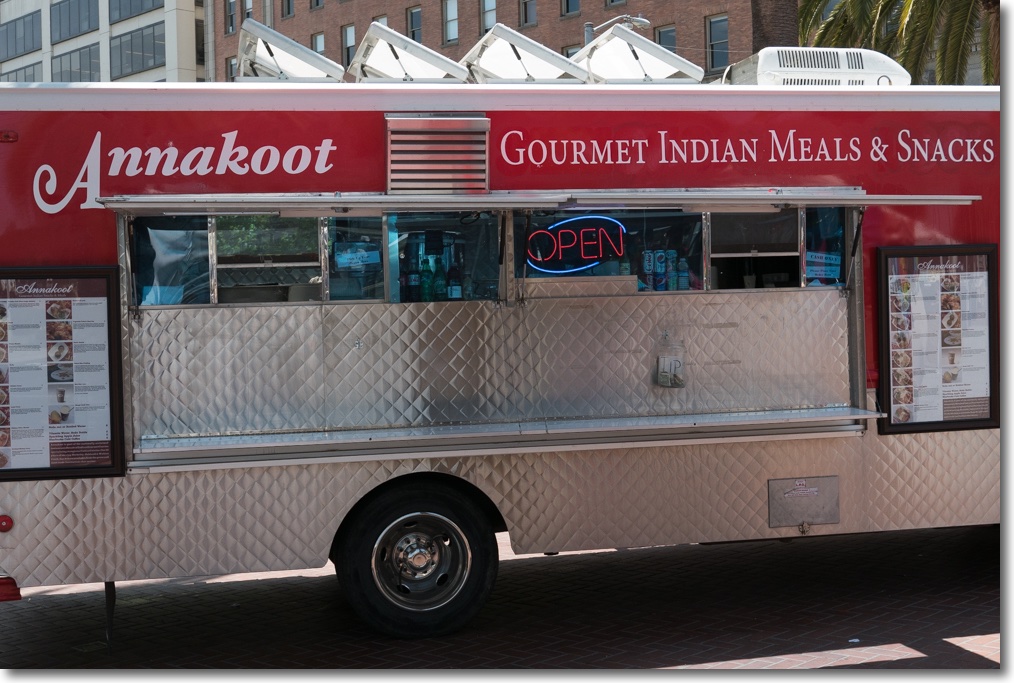 Today I opt for something a tad more comfortable and end up at Il Fornaio on the self same Battery Street, again mysteriously deserted: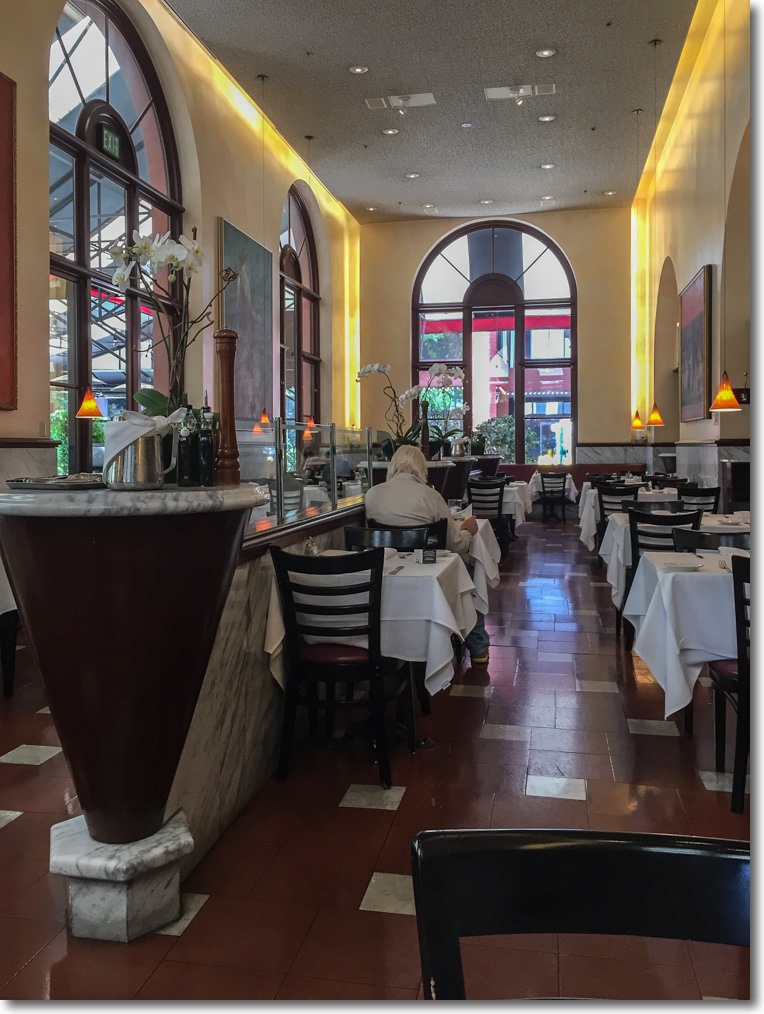 iPhone 6 snap.
A chicken salad and a glass of Pellegrino complete the picture: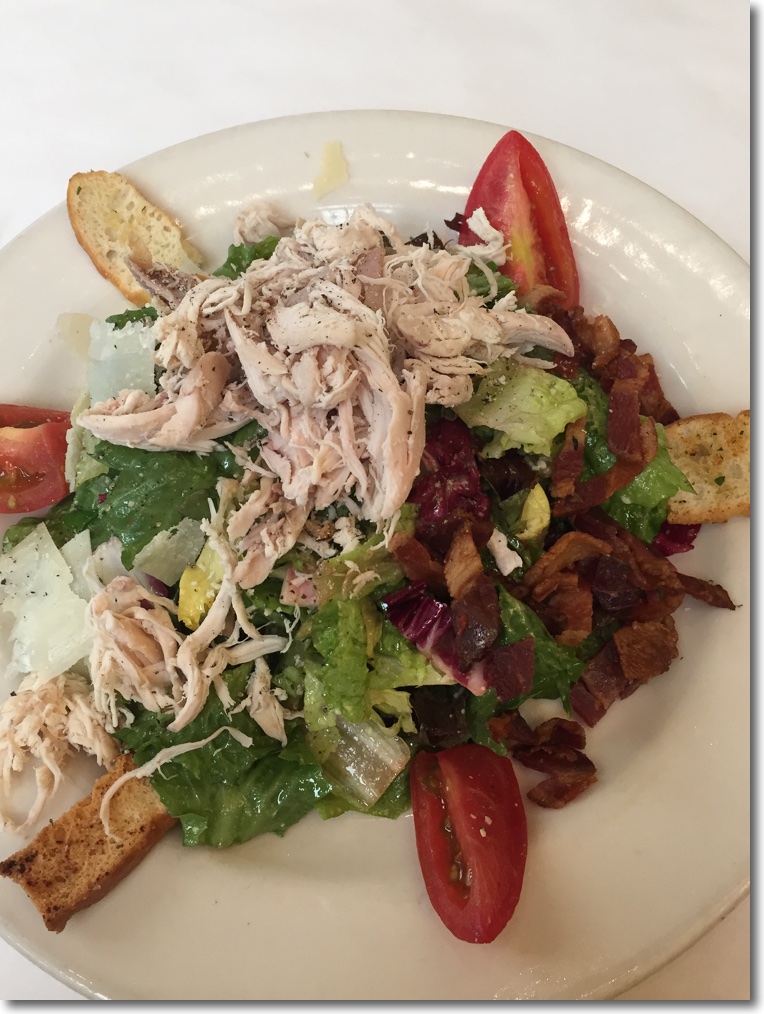 iPhone 6 snap.
Fresh, beautifully prepared, well priced at $22 and highly recommended for the excellent service.
On the way back I spot an unusual open trolley waiting for passengers on the Embarcadero: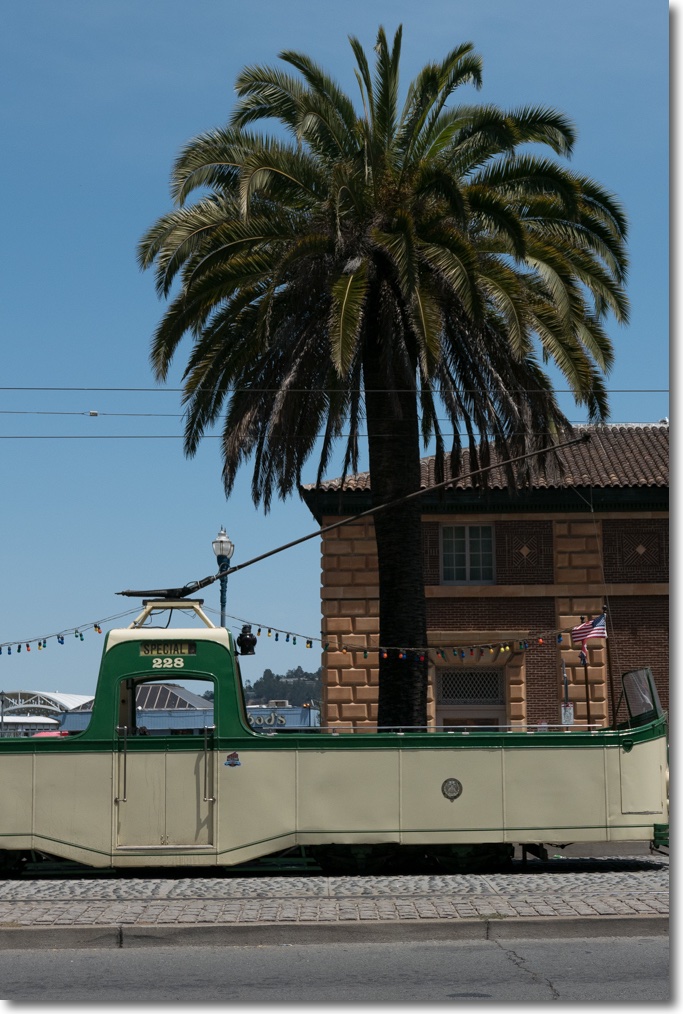 And the gorgeous Aûdiffred Building is a magnet for my trigger finger: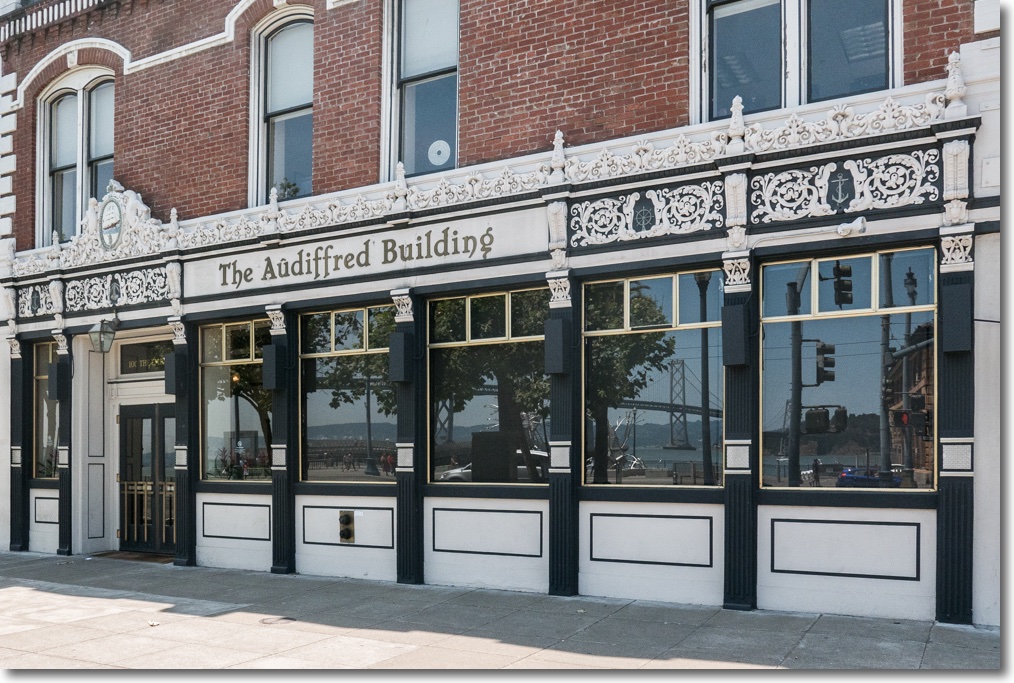 Amazingly the building survived both the quake and ensuing fire: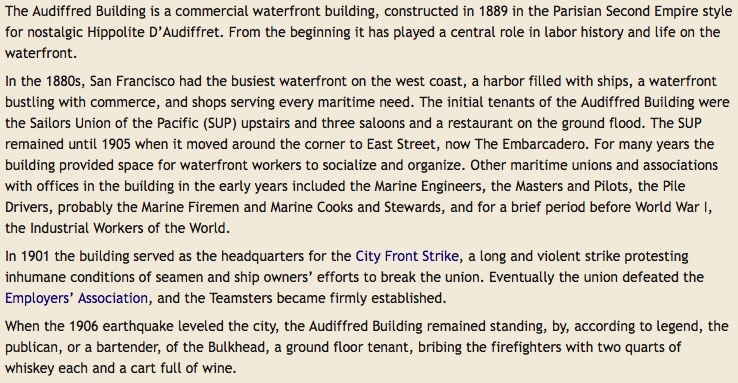 All snapped on the Panasonic LX100 except where noted.