First, fire all the photographers.
How many times have you seen it?
A sleazy politician calls a congressional hearing to attack the innocent and deflect opinion from his wrongdoings. Sitting at those long tables in the hearing rooms, be it in DC, London or Paris, the other end of the room will be replete with photojournalists all banging away at a zillion frames a second. For a picture of a sleazy 'law maker'.
A pharma-fueled sportsman, fresh off a string of victories, is mobbed by photojournalists, all banging away at two zillion frames a second (sports being more important to the average consumer than his country's constitution). For a picture of a zonker who escaped detection. (For the record, I have no complaint about the use of undetectable drugs by athletes. All I ask is that the same chemicals be made available to all competitors to level the playing field).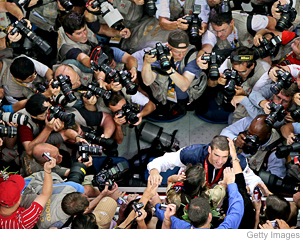 Primal idiocy at work. $2mm of equipment and $20mm in costs for a mug shot.
Thus, given that the snap of the sleaze or the zonker could as easily have been taken by one photographer using an Instamatic, the first thing any rational newspaper owner should do is to simply fire all the photographers and myriad hangers-on employed by his newspaper. The picture, mundane as it is, need only be purchased for pennies from some wholesaler of this kind of tripe. Or just reuse last year's. No one will know the difference and it would be an act consonant with journalistic ethics as we know them.
The second, of course, is to establish a credible, paid, web presence with focused advertising. Which is why well managed papers like the Wall Street Journal and Financial Times will survive whereas poorly run ones like The New York Times and The Washington Post are doomed. You are going to pay for their content, where opinion passes as reporting? No, I didn't think so. The good writers at the NYT can move to Art Monthly and continue their fine work.
So, first, we fire all the photographers. The good ones will join cooperatives like Magnum, quality will rise and costs will fall. The bad ones will become paparazzi and will be subject to the rules of the jungle. One of their own creation. Or maybe they could get a job as a cop or security guard if all else fails.