Doofus gets his iPad.
The company is huge. It dominates the globe in its sector. It has enormous annuity-like revenue streams from its products. It is massively arrogant, complacent and cocksure. It's CEO is one of the worst in America. It is doomed to fail.
GM in 1960?
No, Microsoft in 2010.
No credible mobile OS. No cloud presence. No new ideas. Ever. Just a stream of tired re-releases of Office and Windows. That a company with no vision should name its marquee product Windows sort of redefines spin.
So, ever interested in sharing a scoop with readers, I am pleased to share a snap of MSFT's CEO, the dunce who famously derided the iPhone as a toy on its launch three years ago, (sales 60 million and counting), enjoying his first encounter with an iPad.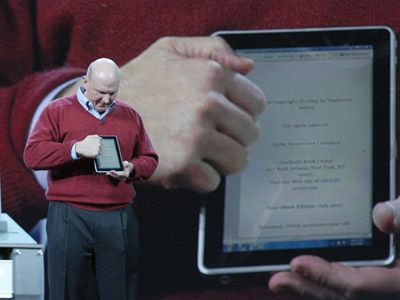 MSFT CEO Steve Ballmer tries the iPad
A well connected friend at MSFT was there and has disclosed what Ballmer was saying as he repeatedly knocked on the iPad's screen:
"Hullo? Hullo? Is there anyone in there? Can you hear me?"
Update – this just in:
Here's a perfect example of why MSFT is doomed to failure. Any company which has such contempt for its customers in constantly putting out rumors about non-existent products deserves to fail. And this one actually had people excited, with good reason: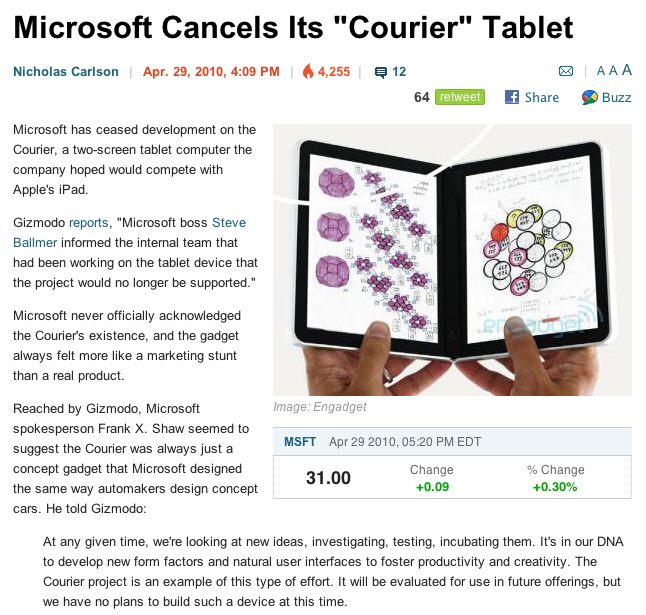 MSFT's iPad killer …. is dead.
Guess the screen must have been too small for a good knuckling. DNA, my backside. They simply ran out of duct tape which they were using to stick two iPads together ….
Update April 30, 2010: The rumor mill is reporting that HP has decided to cancel the Slate. No surprise there. Windows and 5 hour battery lives just don't cut it any more. Indeed, the main reason HP just bought the struggling Palm business is for its Web OS – a mobile OS that actually works reliably, unlike Windows Mobile.