A neat app.
Air Display is a $10 app for your iPad which allows it to act as a second or third display using wifi to route the signal.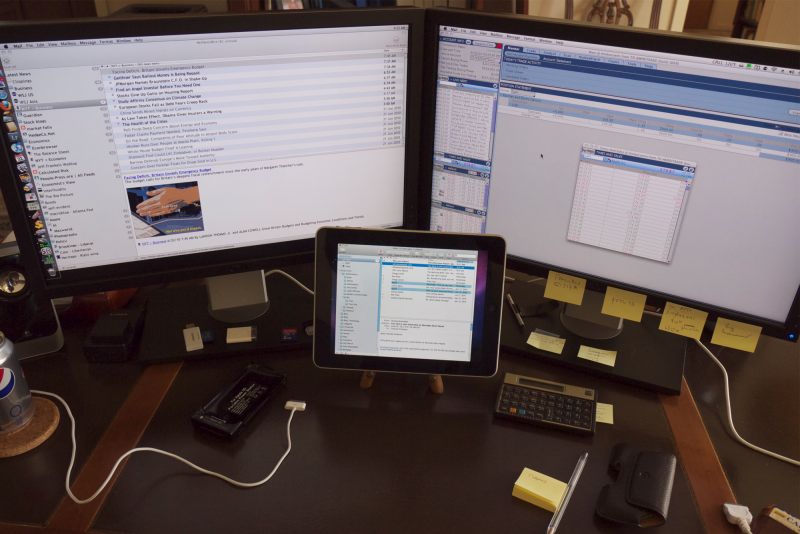 Air Display with my two Dell 2209WA monitors. Can't seem to get rid of those yellow stickies ….
As its response is a tad jerky it is not much use for moving objects but ideal for something like email or a preview screen for Lightroom 2 or 3 where the contents are stationary.
System Preferences for Displays under OS X Snow Leopard is properly supported as the following shows, allowing you to set the display's positioning for mouse cursor movement as you please: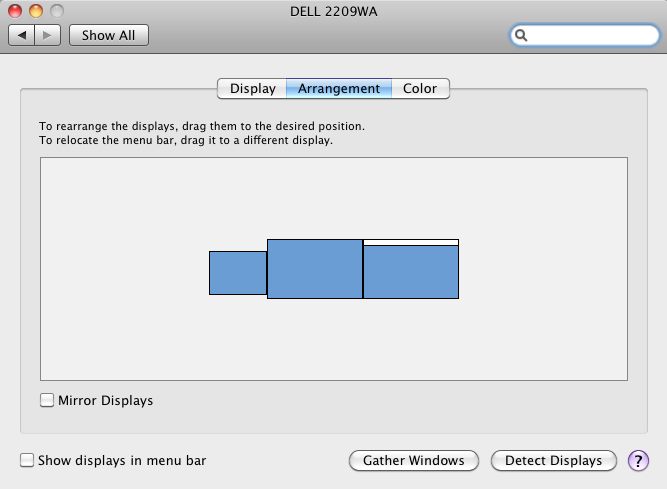 This layout dictates that the mouse is moved left to access the iPad's display
You have to install a small utility on your desktop (or laptop) Mac to get things working and I had a few issues where the system was unresponsive when trying to toggle on the iPad from the Mac's menu bar, but after a couple of tries all was well. This might prove handy in the field where you want to share displays with a broader audience by switching on mirroring in Sys Prefs->Displays, or switching it off and using disparate LR views between your laptop and iPad.
Don't expect miraculous responsiveness if you are using poky wifi speeds; my system is running at 10mb/s download and 1.4 mb/s upload speed and is usable, if not stellar. I simply use the iPad to take the email inbox off the two big screens freeing up screen real estate for other things. You must be running Leopard 10.5.8 or higher for this to work and older PPC Macs are not supported – Intel only.