The final upgrade.
Steve Jobs described desktop computers as trucks and while the world will always need trucks, their prevalence on the home desktop is rapidly becoming a thing of the past. With tremendous performance now available in many 2 lb. laptops the need for the heavy iron is fading. Still, for this photographer, there's nothing quite like the reliability, cool running and sheer grunt of a big desktop with an extended keyboard, be it a MacPro (soon to be discontinued, the rumor mill has it) or its cousin from the wrong side of the tracks, the Hackintosh.
My 'go to' desktop machine, the Hackintosh HP1, started life over two years ago with 4gB of DDR2 800mHz memory, OS Leopard, one 250gB HDD, one 21″ Dell monitor and a miserable little CPU cooler from Intel for their excellent Core2Quad CPU. It delivered decent results. Today, that same chassis sports 8gB of memory, no fewer than three Dell displays, a monster CPU cooler from Coolermaster, two Intel 120gB SSDs, two internal Samsung 1tB HDDs and an external 1.5tB TimeMachine HDD. The stock 2.83gHz CPU has been overclocked to 3.4gHz, yielding a 20% speed increase and HP1 runs the latest version of OS Lion with full iCloud compatibility. Running 7/24 no part has failed and no part cost more than $200. Most are now falling out of warranty.
But its aging CPU and memory mean that HP1 has pretty much hit a performance wall, which Geekbench-64 reports as follows: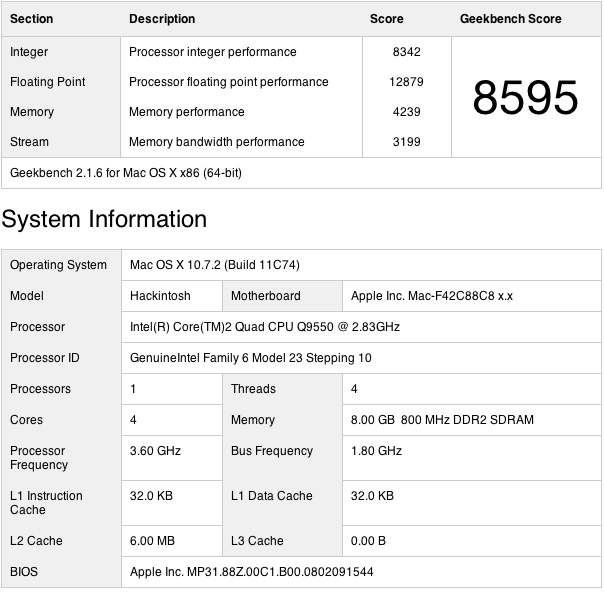 The Hackintosh HP1 today.
A few moments of noodling disclosed that HP1′s stock speed can be approximately doubled for a very modest net outlay of some $125 making, tra-la, its successor, the HP100. How does this magic work?
First, the previous generation Gigabyte EP45-UD3P motherboard, a hacker's favorite, must give way to Gigabyte's latest Z68X-UD3H-B3 – $160 which also adds HDMI and DisplayPort sockets. (If you do not propose using the integrated graphics GPU on the i5/i7 'K' CPUs preferring a discrete, properly cooled GPU card – then the P67X-UD3-B3 motherboard at $135 is otherwise identical, deleting HDMI and DisplayPort sockets but sporting no fewer than 14 USB sockets compared to a mere 12 for the Z68, and the circuit board is blue, not black!) The 8gB poky 800 DDR2 RAM will be replaced with no fewer than 16gB of Corsair 1600 DDR3 – $95 and twice the speed and capacity of the current RAM. And finally the hot running Core2Quad CPU will cede pride of place to Intel's latest cool-as-a-cucumber i5-2500K at $220. That makes an outlay of $480. Everything else – the superb Nvidia GT9800+ GPU, the drives, displays, power supply, case, and fans/cooler stay as is. The power needs of the latest CPU are substantially lower than those of the Core2Quad, so no power supply upgrade is needed and the GPU runs as fast in terms of video framing rate as Nvidia's latest GT430. I know, having measured both.
You can download the manual for the Z68X-UD3H-B3 motherboard by clicking below:

Click to download the Gigabyte Z68 motherboard manual.
The old motherboard, Core2Quad and memory command high prices on the used market. The mobo is a hacker's classic, the Core2Quad still sells new from Intel, albeit for 50% more than when I bought it, and the memory is not that dated and matches the mobo's specs. I should net $350 for that lot after the usual eBay frauds/fees/defalcations.
So stay tuned as HP100 takes shape; meanwhile HP10, my Core i3 backup Hackster, burbles along comfortably as proof of concept and runs 30F cooler than HP1. HP10 has a Gigabyte H67M-D2-B3 mobo, 8gB of 1333mHz Corsair RAM, two DVI displays, the i3 CPU and the excellent Nvidia GT430 GPU, all of this delivering performance 10% faster than HP1 in stock form with a Geekbench-64 score of 7,098.
A few words on CPUs and mobos:
Intel's latest range of Core ix CPUs comes in three speeds:
Core i3 – 3.1gHz, cannot be overclocked. This is a dual core CPU.
Core i5 – 3.3gHz, with the 'K' model permitting overclocking to 3.6gHz without voiding the warranty. This is a four core CPU.
Core i7 – 3.4gHz. This is a four core CPU with multithreading, which speeds video processing.
All those CPUs share the same 1155 socket and are plug-and-play replacements for one another, at prices of $125, $220 and $320, the 'K' variants of the last two commanding a $10 premium.
Gigabyte is the hacker's board of choice and they make three ranges with 1155 sockets.
H67 – no overclocking, no onboard GPU support.
P67 – no onboard GPU support, overclocking support
Z68 – onboard GPU support, oveclocking support.
The 'UD' designator in the model number designates 'heavy duty' – a thicker PCB to support heavy coolers.
All other of their many variations addresses availability of differing sockets for peripherals.
'onboard GPU' refers to the integrated GPU included in the i3/i5/i7 CPUs. A separate GPU card blows this capability away for fast video rendering.