A fine wide angle optic.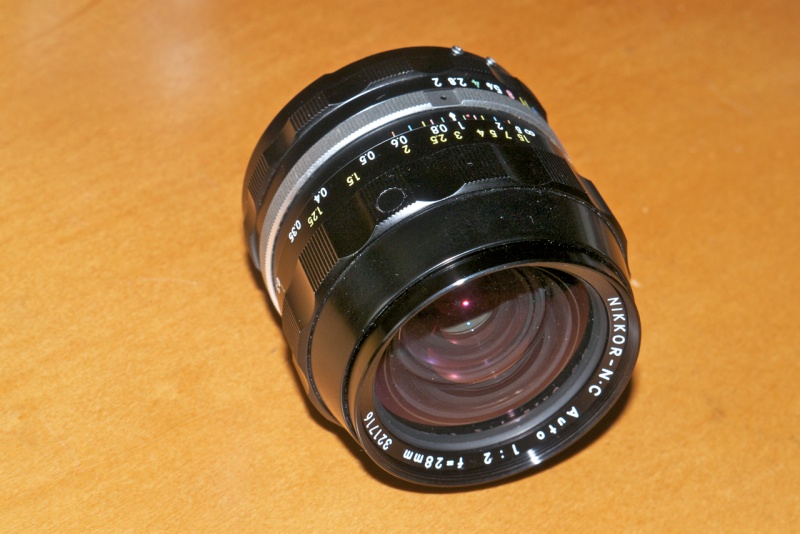 The aperture claw has been removed here, as it serves no purpose on modern digital bodies.
The 28mm f/2 Nikkor had a very long life, staring in 1970 and finally yielding to the Ai-S version, likely of similar nine elements in seven groups construction, in 1981. The Ai-S version continued through 2005, finally replaced by the AF D, which was recomputed.
Mine is the N.C. version, meaning multicoated, from 1974 and is in absolutely mint condition, claimed to have had but one prior owner, and ran me $252. It is a pre-Ai lens so I removed the rear flange – five Philips rather than slotted screws – pulled off the aperture ring and conferred the appropriate Ai relief on the rear of the aperture ring using a small flat file. Those less courageous can send any pre-Ai lens to John White who can convert it for use on the D700 and like bodies for a modest sum.
The floating element design first used in the 24mm f/2.8 is used in this optic, helping with corrections at closer distances.
In practice the lens's definition falls in the extreme corners on full frame cameras through f/4 by when they almost match the very sharp center. By f/5.6 full sharpness is secured across the frame, with f/2 being perfectly useable for large prints and sharp as a tack in the center of the image, well toward the corners. Contrast is very high at all apertures (mine is the multicoated version, which probably helps) and I see no diffraction even stopped down to f/22 (but I do see all the crud on my sensor at that aperture!). Minor vignetting gradually disappears by f/5.6.
Quality of construction and the sheer tactile pleasure in use have to be experienced to be believed. Superb in every way. I have the HN-2 hood on mine though that's actually intended for the 28/3.5. The HN-1 is the correct model, but the HN-2 works fine, with no vignetting fully open.
I installed a CPU in mine – a simple glue-on operation.
Lens correction profile:
Owing to the gradual drop in vignetting from f/2 through f/4, I have made the lens correction profile at four apertures – f/2, f/2.8, f/4 and f/5.6. You can download it here.
Some snaps from this optic appear here.