Sea change.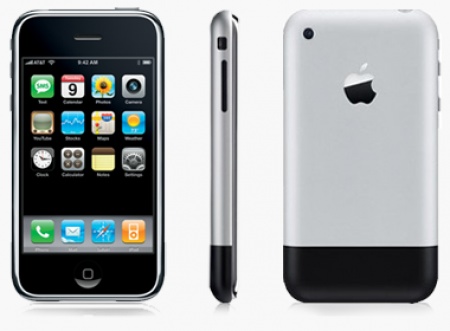 I bought mine on day 2, June 30, 2007, in the San Luis Obispo Apple Store for some $500. Ouch! But I consoled myself that, as a money manager it was both deductible, constituting research, and might actually be useful.
Today I use an iPhone 4S for all calls and have no landline at home.
That first iPhone was obvious; you know, like shorting builders' stocks in 2007 or going long corporate debt when IBM's was yielding 7% in 2008. There were lots of things it could not do. No camera, 2G only, no App Store, web apps only plus the few it came with. But look at the businesses it obsoleted over these past five years and others which will not be around five years hence:
RIMM
Nokia
Palm
Nintendo
Landline telephony
Hewlett Packard
Dell
DVDs and CDs
Garmin and TomTom GPS
Printed books and bookstores
Print manuals, flight maps, etc.
Point and shoot camera makers
Print news media
Print magazines
Apple's own OS X, now very much in its last innings
Another in huge trouble is Microsoft, cursed with no credible offering, no attention span and no leadership.
At the same time, iOS created a huge raft of new businesses which did not exist before:
Independent software designers
Mobile games
Interactive advertising
Facebook – OK, not all change is good
Specialty medical and forensic tools
Hand held intelligent industrial inventory tools
Interactive video telephony
Broadband expansion
Mobile investing
GPS/war/traffic/weather systems
New CPU designs from the likes of ARM
2 billion+ prospective new computer users who will go from abacus to iPhone overnight
10 million making a poor living in China where before they made none
Sure, many of these were around earlier, but they scarcely moved the needle of any metric.
Because the iPhone not only changed how we communicate, while creating a new mobile computer, it gave Apple a five-year lead in touchscreen design with the iPad 1 three years ago. This is what poorly run businesses like HP and Microsoft fail to understand. Nothing about that iPad was rushed to market. By the time you could buy one in April 2009, the user interface had thousands of man years labour invested in it. It did not just happen, and iPad 1 must rank right up there with the Leica M3 (1954) as one of the most perfectly developed 'Version 1′ models of any machine man has yet made. That iOS has worthy competition from a company which had never made a computer – Google – in the Android OS, is no surprise. By definition, GOOG's thinking was out of the box. They had no blinkers to discard.
It's common to see the iPhone and its OS referred to as 'disruptive'. Wrong. A disruption is when you put down your tea to answer the door for the UPS man. The iPhone was both intensely destructive and creative at the same time. It is a tsunami device, not a storm in a teacup, and it created the world's largest corporation, Apple, Inc.
The Leica M3, 1954. The previous occasion on which Version 1 was perfect.