An excellent camera.
I wrote about how I believe Apple is managing inventory of the iPhone 5 in Part I.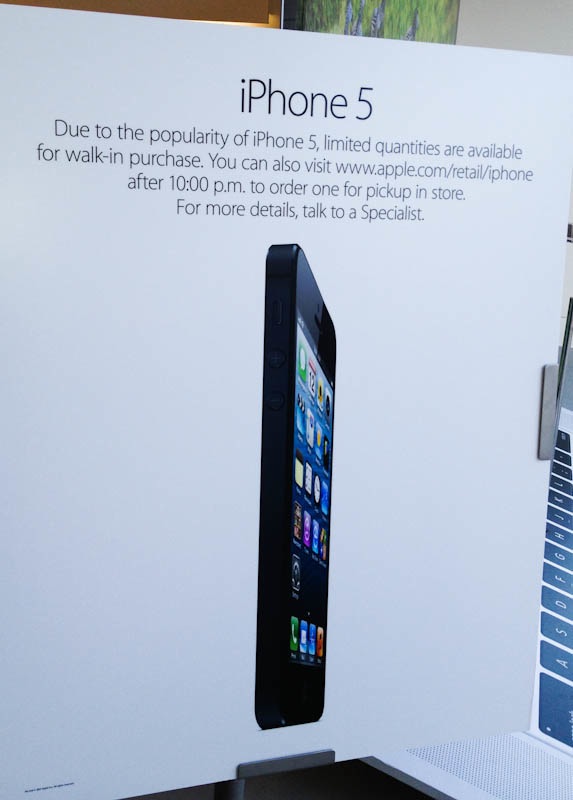 'Limited' as in none. iPhone 4S snap in the Apple Store.
So while there may be a bit of a wait until the floodgates open in Q4/2012, it's worth it. If you consider your cell phone camera as the one you always have with you, you will want to upgrade.
Let's retrace. The iPhone 3GS camera was so-so, meaning slow and noisy, as was the one in iPhone 4. Then a quantum leap occurred in iPhone 4S when the sensor jumped to 8 megapixels and the responsiveness of the shutter button was greatly improved. I have already illustrated panoramas using iOS6 in the iPhone 4S and the quality in the iPhone 5 remains excellent. Determined to try out the rumored enhanced low light capability of the iPhone 5′s camera I took it to my country home (aka Filoli – you know, the place my 10 year old son wants to buy) and repaired to the poorly lit interiors.
My first snap startled me. The delay between shutter press and the taking of the picture has been dramatically reduced. I jumped, not expecting this, then proceeded to cycle the shuter as fast as I could. Lightroom 4 reports that I banged off 3 pictures in one second and 4 would have been easily achievable. This compares to maybe 1 per second with the iPhone 4S. It's quite extraordinary, comparing well with the shutter response in a film rangefinder Leica – where you have to wind the film between snaps – and as good as a better grade DSLR like the Nikon D700, where the cycling rate is comparable in single shot mode. This means the camera is almost directly wired to the photographer's eye. See an image and snap!, it's yours.
I determined the optimum import settings in LR4 to be as follows, and saved these to an import preset: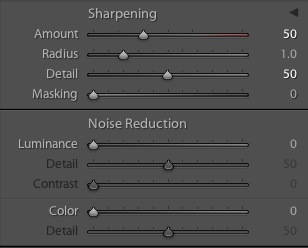 iPhone 5 LR4 import settings.
To reduce noise in big prints these are the related settings: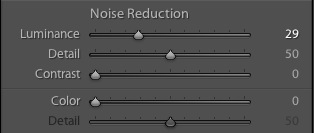 iPhone 5 LR4 noise settings.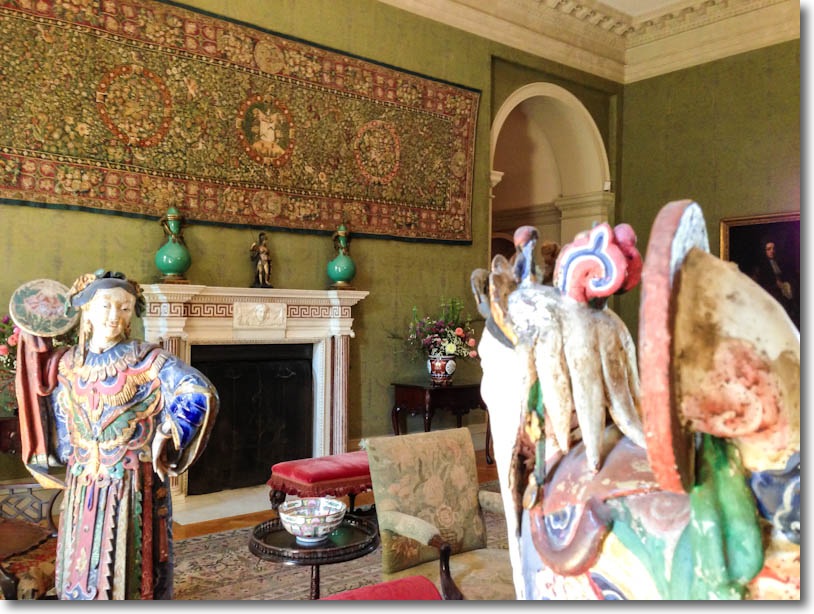 The drawing-room at Filoli. 1/20th second.
The camera was focused on the green vases on the mantlepiece by touching the display at the appropriate location. Though the display is now 16:9, up from 4:3 thanks to the taller dimension, still image files remain 4:3, as before. The original JPG file size is 2.7MB.
Here's a section which would make a 30″ x 24″ print: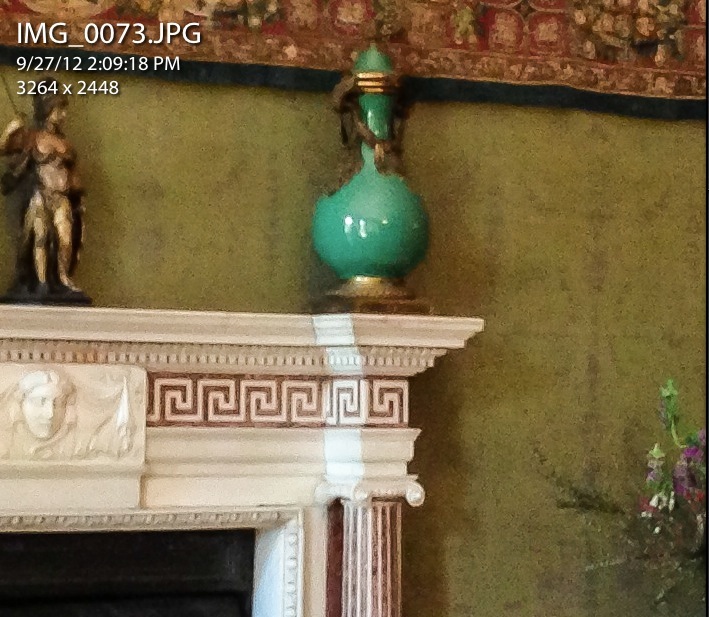 Section of above image.
The develop settings in the two panels above have been applied, together with a little boost from the Clarity and Vibrance sliders. Outstanding.
Now you don't get the dynamic range available in a RAW file and I did not use the HDR function, though for very high contrast subjects that would make sense.
The camera is now so good that no excuse need be made for large print images. I routinely printed 13″ x 19″ from the 4S and feel confident in saying that 18″ x 24″ with the best images would be easily achieved, no excuses needed.
A friend wrote "I bet Apple has four or five camera prototypes in the lab" after I had shared my findings with him. I so hope that is the case. The design clearly incorporates real world usage needs, not something concoted by the dopes at Fuji.
The main drawback in poor light is that a support is needed. There's nothing worse than having to hold a camera several inches from your face in a poorly lit room than holding it a foot away from your face. The above image was at 1/20th second, and I got lucky, as it's razor sharp at the focus point. As with the iPhone 4S, the zoom function, accomplished by 'unpinching' – you know, the patented technology Android stole from Apple – will simply make a noisier image, so I don't bother using it; the same result can be accomplished at the processing stage.
In conclusion, if you are happy with a fixed 33mm FFE lens this is an excellent photographic tool, if not blessed with the greatest ergonomics. Can't be bothered to drag the monster DSLR along? The iPhone 5 does just fine. I would think that a real optical zoom cannot be too far away. Maybe in iPhone 6?
And before I forget, want to see why any sane SF Bay user should be getting a Verizon LTE iPhone 5 rather than an AT&T one with LTE scarcely to be found? Here are the cellular speeds at Filoli, which is pretty much in the middle of nowhere: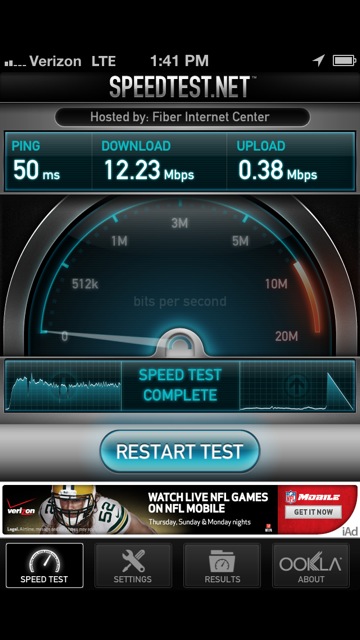 Cellular speeds – Verizon LTE, iPhone 5
In town I routinely get 20MBS download.
Getting out of your AT&T contract: Verizon is known to be very rigid on enforcing contract terms, but AT&T is weak. I had one year left on my 2 year iPhone 4S contract with AT&T and was offered two choices. Cancel the contract for $215 or sell the 4S back to AT&T for $227, then pay $449 for the iPhone 5 on a new 2 year contract. Such a deal. A quick check of eBay disclosed an average selling price of $335 for a 16GB 4S. Mine had some rub marks on one side so I listed it for $295 'Buy It Now' with free US Priority shipping. It sold 60 seconds after listing, net cash to me being some $262, less the $215 contract cancellation payment to AT&T, meaning $47 left. I applied that to my new Verizon 16GB iPhone 5 ($199 + $53 CA sales tax), for a net outlay of $205, which I will deduct as business expense on my tax return. Assuming I have taxable income this year the net after-tax cost is lower still.
Disclosure: Long AAPL, BRCM, QCOM.