Smooth Lightroom integration.
One really handy feature in the Nikon D2/D3/D4 bodies is the ability to record a voice memo of up to sixty seconds in length for each image. After enabling the function in Settings, you hold the voice memo button down while speaking into the microphone on the rear of the body. If you are taking posed snaps of strangers and want to send them a copy as a courtesy, this is a great way of recording their email address for later retrieval.
At first I thought this to be a worthless gimmick but in practice am finding it to be a really useful feature on my D2x.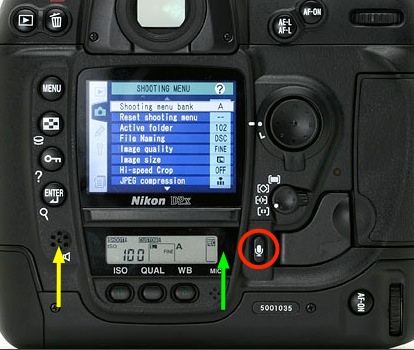 Recording button red circle; speaker and microphone – yellow and green arrows.
You can playback the voice memo using the camera's small speaker to check it's intelligible at the time of recording.It sounds far better over your computer's speakers!
When it comes to processing, Lightroom fully accommodates this function. The WAV file recording has the same frame number as the image but with a '.wav' file extension and is imported along with the image into LR 2, 3 and 4.
You can see the sound file in the Library module of Lightroom and you can play it back by clicking the arrowed icon: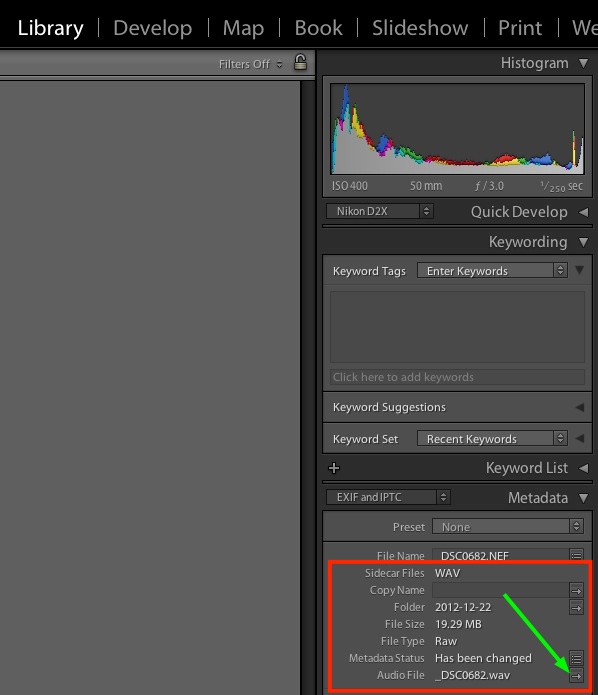 LR's Develop module and the playback icon.
A like feature is also available on some Canon DSLR bodies.
File sizes? A 10 second recording averages 75MB – not enough to worry about when it comes to consuming precious space on your camera's CF or SD card. The D2 and D4 use one CF card, the D3 one or two CF cards.