A Photoblog to satisfy your need for a daily fix
When I left Manhattan's West Side in 1987 for Los Angeles, the two closest friends I had in the world were the limo driver who would take me home from the southern tip of the island at ridiculous hours and my doorman. The driver was a whole lot more fun than the methadone case who held the door open, palm expertly proferred, once a year at Christmas. You see, Dimitri was a Russian emigre and we used to argue about Tchaikovsky and Chopin and Mussorgsky during the 30 minute trip home. Music and dance, whether in the streets or in more formal settings, were the artistic highlights of my many years in New York, but it was time to go.
Fulfilling the American business belief that motion beats action any day, I found myself revisiting the city on many needless cross country trips over the next few years and gradually fell out of love with it. Too dirty, too crooked, too everything.
However, every now and then I need a quick fix. Whether to confirm the wisdom of my decision or to see how wrong I was, I'm not exactly sure. And the best way to do this is to visit Joe Holmes's photoblog Joe's NYC where, without fail, you will find a new picture every day taken, as often as not, in Brooklyn or Manhattan. The work is fresh and vital, clearly done by one who loves his environment and captures the best and worst of the city I recall so well. Some of Holmes's best work was done in early 2005 when he and some friends set about documenting Fulton Fish Market on the lower East Side before some developer converted it to high rises.
Click the picture to see Joe's fabulous documentary photography. Ten months after he took these, the market was relocated to the Bronx, a victim of rising real estate values in lower Manhattan.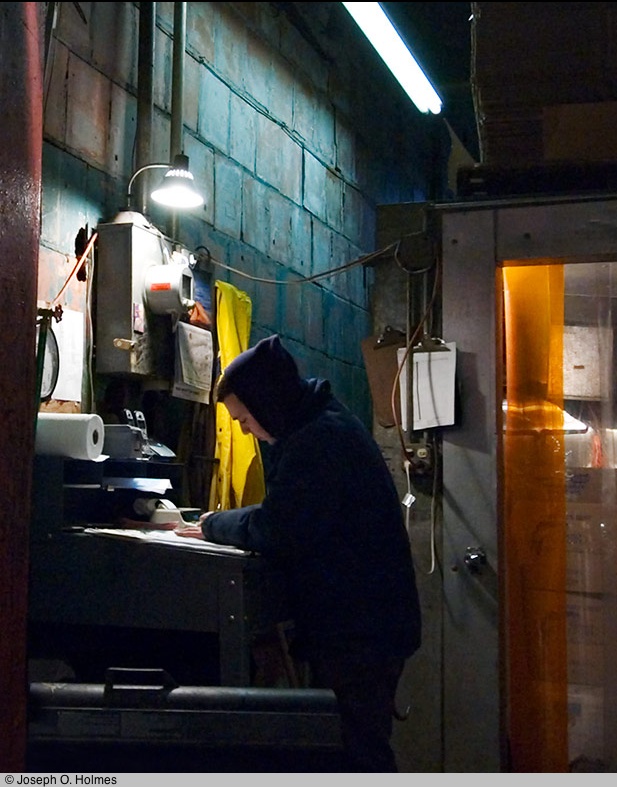 Click the picture for the slideshow.
Take a peek. It beats flying to New York and getting ripped off on the cab fare into town any day.