Bermuda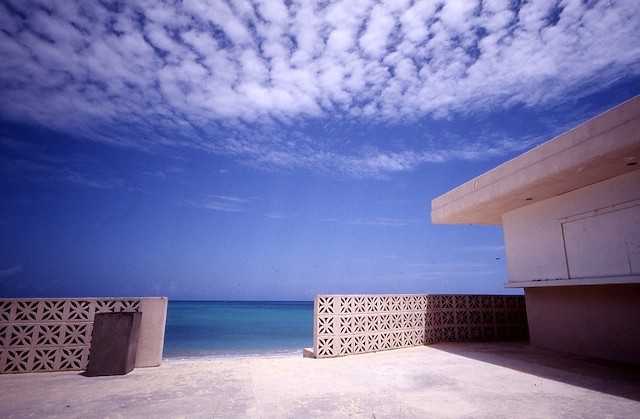 Date: July, 1999
Place: Bermuda, near St. Catharine's Fort
Modus operandi: From the seat of a scooter
Weather: Gorgeous
Time: 1 pm
Gear: Leica M6
Medium: Kodak Gold 100
Me: Stop! Stop! Stop!
My age: 47
There's not a lot of good things I recall about 1999. I spent much of that year working for a bunch of hillbillies at a big bank in Charlotte, a city whose cuisine may be worse than even England's in the 1960s. Not to mention the foul humid summers and freezing cold winters. And people who would say one thing to your face, another behind your back. Fughedaboutit! Before you could say "Where's ma grits?" we were back on a one way flight to San Francisco.
Not, however, before we took a one week side trip to the lovely island of Bermuda. That, and the return to civilization later, were the high points of the year. Good British food (strange, I know, but true), French wines and Cuban cigars. There's a lot to be said for those. Add a spectacularly beautiful place which limits tourists to 25 mph scooters, and you have a fine venue for any photographer.
One of the best was the annual cricket match between North and South, one of the oldest fixtures in sports. Another day found us at St. Catharine's Fort, one of many built by the British to keep out marauding Americans. The Fort never fired its enormous guns in anger, the Yankees doubtless having concluded that discretion was the better part of valor.
Leaving the Fort we were tooling along when I caught the above out of the corner of my left eye. I ran back and just one click recorded the magical combination of clouds and color. This one hangs over our mantlepiece and works well in an otherwise simple room.
The lens and camera used bear comment. The body was the much unloved Leica M6, which had a rangefinder that would flare out in just about any light and a built-in meter that could only be read at eye level. Not so smart for candids. I sold it a while later with no regrets, reverting to my M2.
The lens was far more interesting.
No thanks to the jerks running my employer (my stock options, if I had them today would still be worthless – 8 years later ….) all I could afford in the ultra-wide area for my Leica was a Russian Orion 20mm, which ran me some $200 from a reseller in England! This came with a massive and very good finder and recessed all the way into the M's body, after fitting the obligatory screw-to-bayonet adapter. Maximum aperture was a modest f/5.6. You had to reach into the lens to adjust the aperture, so forget about a protective filter. The aperture ring was hard to grasp, the settings were not click stopped and were most certainly not linearly spaced. Further, the lens did not couple to the M's viewfinder and the finish of the whole thing would make even a Chinese tool maker blush. In other words, an ergonomic disaster, quite the worst piece of equipment from that perspective I have ever used. But it took nice sharp pictures and we got on fine for many years until more money than sense saw it replaced by the ultimate 21mm exotic, Leica's fabulous f/2.8 Aspherical Elmarit. That's a story for another time.