Do this today!
As the iTunes store will likely get massively overloaded tomorrow when the iPad is released, I am downloading selected iPad apps to iTunes on my desktop today, and will simply do a local sync when the iPad is in my hot little hands (OK, our boy's hot little sticky hands).
In addition to already having updated to the latest versions of iPhoto and iTunes, essential for the iPad to work, I have downloaded the following apps for installation tomorrow: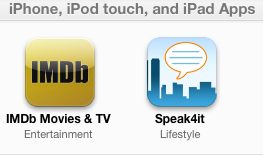 All of these are free except for NetNewsWire which is $10, but as that was my Application of the Year for 2009 it's the best $10 I expect to spend this year. Also, Numbers costs $10 if you are into spreadsheets. iBooks does not come on the iPad, strangely, and it's essential to read both purchased and public domain content. Apple has promised to upload almost** the whole 30,000 public domain book library from Project Gutenberg for free download to iBooks. Not bad for a company whose CEO not too long ago proclaimed "People don't read anymore". Click that link for an musing time.
The WSJ looks like a real newspaper on the iPad – here's a screenshot:
I'm hoping that master French photographer Eric Lafforgue ports his fabulous photo app for the iPhone to the iPad ASAP. Eric – are you listening?
When Winston gets home from school I have a feeling we will be adding some games too, but to limit his spending he has to kick in 50%. We arrived at 50% as it's the amount of my income which is stolen annually by the various criminal organizations in Washington and Sacramento, in the guise of tax collectors.

Evolution of the computer. Chauvinistic, but true.
As for my iPad holder, why, I have that already – mouse over to see (needs Safari or Chrome to render):
Retro iPad holder
Hand made from the last of the rain forests by German craftsmen using hand tools only, these are available from me for $1,950 each or $3,000 a pair. Shipping is free worldwide, but allow 6 months for your order to be fulfilled. It's tough finding the wood, even tougher getting the Germans off their vacations, let alone off their backsides. Picture not included. Using the latest construction technologies, the holder has fewer moving parts than the iPad itself, which is to say none.
** American prudishness will doubtless preclude the availability of such 'dirty' books as Vatsayana's 'Kama Sutra'. Next I expect they will be censoring Michelangelo's nudes.