A magical place.
A friend is leaving for a much deserved spot of R&R in Paris, so I put together some old snaps to get the creative juices flowing.
This file, music and all, takes a few minutes to download at some 74mB in size.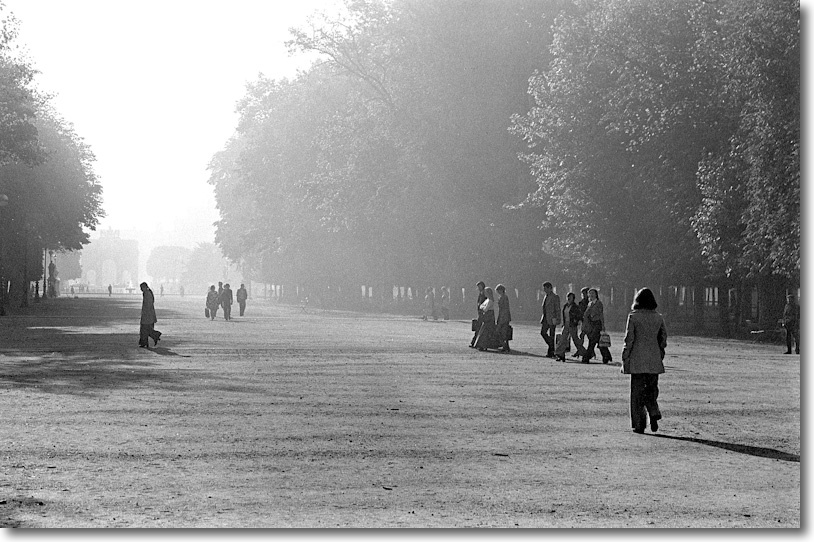 Jardin des Tuileries early morning. Click or touch the picture to download the slide show.
If there are many images from the Jardin des Tuileries, I make no apologies for that. After all, why not revel in the most perfect urban setting on earth? The beautiful, bitter sweet fin de siècle piano piece can be found here.
All snapped on my Leica M3, 35mm Summaron, Kodax TriX film. There are 36 images in the slide show, the same number you got on a roll of film back then. These are selected from but three rolls I shot during a one week stay. Film was like that – it discouraged waste.
The absolutely best way to view this is to download it to your iPad by touching the picture above, then watch it through the Good Reader app, routing it via AirPlay to your big screen TV to which an AppleTV is attached. AirPlay is coming to Mountain Lion, the next major release of OS X, later this year, and not a moment too soon. Meanwhile, the iPad is the best routing device. Good Reader can be temperamental about unzipping the file, in which case simply try downloading it again.
Paris, je t'aime.
* * * * *
Video format: The above download is 720p quality, and comes in at 75mB. For those with a high-speed broadband connection and with time on their hands, you can download an HD 1080p version by clicking here. The difference is worth it, but the file is almost 250mB. Sometimes bigger is better.