Target audience?
After September's blockbuster issue of Vogue, October's comes in at half the weight but included with it is a 78 page Ralph Lauren catalog advertising women's and men's clothing. I sat next to Lauren in New York's La Côte Basque back in 1982 at a client lunch (hey, it wasn't my money) and I recall thinking how handsome, tanned and short he was. Lauren (net worth $7bn) was born Ralf Lifschitz in the Bronx (net worth $0) and personifies the American success story as only a few dozen others do. Yet despite the near impossible task of emulating him, millions of Americans persist in believing in the American Dream that they, too, can repeat his success. Statistically, of course, this is idiotic, and about as likely as the black ghetto kid becoming the next basketball superstar.
Yet people buy this stuff based on what advertisers classify as the 'aspirational' demographic.
Here's the cover: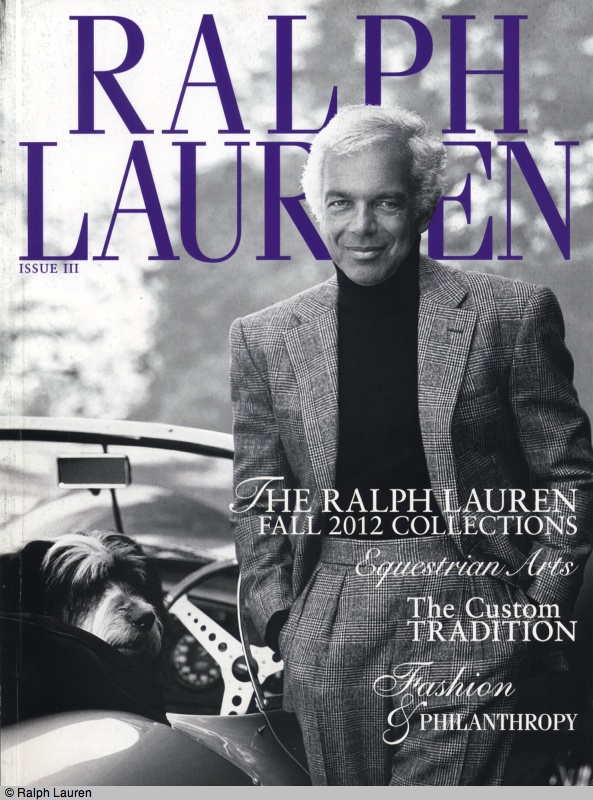 Posed with what is presumably one of the cars from his large collection, Lauren looks the picture of the English gentleman, consonant with the image his clothing seeks to project. The casual, well tailored tweeds, the costly vintage automobile, the air of condescending, unattainable wealth.
It gets more intense.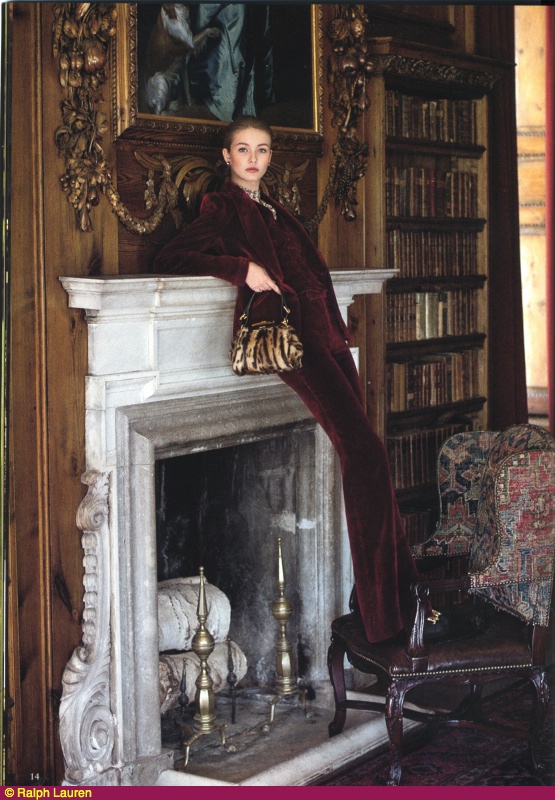 Surely the legs on this stunning beauty, posed against a fireplace in a multi-million dollar castle, are Photoshopped? But no matter. We would all like to be able to either be her or to afford her. But how realistic is that?
Finally, the peak of excess, the huntress in the top hat and bejeweled choker on her stallion. I mean, have you ever owned something which eats while you sleep? And the cost of stable hands nowadays is positively ruinous. OK, so the woman is to die for, the kind which would make a middle aged lothario chuck everything and retain a good divorce attorney.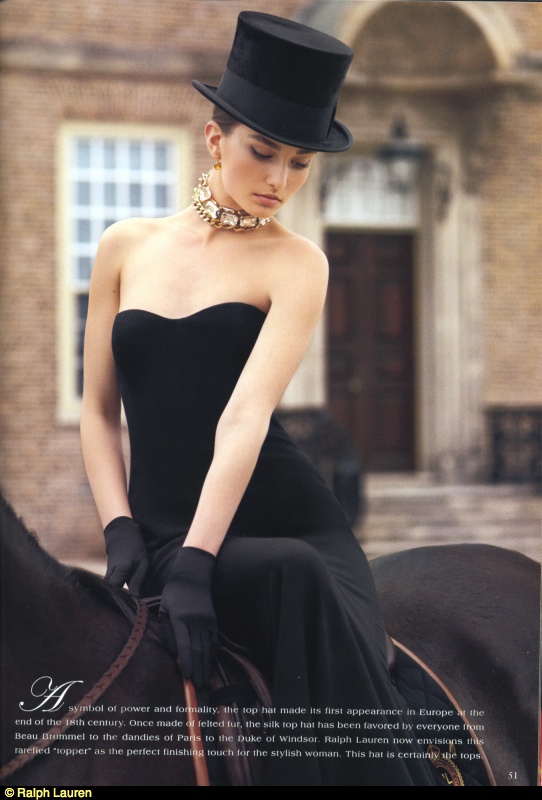 So while I enjoy the fantasy as much as the next man, not remotely does this sort of advertising make me want to overpay for the label. But it must be working. Lauren has been doing this faux English gentry thing for ever and not for one moment do I think he is foolish with his money.
None of this should discourage you from subscribing to Vogue, (or aspiring) where the photography never ceases to entertain and astonish.