2.5″ spinning hard drives.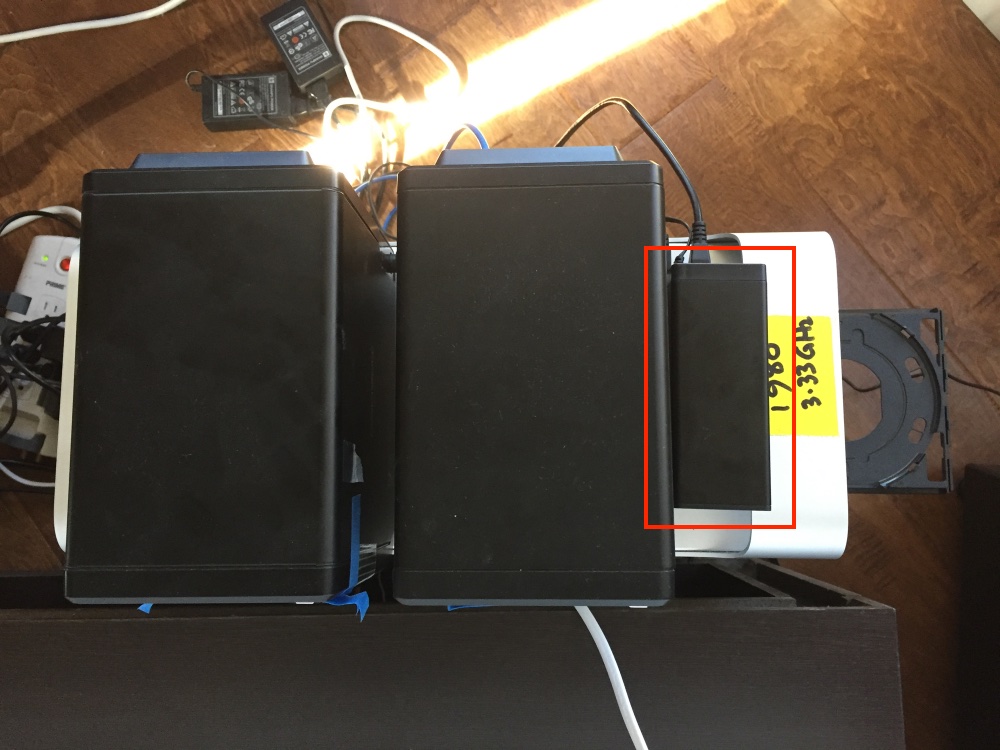 Dual 2.5″ drive enclosure compared to 4 bay 3.5″ behemoths. As the yellow label discloses, this Mac Pro runs a speedy 3.33GHz CPU.
As my movie collection grows, not helped by the 25GB size of ripped BluRay discs (compared with but 4GB for regular DVDs), so does the need for storage space.
Heretofore I have used Mediasonic 4-bay 3.5″ drive enclosures at $100 for the 4-bay version, and they have performed flawlessly for over 5 years now, loaded with Western Digital Red 4TB hard drives. The drives now retail for $135, which is a lot more than I paid years ago. The blue tape on these which you can just make out in the picture is to blank off the obnoxiously bright flashing LEDs on the fascia.
With traditional spinning disk technology refusing to die, and SSD prices still far too high for bulk storage, the much more compact 2.5″ hard drives have made huge leaps. 4TB capacities are now readily available in the smaller drive size. Seagate makes 4TB 15mm thick drives for $130 and two of these fit an inexpensive $40 enclosure. There are many versions available; just make sure the one you order will accommodate 15mm drives, which are a good deal thicker than the typical notebook drive. So the cost per 4TB of 2.5″ storage figures to $150, compared with $160 for the older tech 3.5″ drives, with great savings in space and, as importantly, far lower power draw. The enclosure of choice used here supports USB3 (though USB2 is perfectly adequate for movies) and comes with both USB2 and USB3 cables, as well as a power supply. I have added USB3 – having run out of USB2 sockets – using an Inateck USB3 PCIe card; the Mac Pro comes with USB2 native ports only and I happened to have a spare card lying around. USB3 is not a requirement here. The price of this card appears to have more than doubled since I bought mine.
A 4TB drive (the second drive is a back-up clone) will store some 160 BluRay disks, so this big little addition should see me happy for another year or two. The cost of storage per movie, along with the backup clone, figures at just $1.88.